Description
This month's Startups Uncensored event will be a presentation by comedian Ben Gleib (@bengleib) and Jason Nazar (@jasonnazar), CEO Docstoc on Mastering Public Speaking and Presentations.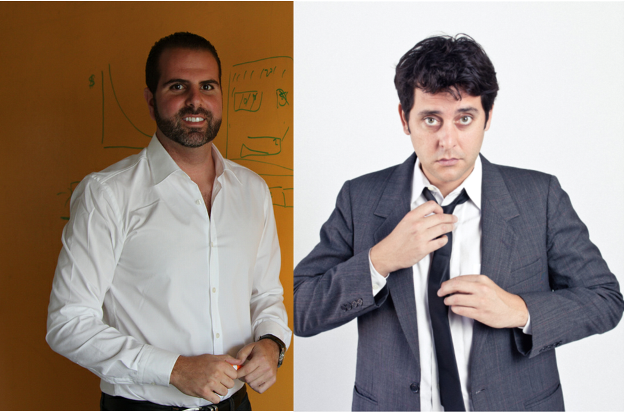 Join over 500 LA entrepreneurs, investors and techies to learn the very best ways to speak in public and master presentations.
In this engaging and entertaining presentation we'll cover:
1.) Speaking to "Your" Audience
2.) Structuring Presentations for Success
3.) Overcoming Anxiety and Nervousness
4.) How to Leverage Humor
5.) The Secrets of the Worlds' Greatest Speakers
6.) Listening as the Art of Speaking
7.) Transform Your Presentations into Performances
SPEAKERS
Ben Gleib is a standup comedian, actor and writer and headlines comedy clubs and colleges around the globe. He's a regular round table guest on the hit show "Chelsea Lately" on E! With over 90 appearances, and his podcast "Last Week on Earth" is among the most downloaded weekly in the comedy category. He currently has a series on SyFy called "Insane or Inspired?" has a supporting role in the upcoming 3D movie "Ice Age 4," and was recently on a North American arena tour opening for Dane Cook, performing to audiences as large as 12,000 people a night. Ben was also the star of NBC's "The Real Wedding Crashers" and regularly co-hosts on NPR. He is known for his improv ability and on stage mastery.
Jason Nazar is the CEO and Co-Founder of Docstoc and the creator and host of Startups Uncensored. Before starting Docstoc, Jason spent 2 years as a motivational speaker and corporate trainer. Jason is a sought after speaker among small business leaders and in the tech industry, and has spent years helping others master the art of public speaking and presentations.
SPONSORS
Startups Uncensored is sponsored by TriNet (best HR & employee benefits), Cybercoders (best tech recruiting firm), and Microsoft BizSpark (amazing suite of free software for startups) .
OTHER GREAT LA TECH EVENTS
Silicon Beach Fest is LA's first festival organized by its tech community to celebrate LA tech, entertainment & startups with panels, keynotes, workshops, mixers, and more at a dozen venues focused in Santa Monica and Venice on June 21-23, 2012. (http://digitalla.net/siliconbeachfest)
CROWDSTART LA: Win votes on crowdfunder for your startup, get the attention of amazing Angels & VCs, win $25,000 in funding http://crowdfunder.com/crowdstart-la
PAST STARTUP UNCENSORED EVENTS:
#26 - How To Pitch Investors with BeachMint Founders Josh Berman and Diego Berdakin
http://www.docstoc.com/video/121374150/pitching-to-investors---startups-uncensored-26
#25 - 10 Strategies for Startup Success with @JasonNazar
http://www.docstoc.com/video/118889124/10-strategies-for-startup-success
_

#24 - Advanced Affiliate Marketing with ShoeMoney
http://www.docstoc.com/video/113407954/advanced-affiliate-marketing-with-shoemoney---startups-uncensored-24
#23 - Fireside Chat with Michael Arrington
http://www.docstoc.com/video/108525187/startups-uncensored-23-with-michael-arrington
#22 - Building Bigger Businesses the Second TIme Around
http://www.docstoc.com/video/116754891/startups-uncensored-22---building-bigger-businesses-the-second-time-around
#21 - How to Build a Great Internet Company
http://www.docstoc.com/video/116755398/startups-uncensored-21-how-to-build-a-great-internet-company
#20 - Online Subscription Businesses
http://www.jasonnazar.com/2011/02/15/online-subscription-businesses-startups-uncensored-20/
Organizer of Mastering Public Speaking & Presentations - Startups Uncensored #27
Jason Lawrence Nazar is the founder and CEO of Docstoc.com, (acquired by Intuit) which provides the best quality and widest selection of documents to start, grow, and manage your small business and professional life.  Jason is also the creator and host of Startups Uncensored, the longest running and most widely attended technology gathering in southern California, which regularly brings together thousands of entrepreneurs, techies and investors.  Before starting Docstoc, he was a partner in a venture consulting firm in Los Angeles where he worked with dozens of startups. He holds a BA from UCSB and his JD/MBA from Pepperdine University, where he was the Student Body President of both Universities. Jason was named one of the "Most Admired CEOs in Los Angeles" by the LA Business Journal, but he's more proud of his three point shot and ping pong skills.