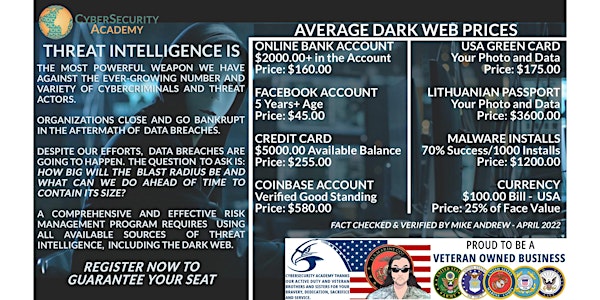 Mastering Dark Web Threat Intelligence
THIS IS THE MOST COMPREHENSIVE COURSE ON UTILIZING DARK WEB INTELLIGENCE AVAILABLE ANYWHERE. JULY 11-14, 2022 OR AUGUST 8-11, 2022.
About this event

JULY 11-14, 2022 OR AUGUST 8-11, 2022
This is a comprehensive class presented primarily from a cybersecurity and investigative point of view and supported by real-world examples and incidents. Both the technical and non-technical alike will benefit from this class. IT and cybersecurity professionals, law enforcement, and investigators of all types will find that the skills gained will greatly enhance dark web intelligence gathering and investigations.
What do cybercriminals, hackers, military, the CIA, FBI, EUROPOL, INTERPOL, USSS, hitmen for hire, peace officers, private investigators, digital forensic analysts, cybersecurity professionals, dissidents, drug dealers, and whistleblowers (WHEW!) all have in common?
They all use the dark web and the anonymity it provides for one or more of these reasons:
Protecting personal information
Conducting investigations
Ensuring privacy
Gathering intelligence
Freedom of expression (or paradoxically, to censor it)
Covert communications
Conducting a growing variety of criminal activities, including:

Planning and executing cyber attacks
Corporate espionage for hire
Promoting and planning terroristic acts
Planning and recruiting for cyberattacks
Buying and selling illegal weapons
Buying and selling illicit drugs
Buying and selling child pornography
Buying and selling counterfeit currencies
Buying and selling counterfeit passports
Buying and selling secret/confidential information

With the increased popularity of the hidden services that the dark web offers and a user base that continues to grow exponentially with no end in sight, a variety of professionals now need to be dark web literate, with many needing to possess the skills necessary to safely and legally conduct investigations.
The information available on the dark web can be used to track data leaks, find out who's been hacked and who's going to be hacked, learn about new scams and fraudulent activity, and find out what company's password database will soon be for sale. Military and tactical information can be found for sale and/or be freely available. These examples are the tip of the proverbial iceberg. On numerous occasions, your instructors used information gathered via dark web discussion forums to prevent identity theft and help mitigate cyber threats to organizations of all types.

TOPICS COVERED IN THE FOUR-DAY COURSE INCLUDE:
Dark Web Backgrounder
Cutting Through the Misinformation, Myths, and hype
Accessing Criminal and Restricted Market Places and Forums
Alternative Dark Networks
Anonymizing and De-Anonymizing Technologies
Competitive Intelligence
Configuring and Maintaining Your Dark Web Workstation
Content Monitoring and Alerting
Creating and Using Sock Puppets (Dark Web Personas)
Cryptocurrency Primer
Dark Web Examiner Security/OPSEC
Data Aggregation and Normalization
Finding Exfiltrated Corporate Assets
Messaging Technologies
Mitigating the Effects of Data Exfiltration
Open-Source Intelligence (OSINT) Gathering and Analysis
OPSEC, Safety, Ethics, and Privacy Considerations
Primary Tools and Techniques
Searching the Dark Web
The Asian Dark Web
The Certified Dark Web Examiner (CDWE) ™
Threat Hunting
Tracing Cryptocurrency Use
Usage Trends
User Activity Analysis
Using VPNs and Proxies

Copyright © 2022, CyberSecurity Academy. All Rights Reserved.
The following are trademarks of SP HAILEY ENTERPRISES LLC in the United States, other countries, or both:
The CyberSecurity Academy Logo
Certified Dark Web Examiner (CDWE)
Certified Darknet Examiner (CDE)
"Learn What You've Been Missing"
darkweb@cybersecurityacademy.com / 855-732-2223