Mastering Commercial Strategies and Negotiation Skills

Monday, June 24, 2019 at 8:30 AM

-

Friday, June 28, 2019 at 12:00 PM (SAST)
Event Details
Dear Sir/Madam,
Kindly acknowledge receipt
Mastering Commercial Strategies and Negotiation Skills
       24th-28th June, 2019,at the Mercure hotels, Bedford view, Johannesburg, RSA.
Today commercial managers fills a non-technical business-oriented position within a company. Their main function to oversee revenue and expenses used to create financial returns mostly is done through policy-level work, creating rules or practices to determine the steps that the business takes when conducting commercial business.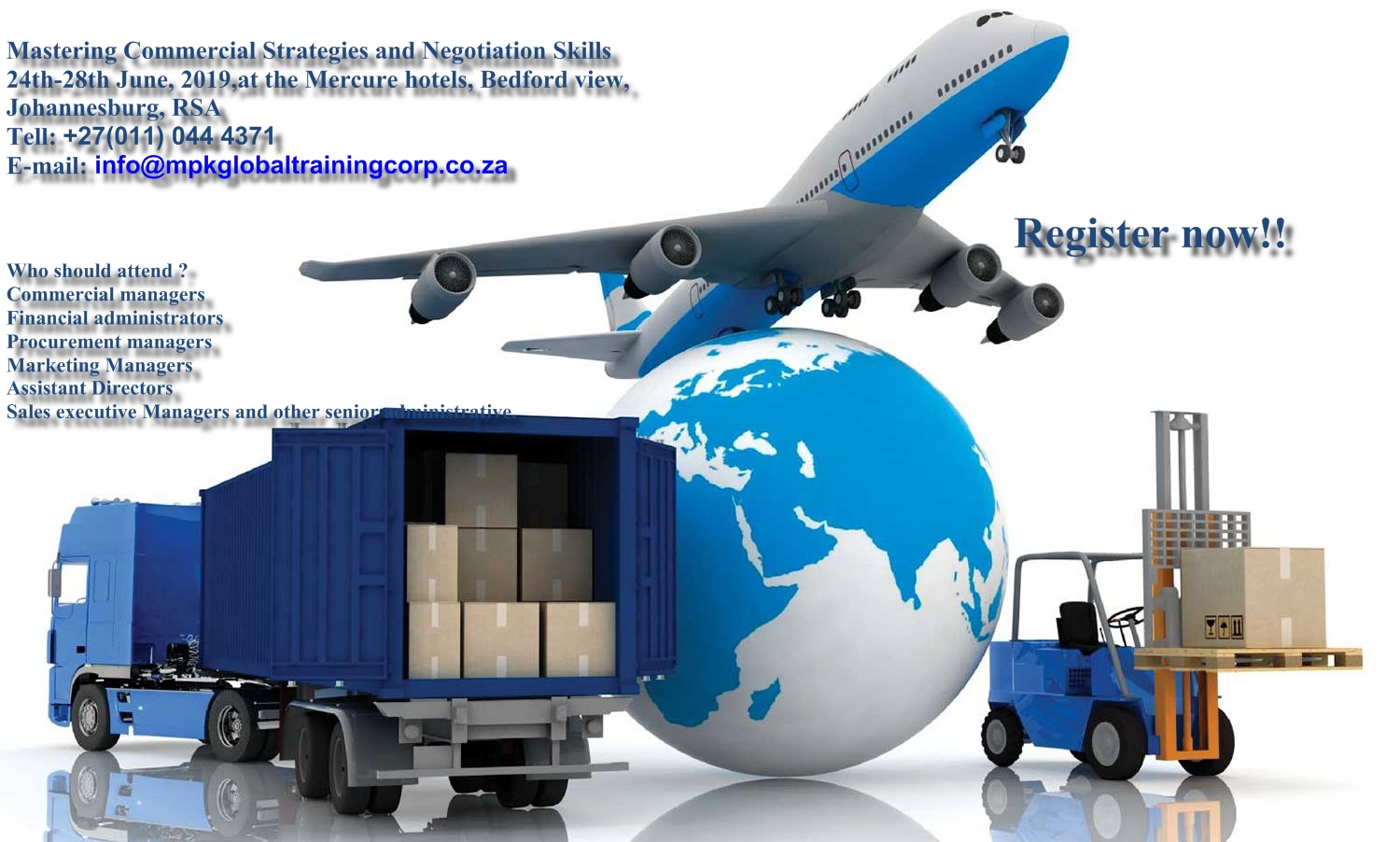 commercial managers often fills several sub-roles depending on the size of the company. Some of these can include individual sales responsibilities, marketing, contracting, negotiating, financial administration, contract laws, and even property management. In a smaller companies, it is likely that the commercial manager fulfils pieces of all of these responsibilities; in a larger company, it is more likely that a commercial manager oversees others that specialize in these roles or limits their specialty to specific areas while other staff handle remaining roles.

It is imperative that Commercial Managers, Financial Administrators, Procurement Managers, Marketing Managers, Sales executive Managers and other Senior administrative Managers obtains  some kind of secondary skills in this area, as well as a large amount of experience and continuous assessments in areas such as market research , interpersonal communications skill, the ability to negotiate, and the ability to make decisions effectively. They must also be able to understand all aspects of the company and its operations so that the requirements of up and down-stream customers may be satisfied as effectively and cost efficiently as possible..
Learning outcomes                        
Fundamentals of Strategic Management Analysis
Develop and maintain strong relationships with clients, creating new contracts and updating as conditions or tariffs change

Use analytics to create action plans for business growth

Cash Flow Analysis

Divisional Performance Analysis

Corporate Performance Analysis

Organizational and General Management Analysis

Decision Analysis

Capital Budget Analysis

Operating Budget Analysis

Cost-Volume-Profit Analysis

Financial statements Presentations

Oversee and direct contractors, staff, suppliers and carriers to ensure timely results

Procure and obtain materials and supplies for on-going and one-time projects

Develop pricing structures and risk assessments for products to lead commercial efforts
Who should attend ?
Commercial managers

Financial administrators

Procurement managers

Marketing Managers

Assistant Directors

Sales executive Managers and other senior administrative.
Added advantage !
Participants will have a one-on-one session with the facilitator on the last day at least half an hour or more per person or group to assist them in specific areas they might be facing difficulties or need improvement at their work places.
MPK Global Training Corporate (Pty) Ltd is registered with American Centre of Certification (ACC) a sole licensee of Sales and Marketing Certification Institute (SMCI), American Institute for business Management and Communications (AIBMC), American Association for Investment and Financial Management (AAIFM) and many more and earns CPD points. Certification holders (Participants) will gain a distinct advantage in employment and promotional opportunities over their peers, you will also walk away with a personal action plan for your continued development as a Commercial Strategist Executive and leave with a soft copy in English, French or Portuguese, A conference T-Shirt and a prestigious gift. Confidence comes from knowing that you are doing the right things right".
This up-to-date course will equip you with the knowledge you need to effectively manage your day to day schedule with minimum supervision. To register please contact +27(011) 044 4371 or email: info@mpkglobaltrainingcorp.co.za. For your company In-house or on-site training booking kindly request information on eventscord@mpkglobaltrainingcorp.co.za
See you at the workshop.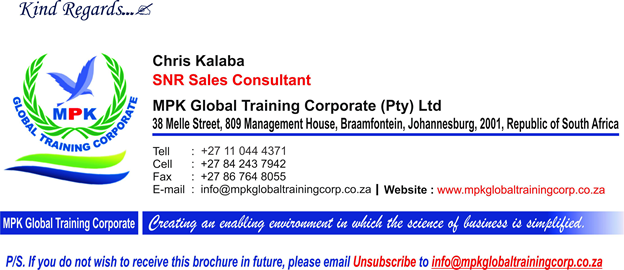 Attendee List
Sort by:

Date

|

First Name

|

Last Name
No one has registered for this event yet.
When & Where

Mercure Johannesburg Bedfordview Hotel
33 Bradford Road
Johannesburg, GP 2047
South Africa

Monday, June 24, 2019 at 8:30 AM

-

Friday, June 28, 2019 at 12:00 PM (SAST)
Add to my calendar
Organizer
MPK Global Training Corporate (Pty) Ltd is a South African Based registered Company, an Authorized Agent for Testing and Training for American Certification Center and an affiliate institute association partner ,a sole licensee of Sales and Marketing Certification Institute (SMCI),American Institute for business Management and Communications (AIBMC), American Association for Investment and Financial Management (AAIFM) and earns CPD points. MPK GLOBAL TRAINING CORPORATE:- Unmatched Africa's business Management Communication Professionals. Its one of the most sought after  registered research driven organization which complies with "Black economic Empowerment (BEE)" as well as the "South African Revenue Authority (SARS)" in Strategic business events, workshops, In-house, Corporate Conferences and Training through various media forms. We aim at creating an enabling environment in which the science of business is simplified by bringing well-researched current and relevant Events, workshops, Seminars and Conferences Conducted in three different languages:- English, French and portuguese by experts in specific fields.
 The Events encourages networking and high levels interactions among the delegates. We Strive also in providing well researched and creative unmatched business solutions for local And international organizations by offering the following products and services throughout the continent :-
* Conference
* Tailored Corporate training
* Exhibitions
* Customised advanced Corporate training
* Corporate Sponsorship
* Interpretation Equipements
* Delegates Microphones (Top Tables)
* Interpretation System​ (Including Wireless Receivers, Control Units, Radiator, Infared, Interpreter Booths & Consoles, PA & Sound System, Mixer, Speakers, Roving/Wireless     Microphones with Transmitter.