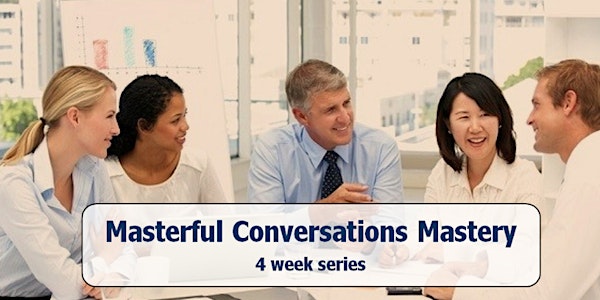 Masterful Conversations Mastery: 4 Week Course
Refund Policy
Refunds up to 7 days before event
Description
Masterful Conversations Mastery
A four week deep dive into the mindset, heartset and skillset to get the best results out of all your conversations.
Thursdays, November 2, 9, 16 & 23
6pm to 7:15pm Pacific Time
Online via Zoom and Facebook Group
Becoming a masterful communicator is simple but not easy. It is simple because the skills, mindset and heartset are natural and essential to who you are as a human being. But, it's not easy because in our culture many of the skills and principles are not well understood or valued and they don't get taught.
Now is your chance to learn those skills and join others in this four week group coaching program taught by Charlie Rebich. Come and bring your issues and your communication goals and learn how to become a masterful communicator. You will learn how to have powerful, empowering, heartful and effective conversations with friends, family, colleagues and co-workers on:
Resolving conflicts
Moving through tensions or issues
Getting them sold, enrolled or engaged on your ideas and issues you care about.
You will learn how to effectively communicate with others and have the kind of impact in the world that your heart and soul most cares about and that needs to happen in the world.
Please bring to the course at least one goal for area of improvement or specific communication outcome that you would like to achieve. Each week you will get the chance to discuss your goal and then we will dive into areas of discussion and have role plays and coaching around the mindset, heartset and skills to achieve your goals. This program will be highly interactive and their will be the homework as well of applying what you learn to achieve your specific goals. You will be supported to grow, learn and expand your communication skills and achieve greater than expected outcomes!
We will cover things like:
How to improve your confidence in any conversation and overcome fear
How to build your presence
How to connect with, listen to and understand anyone
How to be crystal clear in your message and be effective in straight talk that cuts right through matters
Simple steps to engage with anyone and resolve conflict
Simple steps to give and receive effective feedback
How to stay present, clear minded in any situation
How to stay open hearted and be the change you wish to see in the world
Once you register you will be sent instructions for the course and a link for the weekly Zoom call. If you have any questions please contact charlierebich@intothe.zone.
Charlie Rebich is a mindfulness and communication coach. He works with organizations to help them thrive with great culture, communication and structure. He also works works leaders of citizens and citizen leaders to help bridge divides and create the kind of world we really want.
www.intothe.zone
www.beyondpolarization.com