Description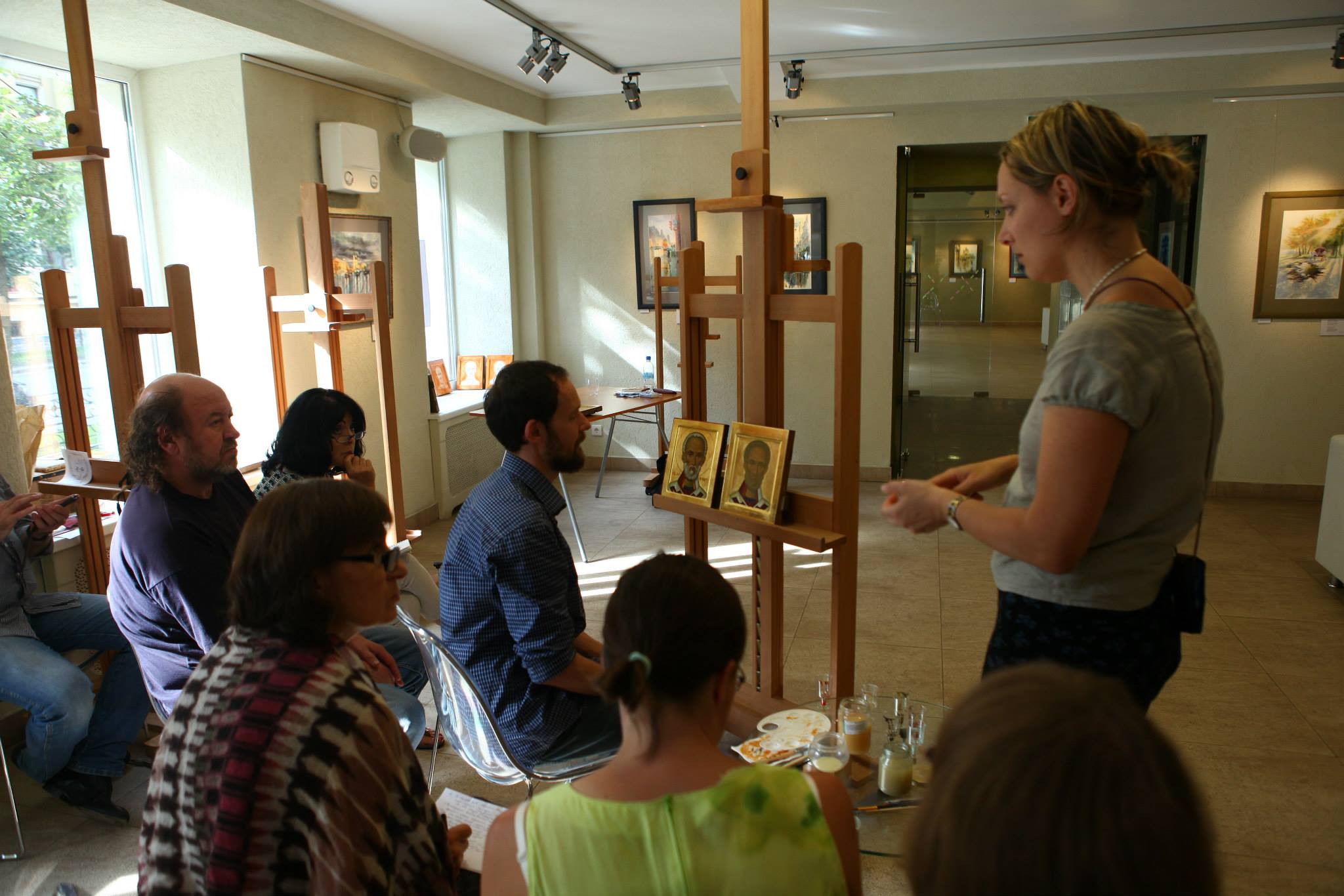 Anton and Ekatrina Daineko will travel from Belarus to Jackson, NJ to offer a Masterclass on the Art of Fresco/Secco. This masterclass is open to anyone over the age of 18 and no prior skill in art or Fresco/Secco is necessary. All elements from drawing the image to the process of Fresco/Secco will be taught. Each student will take home a portable Fresco/Secco image. There will be several images to chose from depending on the whether the person is a beginner with no skill or an experienced artist or someone in between.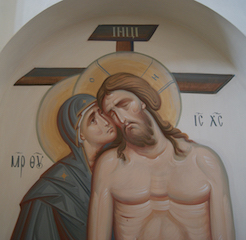 Cost for the five day workshop will be $550.00, a non-refundable deposit of $200 dollars is required to hold a place in this class limited to 15 students. Full payment is due no later than June 5, 2017.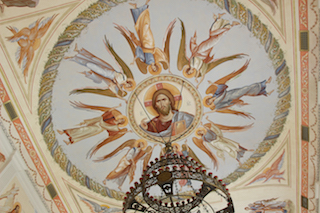 Anton and Ekatrina are accomplished and sought after Iconographers. Anton principally works on monumental large scale Fresco and Secco of Religious scenes for the Orthodox Church. Ekatrina is a skilled artist specializing in drawing and painting iconography. Prior to commencement of class students may view Anton's most current work in St. Aloysius Church.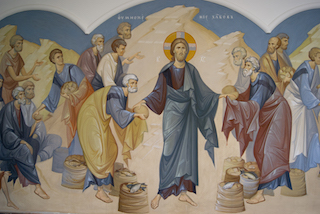 The Art and Science of traditional Fresco can be time consuming and ardous both to prepare the surface and in painting, there are also many hazards associated with this very techincal method. Anton and Ekatrina will teach a simpler method that employs both the Art of Fresco and Secco. By combining the old world Renaissance Fresco technique and the Secco technique on dry substrate using modern scientifically formulated pigment, Anton will teach students how to acheive a Fresco look (the pigment will bond chemically to the substrate) while employing the simpler Secco method on dry board without the issues related to Secco such as the paint only adhereing to the surface of the substrate. Combining the best of both methods helping the student to easily repeat the process at home.
Employing this combined method of Fresco/Secco allows the artist to achieve the benefit of Fresco where the paint actually bonds with the substrate with easier Secco method without the problem of it only adhering to the surface of the substrate; gaining the benefits of both techniques. The participant will leave with the ability to replicate this method on the interior or exterior walls of their homes creating a striking visual effect that will have long term stability and durability. While Anton and Ekatrina's class will employ the use of Religious Imagery to demonstrate the method, the student will leave the masterclass being able to paint any image or scene they can imagine inside or outside their dwelling.
Reviews from Previous Masterclass August 2016
"I recently attended the 10-day Icon Class in Vermont on July 24 through August 3, 2016. It was an experience of a lifetime. I have attended other classes like this, but there is no comparison. Anton's patience was amazing! Our icons were beautiful at the end of the workshop. This was by far a top-of-the-line workshop. I would recommend this class to everyone if you want to end up with a soft looking, spiritual, beautiful icon." - Barbara Thornton
"The icon work shop with Ekaterina Daineko & Anton Daineko is a highly, advanced, educational experience, not to be taken lightly, with high quality materials, demonstrations of technique an artist longs for and can only be realized in a masters studio. While certainly not for the faint of heart, if your serious about learning the art of iconography this is the workshop for you." -Grace Zazzaro, USA
"Words cannot express my gratitude toward Anton and Kate for the incredible instructions and assistance given to me and fellow students during the 10 day workshop. Both of these beautiful people are Master Iconographers with a true gift of both painting and teaching. Both carry a sincere love for God and the art and their students. The knowledge I gained is priceless as was the honor and privelage of watching Anton and Kate paint - true Masters! Thank you so very much and may our Lord bless you and those who you touch with your gift! -Mary Veltrop (USA)

"I recently took a class with Anton and Ekaterina in Vermont. I was very happy with the quality of their instructions. Especially their discussion of beards, hair, and the "grape cluster" model of highlights and shadows/contours. Because icons are stylized, it is common for some iconographers to forget some basic artistic sensitivity. The Dainekos teach how to put the sensitivity they learned in classical art training into the icon. I am looking forward to practicing these new techniques at home. Thank you!!!" -Yvonne Anne Hajdu-Cronin (USA)
FAQs
Are there ID or minimum age requirements to enter the event?
Participants must be 18 years of age or older. Class size is limited to 15 students. Students need only a desire to learn the beautiful techique of Fresco painting. No prior skill or knowledge is necessary. The Workshop is open to those who have no prior experience and advanced students, all will learn something and all will go home with a beautiful sacred image. The Anton Daineko a highly skilled Monumental Freaco Painter and an excellent teacher of great patience.
What accomodations are available near the event?
Airbnb for Jackson, New Jersey. As close as across the street, varies.
Rental cabins-camping-or tenting at the following sites in Jackson: Tip Tam Camping Resort, LLC 732-363-4036; 3.3 Miles/7min. Butterfly Campiing Resort 732-928-2107; 4 miles/8min. Indian Rock 732-928-0034; 8.6miles/8min. Timberland Lakes Campground 732-928-0500; 13miles/19 min. In Freehold; Pine Cone 732-462-2230; 5.4 Miles/10min.
Hotels: In Howell -At 9 Motel 6 East 3rd Street, 732-370-4333; 4.2 miles/7min. In Freehold -Radison 50 Gibson Place, 732-780-3400; 10.6 miles/17min. In Toms River -Ramada Inn 2379 US Highway 9, 732-905-2626; 10.2 miles/19 min. In Lakewood -Hilton Garden Inn 1885 Route 70, 732-262-5232; 10.4 miles/25 min. In Hamilton -Hiton Garden Inn 800 US 130, 609-585-6789; 22.4 miles/24 min.
What parking is available and what forms of transporation near the event?
The Church has ample onsite parking. It is centrally located on the 195 Corridor. Access from the New Jersey Turnpike take 195 East, from the Garden State Parkway take 195 West. From the South Route 9 North, from the North take Route 9 South. Bus service from Newark and New York is via NJ Transit, exit at the Aldrich Road Bus Stop on Route 9 South. Train Service via Amtrack or NJ Transit into either Trenton Station or Hamilton Station (Hamilton is closer).
Airports are in order of closeness: Trenton-Mercer (25 min), Newark Liberty (1 hr), Atlantic City International (1hr) or Philadephia (1hr 20min).
What can I bring into the event?
You can bring your family and make it a vacation! Jackson has one of the largest amusement parks; Six Flags Great Adventure complete with safari, waterpark and amusements. We have the Jackson Outlet Stores, Freehold Raceway Mall, Ocean County Mall, Monmouth Mall, Jersey Shore Premium Outlet Mall, Belmar Beaches, Point Pleasant Boardwalk, Amusements and Beaches, Seaside Boardwalk, Amusements and Beaches. Your family can take a day trip to Beautiful Cape May, NJ(1hr 20min), Atlantic City(1hr), New York City(1hr) or Philadelphia (1hr).
Take a 5 mile stroll around the Manasquan River Reservoir or visit one of the many Ukranian or Byzantine Catholic Churches or one of the Russian, Greek and Coptic Orthodox Churches or Cathedrals in the Jackson, Howell, Brick, Toms River Area to see beautiful Icons.
Bennetts-Mills Road is also called West Veterans Highway in the West of Town and on the Eastern side it becomes Aldrich Road in Howell, NJ.
Convenient Bus service to New York City Port Authority Bus Terminal is at the Aldrich Road Bus Stop one Mile from the Church. The Bus will take you into the heart of Manahattan and the Port Authority Bus Terminal has links to all NYC Subway lines.
How can I contact the organizer with any questions?
frbambrick@saintaloysiusonline.org
732-370-0500