Description
Angular is one of the most popular frameworks, and there is a lot of information available on building applications, improving performance, and various other topics. But do you know how to make your Angular applications secure? What kind of security features does Angular offer you, and which additional steps can you take to really boost the security of your applications?
In this session, you will learn how the paradigm shift from server-side to client-side applications impacts security. We will discuss script-based threats against Angular applications, and the concrete defenses Angular offers to prevent or minimize these attacks. Additionally, we will dig into various session management problems in combination with Angular. We investigate topics such as Cross-Site Request Forgery (CSRF), cookie flags, Authorization headers and JWT tokens.
After attending this talk, you will have a good understanding of various security threats against your Angular applications. In addition, you will have concrete knowledge on how to use the latest security technologies to effectively secure your Angular applications against these threats.
(The content in this masterclass is tailored towards Angular (both AngularJS (1.x) and Angular (2+)), but is also relevant for other client-side application frameworks (EmberJS, React, …)

ABOUT THE GUEST - Philippe De Ryck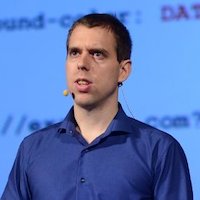 Philippe De Ryck is a professional speaker and trainer on software security and web security. Since he obtained his PhD at the imec-DistriNet research group (KU Leuven, Belgium), he has been running the group's Web Security Training program, which ensures a sustainable knowledge transfer of the group's security expertise towards practitioners.
----
Agenda Start & Scale Week: http://scaleupporto.pt/startscale
_______________________
Under the project Start and Scale, co-financed by: