Description
We invite you to join us for the #WEThrive Masterclass & Mastermind on Thursday, August 24th from 5:30-8:30PM in Midtown!


TOPIC DISCUSSION:
"YOUR ROLE AS A STRATEGIC BUSINESS PARTNER"
"How to identify the value you bring to an organization.
Understanding where you fit and what's in it for you.
Making a strong impression and delivering value!"
With our special guest speaker, the fabulous ANGELINA DARRISAW!
MAXIMIZE YOUR TIME & INVESTMENT - ARRIVE ON TIME!
5:30-6:15pm — Registration & Networking
6:15-6:45pm — Welcome & Introductions
6:45-7:15pm — Special Guest Speaker
7:15-7:45pm — Mastermind Session
7:45-8:00pm — Members Inner-Circle
8:00-8:30pm — Wrap Up & Networking
SPACE IS LIMITED... RESERVE YOUR TICKETS TODAY!
INVESTMENT: $35.00 (For integrity & capacity, please register before the virtual door closes Thursday morning)
Learn how you can access The Business of WE year-round events that include our monthly Masterclass & Mastermind, semi-annual Saturday Intensives, Annual Business Summit and Annual Wellness Retreat in the Caribbean. As a member, you'll also have access to tools, resources, and opportunities that will serve as the building blocks for your personal and business success!
Through the #WeThrive community you will learn from industry experts, find inspiration and fresh ideas, celebrate your accomplishments, and network with other like-minded women entrepreneurs and small business owners who are READY TO UNLOCK their fullest potential.
TO LEARN MORE ON HOW TO FIND THE RESOURCES, EDUCATION & COMMUNITY YOU NEED TO THRIVE...
GO TO: www.bizofwe.com/we-thrive
---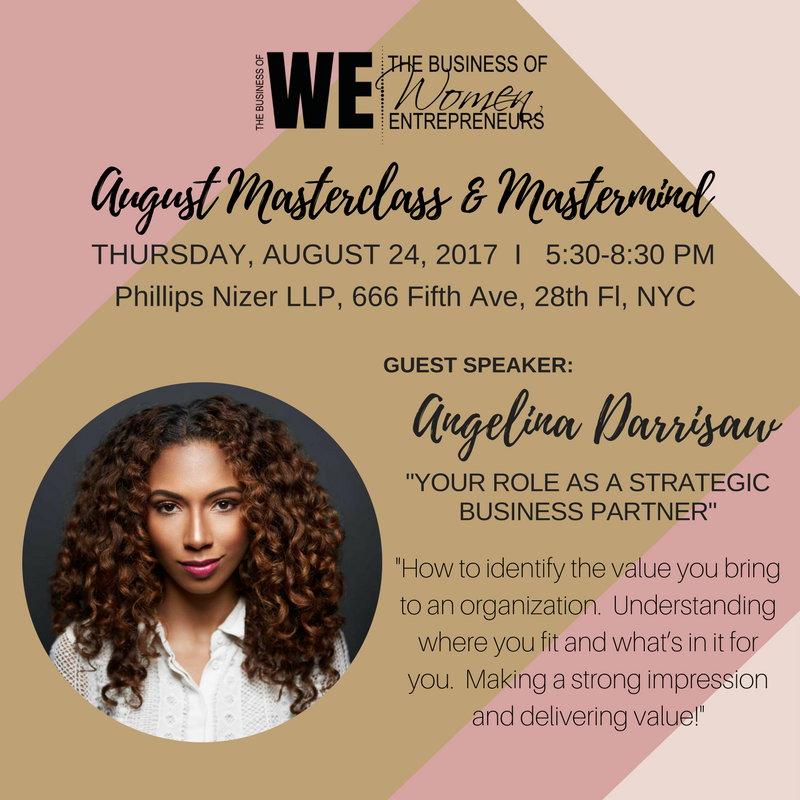 ARE YOU SEEKING RESOURCES, CONNECTIONS AND A VIBRANT COMMUNITY OF INSPIRED, PASSIONATE, KICKASS #LADYBOSSES TO SHARE THE JOURNEY?
We've designed our signature monthly Masterclass & Mastermind workshops to help women just like you navigate through their business and professional challenges using the collective intelligence of others. We are confident that the powerful conversations created between like-minded #LadyBosses who are committed to growing, evolving and manifesting greatness for themselves and others, will catapult us all to new heights of achievement!
No matter where you're at in your journey, The Business of WE is where dreams are strengthened and WE get inspired. Where compelling masterminding and brainstorms happen, meaningful connections are made and collaborative partnerships are born. Where uncertainty and fear perish and WE Thrive!
LIMITED SPACE AVAILABLE. REGISTER TODAY!
*Help us expand our network (and yours) by inviting other like-minded women to join us.
THE MORE OF US, THE MORE WE CAN ACCOMPLISH!
For more info on the Business of WE and the #WEThrive community, please visit: www.bizofwe.com/we-thrive