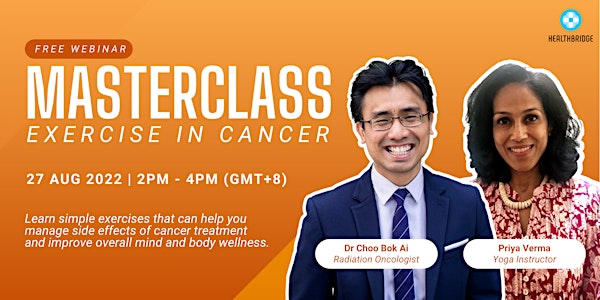 Masterclass in Exercise in Cancer
Learn simple exercises that can help you manage side effects of cancer treatment and improve overall mind and body wellness.
About this event
[Free Webinar]
Regular exercise is an important part of a cancer treatment plan and can greatly improve physical and mental health during each phase of treatment. However, with the many changes in the body of a cancer patient, it may be difficult to find suitable exercises to engage in.
Join Ms Priya Verma (Yoga Instructor) and Dr Choo Bok Ai (Radiation Oncologist) in an interactive webinar on 27th August 2022, 2pm - 4pm, to learn simple exercises to manage side effects of cancer treatment and activities to improve overall mind and body wellness.
Supported by Healthbridge International.
About Ms Priya Verma:
Priya is a certified yoga teacher from Yoga Alliance, since 2012. She has continuously reinvented herself and kept her knowledge relevant by doing a plethora of yoga courses and workshops over the past few years. Inspired by her own circumstances, she has recently received her certification in Yoga for Cancer Recovery and Rehabilitation in 2022. Priya feel that Yoga, Pranayama, Meditation are powerful tools for self transformation and can help to go inwards, find peace and confidence to face the challenges life throws at us.