Description
The Haus ov Tilhen will be bringing in the Celebrated International Makeup Artist, Roshar based in Los Angeles.



The Masterclass is a two(2) days event.
Date: 16 & 17 September 2017
Venue: Soireelab, Putrajaya
Price : RM1299


-----------------------------------------
The package includes:
- Master class with Roshar
- Door Gift worth RM350 (inclusive of RM200 Urban Decay's Product)
- Certificate by Roshar & The Haus ov Tilhen
- 1 participant who will be chosen by Roshar with the Best Performance will get a studio photoshoot with the mode
- UD Pro membership (That entitle for Urban Decay exclusive discount while purchasing products and invitation for future events)
- 5 Lucky Winner will get 1 set of Clarisonic Mia Fit (worth RM990)
- Social Media(Instagram & Facebook) Shout out to build port folio
===============================================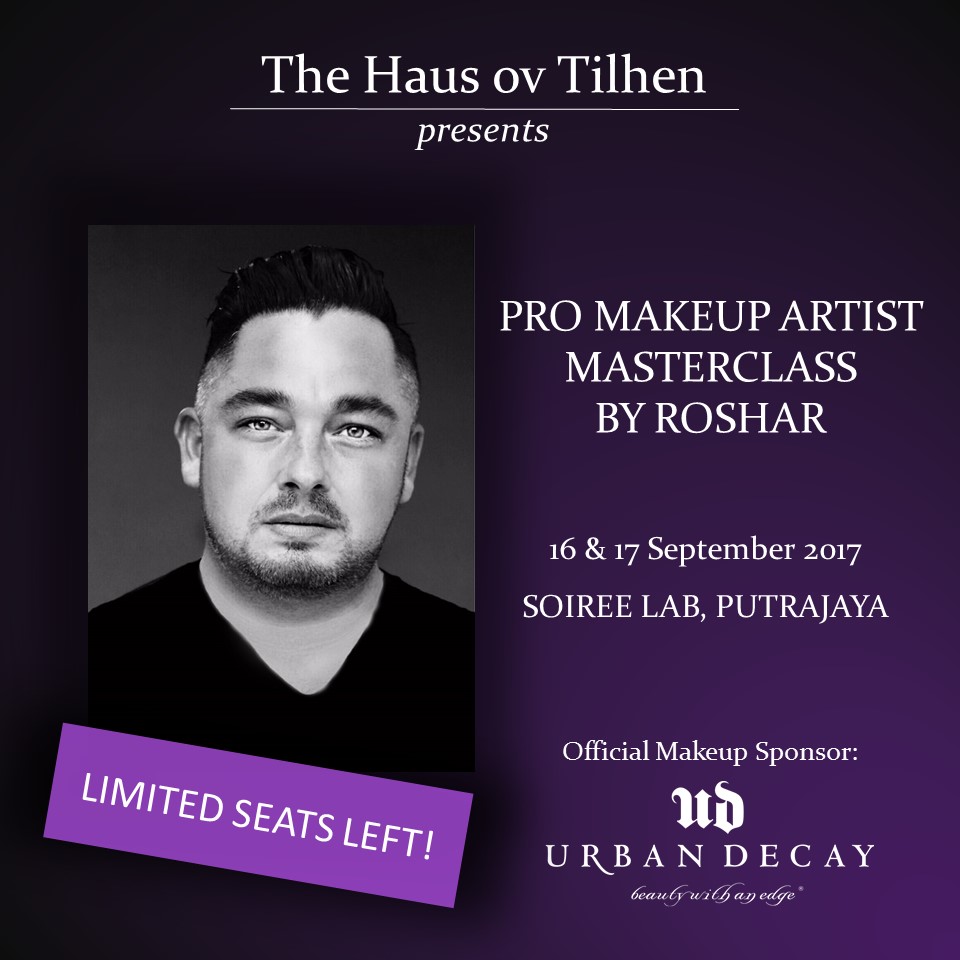 To know more about Roshar :
Roshar is an an international makeup artist, based in both New York and Los Angeles, with work featured in VOGUE, Harpers BAZAAR, ELLE, GLAMOUR, and InStyle magazine, among many other publications.
Originally from a small town in Texas, Roshar left home at the young age of 15, and began doing makeup to pay the rent. He soon developed the skill and unconventional style, that has lead him where he is today.
Since early childhood Roshar had a fascination with painting and fashion. Immersed in the underground club scene of the late 80s and early 90s, Roshar explored the world of role play and costumes, that further complemented his unusual way of looking at things.
As a platform artist, Roshar has worked on makeup presentations not only in the U.S but also in Moscow, Ukraine, Philippines, Toronto, Singapore and Japan.
Known for flawless skin and meticulous attention to detail, Roshar's work has become instantly recognisable. Some of his clients include MAKE UP FOR EVER, CoverGirl, Paul Mitchell, L'Oreal, Wella, and YABY Cosmetics.
===============================================
The focuses on the Masterclass:
1. Pro Makeup Artist Workshop
Saturday 16th of September (10am - 5pm)
An intense two day workshop that will focus on Makeup for Photography, Marketing, Branding, and Transformation.
Be ready to open your mind to a new view on makeup and application.
The first hour will consist of how to market yourself and how to get your work out there to be scene. Along with the ins and outs of the makeup industry that has made Roshar in demand Internationally.
The makeup portions will utilize a very unique perspective on makeup that utilizes "thinking outside the box".
> DEMO 1 – Contouring and Highlight (10am - 5pm) <

Learn how to do a natural yet stunning look that is seen on celebrities, yet strong enough to 'read' under strong photographic lighting
Making skin glow




Brows




Understanding Contour




Lashes




Time management




Flawless skin




Minimizing your kit




Understanding mixing mediums




Reshaping the eye



DEMO 2 – Out-of-the-box Fantasy

Creating a fantasy look that incorporates techniques that can even be used in regular makeup . A fun presentation meant to inspire.
Creating a fantasy look that makes sense




Working with an editorial team




Make your colors true in photographic light




Understanding the Color Wheel




Blocking brows




Creating a "fashion " lip




How to deal with creative blocks



Sunday 17 September 2017 (10am - 4pm)
Hands on Workshop

Utilizing what you have learned, you will create a look under Roshar's guidance. A sure way to en-grain all the tips and tricks learned within the day!