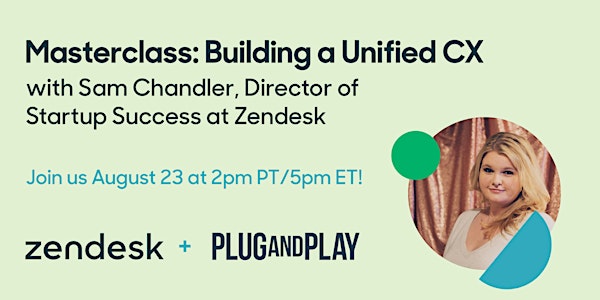 Masterclass: Building a Unified CX - Sam Chandler, Dir. of Startup Success
Join Zendesk's Director of Startup Success, Sam Chandler, as she walks you through how to build a customer experience from the ground up.
About this event
From building your CS team from the ground up to leveraging integrations with 3rd party tools, you'll walk away with actionable takeaways and learnings about how to build a unified CX that can be a huge competitive advantage in your efforts to scale.
Key takeaways:
1. An outline of WHO you are serving
2. Guidance on HOW to map out your CX journey
3. An understanding of WHAT metrics make sense for your organization
Zendesk has partnered with Plug & Play to offer exclusive benefits to their portfolio companies, including using Zendesk FREE for 6 months. Apply here.
Sam Chandler's job is to ensure that her customers look like rockstars. And it's a job she takes quite seriously. After spending the last 17 years becoming acclimated with every Customer Service role from the front lines of cashiering to designing early stage CX programs, Sam knows what truly drives loyalty — and it definitely doesn't involve the promise of differentiated customer service sans a strategy to back it up. It's about aligning your service goals with your organization's larger objectives and calibrating your measurements of success to reflect that mission.