Description
Do you struggle with your time management?
Then this is the event for you...Not only will you LEARN:
* How to create more time on a daily basis
* Top tips for overcoming procrastination and overwhelm,
* Strategies for effective planning & prioritisation.
** You will also LEARN How to say NO to distractions and maintain focus on your to-do list.**
AS WELL AS GETTING:
* An AMAZING FREE goodie bag full of fabulous things
* A Pitching lesson from an International Trainer
* The chance to network & connect with awesome attendees
* The opportunity to enter a fantastic charity raffle
* AND SO MUCH MORE FUN!
Tickets are Limited due to space, so book today to avoid disappointment as they are SELLING OUT FAST!
WHO IS THE EVENT FOR:
Small business owners, Solopreneurs, Freelancers and Marketing professionals that want to gain an in-depth understanding of how they can get on top of their time management and stop missing out on new business opportunities.
Bring plenty of business cards. the Networking is AMAZING, attendees always get business from these events!
GOODIE BAG
All attendees will get a Goodie Bag full of special offers and goodies, including a copy of my book Time Management for Entrepreneurs (RRP £9.98)
PRIZE DRAW
Our amazing sponsors have donated a variety of amazing prizes that you can enter to win on the night.
QUESTIONS
Drop us an email and let's chat hello@abigailbarnes.co.uk
I look forward to seeing you there!
Abigail
Find me on Twitter & Instagram, say hi! @abarnesauthor
By registering for this event, you accept our terms and conditions (including limitations and exclusions of liability) available on our website.
---
EVENT SPONSORS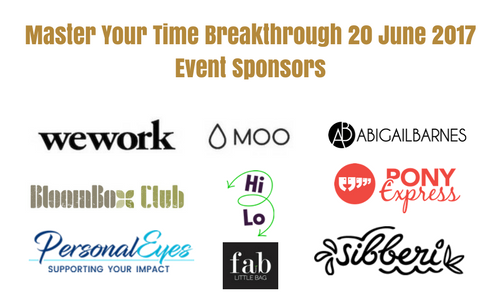 Bloombox Club - BEAUTIFUL PLANTS DELIVERED TO YOUR DOOR, EVERY SEASON. Make your home, and your mind, a little more tranquil with a box of beautiful, hand-picked plants, delivered every quarter.
Fab Little Bag - Never be caught out again with a blocked toilet or no bathroom bin. It's the best disposal method, period.At last, a fab way to dispose of tampons and pads.
HiLo - Tasty pots of #StealthHealth featuring more veg and less meat. Making it easy to eat better, with a lighter footprint, without compromise. Stir it up.
MOO - Hello, we're MOO – an online print and design company. We love great design and believe it can work wonders for every business, no matter their size. That's why we make it simple for our customers to create beautiful, expertly crafted business stationery and promotional materials that start conversations and open doors!
PersonalEyes - Enabling you to be the best version of yourself. Learn how to speak from your heart to attract your perfect clients. The ones that you truly resonate with, who love the value that you add. Learn how to tap into your authentic message and create Kick-ass content that: makes you stand out from the crowd (presentations, ebooks, animated videos, blog posts and social media posts).
Pony Express - Learn how to fall in love with public speaking, become who you really are, voice your real opinions, stand up for yourself without trading your authenticity for approval. Learn how to play a bigger game, and show the world that your beliefs and certainty are bigger than your fears. Do something your future self will be proud of!
We Work - We are helping to create a world where people work to make a life, not just a living. There has been a macro shift towards a new way of work—one focused on a movement towards meaning. WeWork is accelerating this movement.
Sibberi - Our aim is to offer water made by trees, that remains untouched. We never add flavours or sugar; it tastes just as nature intended. Tree water is naturally hydrating & low in sugars, in fact, 4X less sugar than coconut water!
---
SOME TESTIMONIALS:
Having spent a day with Abigail I couldn't help but find myself driven, energised and more focused than I had been in years! Abigail's passion and energy is infectious, I found myself planning and dreaming about the possibilities for my life and business, not something I have done for years. After spending a day with Abigail, for the first time in a long time, I had some clear goals set, and now I can see how I can grow my business. I have a plan for the next 12 months that I can work on delivering! I can't thank Abigail enough for all her help!
Steve Allen, UK
It's impossible to overestimate the impact that proper planning and goal setting can have on life. In the weeks since the program my professional and business life has taken off. Abby sets everything out in a clear and comprehensive manner. The content was well delivered and has impacted my decision making and time management on a day to day basis. I can't thank Abby enough for creating a space where ambitious, enthusiastic entrepreneurs can not only dream, but also begin to make those dreams a reality!
Dominic Hall, UK
Abigail created a time-management action plan for me following an initial consultation which has helped me to prioritise and define my business growth strategy. In turn, this has led to increased sales. Abigail comes highly recommended for business owners and entrepreneurs looking to make more effective use of their time, increase sales and improve productivity.
Rick McMunn, UK
Thank you Abby, the goal setting for success program helped me to focus even clearer on my next life and business goals, I left the event feeling even happier and more excited, I would recommend this event to any business owner who wants to super charge their success in 2016.
Kim Wymer, UK
The Goal Setting for Success Program was the perfect way for me to prepare for 2016 - it not only gave me the time to plan but also a process to get real clarity on my business and life goals for the coming year, along with an action plan to achieve them. Thanks to Abigail I was able to identify my key priorities, rather than spreading myself too thin in many areas. I've come away with renewed excitement for my business. The program has also armed me with tools to overcome times of procrastination and overwhelm in order to make my goals a reality. I highly recommend Abigail and this program to anyone wanting to take their business to the next level in 2016! Really awesome!
Jess Christiansen, Australia
After doing the Goal Setting for Success Program, I feel excited to apply what I learned to my business. I have some great new techniques that I can use to tackle procrastination and beat overwhelm. I have a clear growth vision for my business and life in 2016. Thank you Abigail, I highly recommend this Program to any business owner that wants to make 2016 their best year ever.
CoralHamze, UK
Thanks for the very informative lunch and learn today, I thought it was very well presented and thought-provoking, and it's always good to hone your own time-management techniques and get a little perspective.
Eddie George, UK
I'm part of Abigail's MTFM Members Club and it's giving me access to an international network of supportive and ambitious business owners. The content and value Abigail provides during the Strategy Calls I have with her, are amazingly powerful. Her tools and feedback help me to have a razor sharp focus and support me to work a lot smarter than I did before. Now I know how to bring my business to a next level.
Nicoline Huizinga, Netherlands