This 12-part Masterclass series is brought to you by America's SuperMom LaChelle Adkins and Sabrina Lowery The TECH Evangelist.
About this event
This 12-part Masterclass series is brought to you by America's SuperMom LaChelle Adkins and Sabrina Lowery The TECH Evangelist.
Join the "Head of The Class" and get on the Dean's List with an investment of $250 for the year. You get 12 - 90-minute live workshops, You will gain access to The Geek Tank Academy (eBooks, Materials and replays)
Monthly Founding Member Box (Swag) - valued at $50
Copies of "Inspirational Women of The World" by LaChelle Adkins + "The Entrepreneur's Blueprint for Digital Dominance" by Sabrina Lowery (valued at $50)
Monthly (3rd Saturdays)
90-minute Masterclass (Live) - 8 - 9:30 am EST
Door prizes + Networking opportunities for live participants
Business Spotlights
Enlisted in the Master Your Success Business Directory (Yearbook)
** Monthly business challenge for participants
Contest winners will be featured on LaChelle's podcast "Unlock Your Superpower with America's SuperMom" and Sabrina's vlog "Let's Talk Business"
_____________________________________________________________________________________
12-part Series - Master Your Success
(SAVE THE DATES)
January 16 - Business Planning + Goal Setting
February 20 - Celebrating Blackness in the Community
March 20 - Celebrating Women in Business
April 17 - Giving, Grants, and Sponsorships
May 15 - Celebrating Cultures
June 19 - Celebrate the American Dream
July 17 - Celebrating Friendships
August 21 - Back to Basics
September 18 - I Love You a Latte
October 16 - Protect Your Tech
November 20 - Give Thanks
December 18 - Family Over Everything
OPTIONAL:
Monthly participation + Networking for $25
No refunds will be given.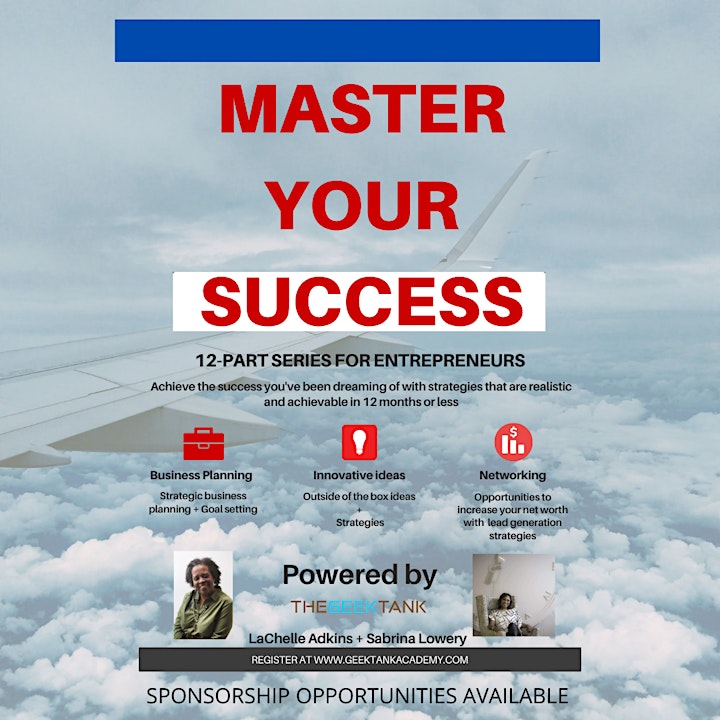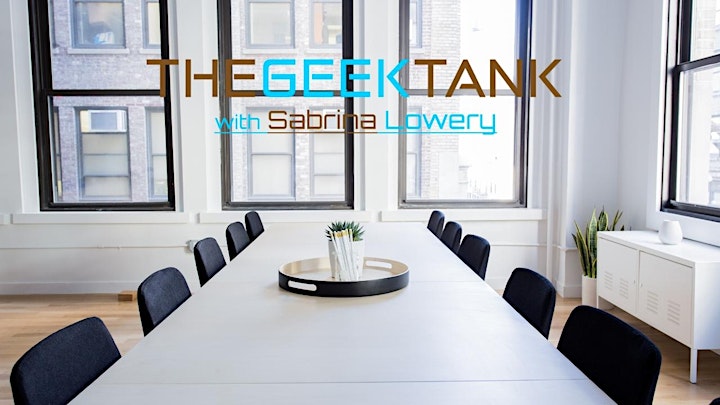 Date and time
Location
Refund policy
Organizer of MASTER YOUR SUCCESS Masterclass Series w/ Sabrina Lowery & LaChelle Adkins
​Sabrina Lowery is a serial Entrepreneur, better known as "The Real Estate Doctor & Technology Evangelist". She is the Owner and Qualifying Broker of Legacy Realty & Management, LLC in Atlanta, GA, and Chief Technology Officer for Sabrina Lowery Enterprises, LLC, a Business and Technology Consulting Firm.  With over 35 years of experience in Information Technology (I.T.), she has a dynamic approaching to teaching technology. Sabrina is a certified Microsoft Innovative Educator who specializes in all things Microsoft Office365, She incorporates G-Suite for Business and Education for all things Google in her professional and personal life. As a Google Certified Expert, she offers instruction to students of all ages and backgrounds, including Small Business Owners, REALTORS, and Entrepreneurs. Her online school,  The Geek Tank Academy was founded in 2017 and we offer live and virtual classes on a variety of topics. She is the author of "The Entrepreneur's Blueprint for Digital Dominance" and "Social eTECHquette: Communicating with a conscious mindset", which are both available for purchase on Amazon (digital eBooks on Amazon Kindle). Sabrina teaches several topics including Technology, Business planning, Entrepreneurship, Real Estate (License Law, Fair Housing, Code of Ethics and Contract Writing). She also develops courses for several businesses, universities, and schools globally.
Sabrina believes that everyone deserves an opportunity to be an Entrepreneur with multiple streams of income to create wealth. Her mission is to evangelize the importance of incorporating technology in our lives, in addition to helping families achieve the American dream of homeownership by purchasing real estate, investing, and by having multiple streams of income while creating a living legacy that will carry on for generations to come.
Visit www.sabrinalowery.com to book me as your next Instructor, Emcee or Keynote Speaker.