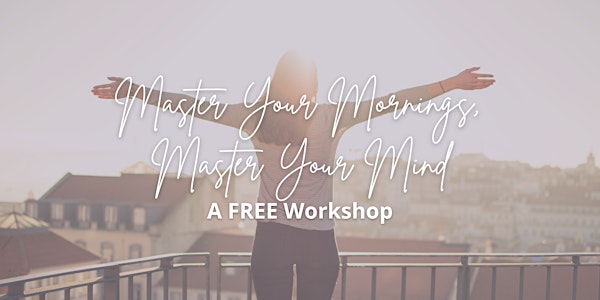 Master Your Mornings, Master Your Mind: A FREE Workshop
In this free workshop, you'll learn ways to transform your mind from your worst enemy into your greatest resource via morning practices.
About this event
Ever said "my mind is my worst enemy" or "I'm the only thing in my own way"?
I definitely have, and so has almost everyone. Our minds are SO POWERFUL we can get into a physical state of anxiety just by THINKING about something.
My name is Jessica Mar--I'm a musician, a mindfulness practitioner, and a morning routine queen. I'm here to help you discover the answer to the following questions:
What if you could harness that power, and transform your mind from your worst enemy into your best resource?
What if by setting yourself up for optimum success in the morning, you could get one step closer to making your mind your own personal genie?
You might feel unsure about how to regularly practice meditation and a morning routine. As a mindfulness practitioner, lots of people have asked me about my own experience.
What if you can't stop thinking during meditation?
What if you're short on time?
What does an ideal morning routine look like?
In the Master Your Mornings: Master Your Mind Workshop, I'll be answering your most pressing mediation and morning routine questions. I'll give you the tools to set yourself up for success at the start of each day by sharing:
Why I started practicing meditation
How I developed my morning routine
Ways I support myself in staying consistent
I'm also giving you a template you can use every morning to help guide you in your own practice, complete with a playlist of meditations, a journal prompt, and a list of affirmations. This is yours for life, along with the recording of this workshop, so you'll ALWAYS have access to morning routine/meditation support.
By participating in this workshop, you'll receive:
An inner arsenal of tools to help you build a consistent routine
Step-by-step meditation guidance to support a healthy mind
A template to get you started IMMEDIATELY
All of these invaluable tools and resources are yours to keep for life, COMPLETELY FREE OF CHARGE. This is my gift to offer you the support I needed when I was starting my own mindfulness journey.
For more information about what I do, you can check out my website!
REGISTER AND RESERVE YOUR SPOT IN THE WORKSHOP TO START MASTERING YOUR MIND BY MASTERING YOUR MORNINGS!