Description
Join us for our road trip kickoff summit in NYC at the Financial Gym. The Road to Financial Wellness is a movement breaking the social taboo about money in a 50 city tour.
The Happy Money Happy Life event is an interactive and fun experience that will connect you with experts who are mastering money and living their best lives...so you can too!
Who should come? If you're interested in:
Mastering your money,
Networking with other money-savvy people,
Discover best resources and tools,
and living your best life.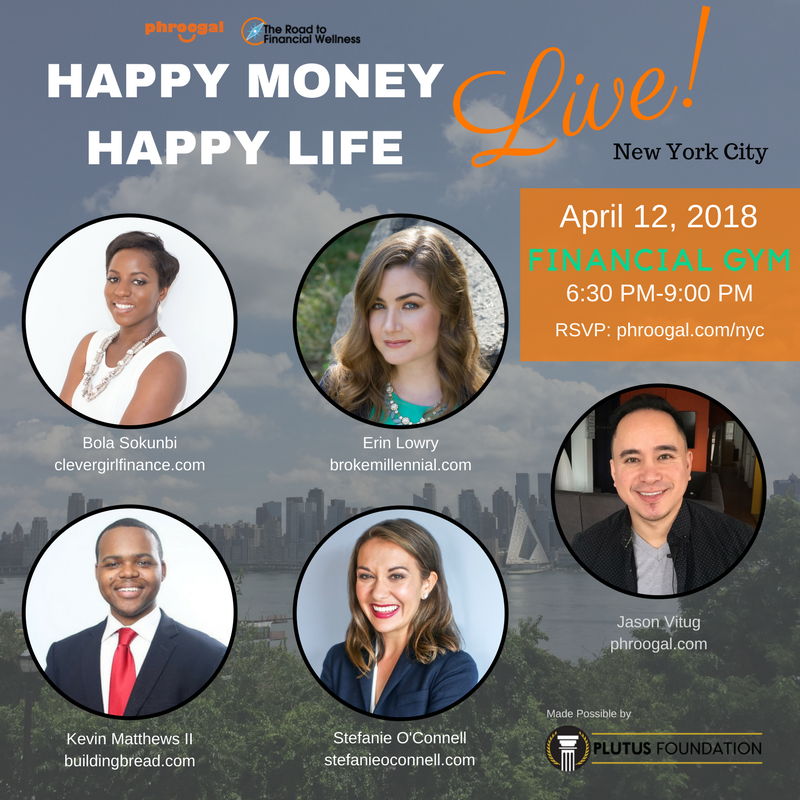 ---
Hosted by Jason Vitug, phroogal.com and creator of the Road to Financial Wellness
NYC Co-host: Stefanie O'Connell, stefanieoconnell.com personal finance expert and TV personality

With Special Guest: Erin Lowry, author of the national bestseller Broke Millennial
Presentations by: Kevin Matthews, buildingbread.com on how to create wealth through investing and Bola Sokunbi, clevergirlfinance.com of how she saved $100,000 with a $50,000/yr salary.
---
Event Details
Come early as there will be prizes, giveaways, and trivia. Network with NYC's biggest money influencers, professionals, and up-and-coming personal finance experts.
6:30 PM - Meet and Mingle with NYC's finest (personal finance experts, influencers, and professionals)
Icebreaker Challenge to Get to Know Your Neighbors
7:15 PM - Welcome Remarks You Don't Want to Miss
7:35 PM - Breaking the Taboo - Money Talk 1
7:50 PM - Special Guest Fireside Chat
8:20 PM - Breaking the Taboo - Money Talk 2
8:35 PM - Q&A
Learn more: www.roadtofinancialwellness.com
Thank you to our partners:
Shannon McLay, founder at Financial Gym and the Plutus Foundation