Description
'Success is neither magical nor mysterious. Success is the natural consequence of consistently applying
the basic fundamentals.'-
Jim Rohn
We would love to invite you to attend the launch of Business Consultant and Educator, Dean William's book, "Master the Basics"- a must have road map for all entrepreneurs who want to level up and see the results they desire in their business. It would be out honour for you to attend and celebrate this special day with us.
More on Master the Basics
"Master the Basics" is a must have business guide for those who have been running their business for between 1- 5 years and need help with the next steps. The invaluable tools and information in the book help you to explore the 8 key principles Dean has identified as being the solid foundation for a business to grow and thrive. Then, with his expert guidance, he'll help you apply these principles to your own business.
Dean Williams AKA The L.O.V.E Business Consultant (Leadership, Organisation, Vision, Empowerment) and author of the fabulous business guide "Master the Basics", is one man who is passionate about assisting entrepreneurs . Dean supports his clients in building, developing and growing their business, helping them to create a legacy they are proud to leave behind.
"Master the Basics" is designed to empower as many entrepreneurs as possible by showing them how they can create systems in their business, sell effectively, increase their client base as well as conquer their mindset all the time encouraging personal development and reflective practice.
Dean doesn't only believe in developing and growing the business; he's passionate about developing the people he works with. Self - belief, attitude and focus are all key elements that are addressed and with his charismatic charm, expert knowledge and sense of humour, you've never been in safer hands.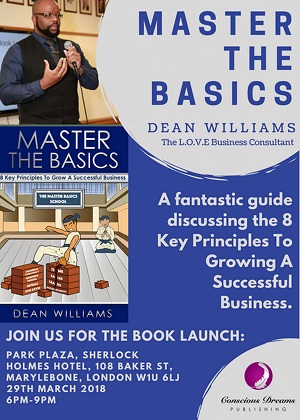 "Creating a vision is what you do, making it a reality is what we do".
Dean Williams' life changed when he was just 16 years of age. After a childhood of challenges, battling with dyslexia and a visual impairment, Dean decided that he had had enough of
people telling him "You can't do it".
Taking matters into his own hands and after some time working as a Chef, Dean secured a position working in a bank,something at the time he was keen to do. The years that followed, saw Dean learn about the world of Business and Finance and after spending two years working with commercial and corporate businesses, he was intrigued as to why so many businesses were still failing.
Dean knew that he could help them and so his role as a Business Consultant was born. Through sheer determination, personal development and self- belief Dean went on to launch Exclusive Visions in 2013.
"Master the Basics by Dean Williams is a solidly grounded book that's useful for any budding entrepreneur or a seasoned leader in business wanting to reinforce some best practices and enhance their learning. It is an enjoyable and intuitive read with many valuable tips, which are reinforced with workbooks and templates to complete. A very effective book for laying down the foundations for a good business or strategy." ~Tunji Akintokun