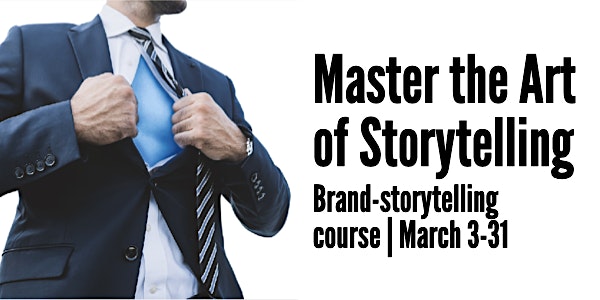 Master the Art of Storytelling
Refund Policy
Contact the organizer to request a refund.
About this event
It ain't fluff. Storytelling helps people pay closer attention to your message, understand it faster, remember it longer and act on it more quickly.
At Master the Art of Storytelling — Ann Wylie's creative-writing workshop on March 3-31 — you'll learn how to engage readers with a great story, as well as other creative elements like concrete details, description, wordplay and metaphor.

Logistics — NEW FORMAT!
Learn at your own pace, at your convenience.
Spend more time with Ann on live editing and coaching sessions.
Learn with a community of like-minded communicators.
Class runs from March 3 through March 31.
Weekly trainings. Access weekly trainings at your convenience, starting:
March 3: Think Outside the Pyramid. Learn a structure that makes all of your messages more fascinating and engaging.
March 10: Color Readers Fascinated, Wordplay Workout. Learn to make your readers' brains light up with description. Find out about new ways to dig up descriptive details.
March 17: Make Magic With Metaphor, , Model the Masters. Cut through the clutter of competing messages with wordplay. Craft a compelling metaphor with our fill-in-the-blanks formula.
March 24: Master the Art of Storytelling. Learn to write personal stories and business stories that grab attention, boost credibility, make your messages more memorable — even communicate better.
March 31-April 30: Continue to polish your skills with access recordings of all sessions — including live coaching and editing calls — and the LinkedIn Group Page.
Weekly live coaching and editing sessions. Mark your calendars for live one-hour coaching and editing sessions with Ann at noon Central on:
March 10: Think Outside the Pyramid
March 17: Color Readers Fascinated, Wordplay Workout
March 24: Make Magic With Metaphor, Model the Masters
March 31: Master the Art of Storytelling
Fees:

Save $50 each when you bring a friend; $100 each when you bring two or more friends.
Please learn about our cancellation policy and more in our FAQ.
This class will be recorded. By registering for this class, you consent to having your voice, name and likeness used in videos and photos in any media, now and in the future. By registering for this program, you agree to receive communications from Wylie Communications. You may opt-out at any time.