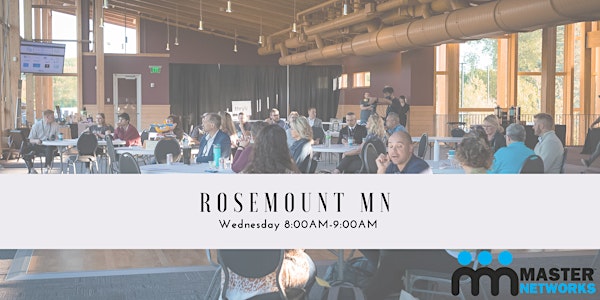 Master Networks Chapter Meeting - Rosemount Minnesota
This group of business professionals is looking to grow personally and professionally.
About this event
Master Networks is growing in Rosemount! This is a free event for people who want to:
Expand their network of professionals
Increase their personal growth in any position
Does this sound like you? Does it sound like anyone you know? Bring them along!
So what can you expect from this meeting?
You will learn why Master Networks is the solution for local business owners
You will get the opportunity to introduce yourself, your business, and what you need to explode your growth
You will learn how Master Networks can help!
If you are a local business owner, entrepreneur, self-employed, seeking a new job, working in a sales position, or rely on referrals in any way, this meeting is for you! Let us help you bring your game up to a new level.
Come be included in the face-to-face conversations that will shape the daily business in Rosemount!
Please Register on Eventbrite for Zoom information.