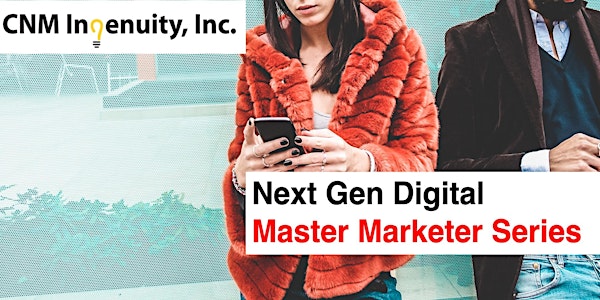 Master Marketer Series: Inside Content Marketing Strategy
Hear insights from the world's leading marketers in an intimate discussion
About this event

CNM Ingenuity's Next Gen Digital Master Marketer Series
Inside Content Marketing Strategy
w/ Geoffrey Colon, Founder of Creative Studies and former Head of Brand Studio at Microsoft
Host: John Bell, President NextNow Digital
As Head of Brand Studio for Microsoft Advertising and now the founder of a "next" agency, Creative Studies, Geoffrey has always been at the intersection of creativity, content and data. He has pushed the evolution of how brands use content and performance in advertising via his role at Microsoft. He will offer insights about the latest digital marketing applied at Microsoft and the opportunities he sees for brands and digital going forward.
Join us for an intimate conversation with master marketer and published author of "Disruptive Marketing," Geoffrey Colon.
This session is open to all students of CNM's Next Gen Digital Marketer program and Registered Guests.
About Geoffrey Colon, Founder of Creative Studies and former Head of Brand Studio at Microsoft
Geoffrey was the creator and Head of Brand Studio for Microsoft Advertising in Redmond, WA for 9 years. Colon has launched his own solopreneur agency CREATIVE STUDIES in 2022 to work with the most innovative and creative brands at the intersection of technology + media + subcultures + commerce. Prior to being at Microsoft, Geoffrey was vice president of digital strategy at Ogilvy & Mather in New York City and a creative lead at 360i, Splendid and Bond Strategy & Influence.
Colon has spent 20 years in various marketing capacities working for and with several of the most influential brands including Red Bull, Spotify, Netflix, American Express, The Economist, Coca-Cola, IBM, WWE and Food Network. He spent a few years in the New York City tech startup world and several years in the music industry working with several high profile musical artists including Britney Spears, Christina Aguilera, The White Stripes and Moby.
About John H. Bell, President & Chief Strategist at NextNow Digital
John brings the best lessons of more than 25 years innovating via digital practices. He has delivered next-gen digital marketing strategy and programs to the best-known, global brands including The Ford Motor Company, Nestle, American Express, Unilever and Travelers Insurance. He lives in Albuquerque New Mexico where he serves on the board of Presbyterian Health Plans, the premier health insurer in the state.
*The Master Marketer series is a part of CNM Ingenuity's Next Gen Digital Marketer Certificate program which gives students the most in-demand skills and experience for today and tomorrow. Students are automatically admitted to this series.