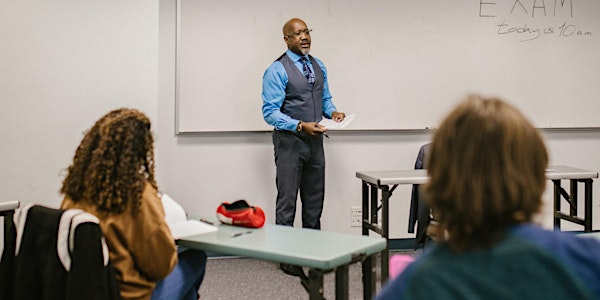 MASTER INSTRUCTOR! (Online Class)
This course will elevate and further develop your abilities as an instructor and public speaker.
About this event
TOPIC:
This course is designed to master the art of a law enforcement instructor through instructional skills, the development of proper curriculums and delivery of impactful materials.
This course will elevate and further develop your abilities as an instructor and public speaker using a variety of instructional methodologies. This student-based training will go through the creation of a course, building of a lesson plan, a PowerPoint presentation, and the delivery of the training program.
This instruction will give instructors the advantage and training needed to manage and provide trainings with confidence.
CLASS OBJECTIVES:
1. This interactive online class will help participants become a master instructor.
2. Students will review and learn new tools for instructing distinct types of training.
A. Ethical training
B. Police Academy Training
C. New hire training programs
D. FTO Trainings
E. Advance training
F. Public Training
3. Learning course development and management skills.
4. Building curriculums and lesson plans.
A. Needed.
B. Knowledge/ no knowledge.
C. Agency policy
D. Agency approvals and request
5. PowerPoints
A. Basic/ advance.
B. Backgrounds
C. Photographs
D. Graphics
E. Bullet points/ information
F. Videos
G. Checking/ review
6. Instructional Methodologies.
A. Clear communication
B. Classroom and student management issues
C. Presentation skills/ Zoom
D. Humor
E. Tools and Technology
F. Delivery
7. Provide innovative and interactive environment.
A. Projects
B. Student present.
8. Discuss and review student's techniques.
INSTRUCTOR: Sergeant Jacqueline Lee Hearon is supervisor of the Economic Crime Task Force and Fraud Unit of the Brevard County Sheriff's Office. She heads a multi-agency task force and conducts fraud training classes. She instructed for ten (10) years at the Brevard Community College Police Academy. Currently, Sergeant Hearon is a member of the ACFE and is a Certified Fraud Examiner (CFE) and Certified Financial Crimes Investigator (CFCI.)
TARGET AUDIENCE: All members of the criminal justice community (sworn or non-sworn). This is a great course for new or current instructors to enhance skills related to providing meaningful training classes.
DATES & TIMES:
Monday, September 12, 2022
Class starts at 12:00 PM Sharp – and ends at 5:00 PM (Eastern Time)
COST: $199.00 per person
LOCATION: THIS IS AN ONLINE CLASS!
• You will be sent a Zoom Link one week prior to the class
• We will send out the class materials electronically (via e-mail)
PAYMENT OPTIONS:
• Check made payable to:
TRAINING FORCE USA, 3681 Loma Farm Road, Tallahassee, FL 32309
• Purchase Order
• Credit Card payment made online
Cancellations and Substitutions:
• Upon submission of this registration, participants are responsible for payment of this course. Please note that if you do not attend, you are still responsible for payment.
• Substitutions may be made at any time by phone, e-mail or online at the registration site.
QUESTIONS: Phone: 850-251-1223 E-mail: contactus@trainingforceusa.com