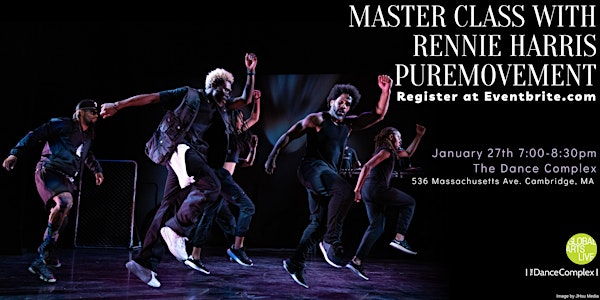 Master Class with Rennie Harris Puremovement
This Hiphop master class with Rodney Hill will take you on a journey of all the old school social party dances from the 80s, 90s & 2000s.
When and where
Location
The Dance Complex 536 Massachusetts Avenue Cambridge, MA 02139
Refund Policy
Contact the organizer to request a refund.
Eventbrite's fee is nonrefundable.
About this event
About the class:
Rennie Harris and his company members are well versed in the vernacular of Hip Hop, popping, locking, stepping, breaking, house, and other styles that have emerged from the African American and Latino communities of inner-city America. These masterclasses include exercises to develop muscle strength, flexibility, and stamina. The basic movement and techniques are defined, practiced, and developed into combinations. Hip Hop styles are explored as sources for inspiration and vocabulary for choreography. This Hiphop master class will take you on a journey of all the old school social party dances from the 80s, 90s & 2000s.
Rennie Harris Puremovement is performing at the Emerson Cutler Majestic Theater on Saturday, January 28, at 8pm, presented by Global Arts Live. Click here for information on the program and to purchase tickets.
About Rodney Hill:
Born and raised in the tough streets of North Philadelphia, Rodney entering the hip hop scene in 1988. For more than a decade, Rodney has blazed the stages in venues, nationally and abroad. He has been featured in many videos for artists as Boys II Men, Will Smith, Musiq Soul Child, just to name a few. Rodney has also performed on TV shows such as L.A. R&B Divas, NBC Late Night Show Conan O'Brien, Soul Train, NBC'S NFL Under The Helmet, and BET's "Teen Summit." In addition, he has toured and performed with Rennie Harris Puremovement, R&B singer Brave Williams, Julian King, R&B group AAries, Mad Skillz, Rapper "EVE," R&B legend Teddy Pendergrass, Janet Jackson's Dj Aktive, R&B singer Shanice Wilson, Mary J. Blige, 50 Cent, and Philly's own The Roots Crew. An accomplished dancer, choreographer, and teacher, Rodney Hill has performed and taught on faculty at the American Dance Festival and in universities and dance studios locally, nationally, and internationally in countries such as London England, Santiago, Chile, Toronto Canada, Bermuda, Monaco France; Bogotá Columbia; Democratic Republic of Congo; East Asia; Egypt; England, Israel, and Palestine. In 2020, Rodney graduated from Wilson College Chambersburg Pennsylvania receiving a MFA in Choreography. Mr. Hill's inspiration for dance comes from his community and family while continuing to educate and inspire others through his hard work, dedication, and commitment to hip hop and its culture. Lastly, in January 2022, Rodney was sworn into office as Councilman for Sharon Hill, Pennsylvania, a suburban community just outside North Philadelphia, Pennsylvania, where he grew up.