Master Class With Congressmember Karen Bass & Senator Holly Mitchell

Sunday, March 24, 2019 from 12:30 PM to 3:00 PM (PDT)
Event Details
Live Stream starts at 12:30pm: https://livestream.com/USC/Masterclass
In honor of Social Work Month and Women's History Month, NASW-USC Unit and USC Suzanne Dworak-Peck School of Social Work Alumni Association present:
Social Work Master Class with Congressmember Karen Bass and California State Senator Holly Mitchell, with introduction by Councilmember Marqueece Harris-Dawson
Congressmember Bass, who earned her MSW at the USC Suzanne Dworak-Peck School of Social Work in 2015 and was recently re-elected to her fifth term representing the 37th Congressional District where she serves as the chair for the Congressional Black Caucus, and Senator Holly Mitchell, representative of California's 30th Senate District and fervent advocate for social justice issues, will engage in conversation about all things politics, policy, and social justice. Both elected officials represent the area covered by USC's University Park Campus in South LA and will be introduced by City of Los Angeles Councilmember Marqueece Harris-Dawson.
Congressmember Bass and California State Senator Mitchell will share with us why they believe social workers are at the heart of social change, discuss why representation matters in politics, provide insight as to the federal and state legislative landscape and the CA "resistance" as it is being called, and answer your questions about how social workers can and should engage in electoral politics. As an added bonus, Senator Mitchell will provide attendees a Lobbying 101 session in preparation for those attending NASW-CA Lobby Days which is scheduled for April 7th and 8th in Sacramento, CA.
This event is free and open to the public. Light refreshments will be served.
Licensed social workers, marriage and family therapists and professional clinical counselors attending in-person can earn 2 CEUs for $15. Participants must attend the presentations from 1:00-3:00 p.m. to receive 2 CEUs.
Parking is available for $12 at USC parking structures; see maps of entrances and hours of availability at https://web-app.usc.edu/maps/. The Jefferson/USC Station metro station is also a short walk at 3214 S. Flower St, Los Angeles, CA 90007.
***Tickets are limited. You must pre-register to attend. 
Social Work Master Class Presenters:
Congressmember Karen Bass, MSW '15 
Bass was first elected to her Los Angeles-area Congressional seat in 2010. Prior to serving in Congress, she previously served six years in the California State Assembly where she made history as the first African American woman to serve as Speaker of the California Assembly. In this powerful state legislative role, she helped California to recover from the greatest economic crisis since the Great Depression. Bass currently leads the House Congressional Foreign Affairs Subcommittee on Africa, Global Health, Global Human Rights and International Organizations in the new Congress, which give her a platform to promote foreign policy initiatives to build capacity in African countries. She also serves on the House Judiciary Committee, which has jurisdiction over criminal justice legislation and voting rights proposals.
Throughout her career, Representative Bass has maintained a focus on our nation's foster care system. In her first term, she created the bipartisan Congressional Foster Youth Caucus along with co-chair U.S. Rep. Tom Marino (R-Pa.), which aims to transform the foster care system in America. Congressmember Karen Bass also serves as a member of the National Foster Youth Institute Board and plays a critical role by contributing her experience as a long-time advocate for foster youth.
Before serving as an elected official, Congressmember Bass became interested in community activism as a child watching the Civil Rights Movement with her father. It was at that time that she made a lifetime commitment to effecting social change in her community and abroad. She worked for nearly a decade as a Physician Assistant and served as a clinical instructor at the University of Southern California's Keck School of Medicine Physician Assistant Program. In 1990, in response to the crisis that was gripping inner-city America, which in Los Angeles was crack-cocaine and gang violence, Congressmember Bass founded and ran the Community Coalition, a community-based social justice organization in South Los Angeles that empowers residents to become involved in making a difference. Through her leadership at the Community Coalition, Congressmember Bass worked to address the drug and violence epidemic and to engage community residents in addressing the root causes of injustice. 
Senator Holly Mitchell, California's 30th Senate District

A third-generation native Angeleno, Senator Holly J. Mitchell was first elected to California State legislature in 2010 and is the proud daughter of career public servants and the protégé of community leaders who instilled in her a passion for service. She continued her family legacy of "firsts" when she was named the first African American to chair the powerful Senate Budget and Fiscal Review Committee in December 2016. Less than two months later, a profile in The Los Angeles Times described Mitchell as the "Legislature's moral compass." She proved to be just that in 2017 and 2018 when she oversaw the adoption of consecutive state budgets of nearly $200 billion each and won wide praise for directing funds to elementary and college students, the health-care systems and long-neglected programs to assist infants, the elderly, youth and working families. In recognition of her work, the five-member Los Angeles County Board of Supervisors in November 2018 presented her with its Distinguished Legislator Award.
Mitchell sits on the Senate Health Committee; the Joint Committee on Rules; the Public Safety Committee; the Labor and Industrial Relations Committee; and the Insurance, Banking and Financial Institutions Committee. She also chairs the Senate Select Committee on Women and Inequality, which she founded. In January, 2018, she was named vice chair of the Joint Committee on Rules Subcommittee on Sexual Harassment Prevention and Response.
Mitchell, the mother of a teenage son, has devoted her professional life to creating a California where all children thrive. She has led the charge to reform the criminal and juvenile justice systems, expand access to healthcare, early care and education, foster care, secure women's reproductive health and end the trafficking of minors. She is a passionate defender of women's rights and the environment. With nearly 70 bills signed into law, Mitchell's other groundbreaking successes include improving human services, expanding access to healthcare, defending the civil rights of minorities and the undocumented, and reducing the numbers of children growing up in poverty. In addition to fighting for a budget that better serves the more vulnerable among us, Mitchell joined up with Sen. Ricardo Lara and over two years jointly authored a successful package of 10 criminal justice reforms that place a greater emphasis on prevention, rehabilitation and maintaining family cohesion. Notably Mitchell was the sponsor of SB 1322, which aimed to stopped the criminalization of CSEC (commercial sexual exploitation of children) victims by decriminalizing prostitution charges for minors.
Mitchell previously headed California's largest child and family development organization, Crystal Stairs, and worked for the Western Center for Law and Poverty. This gave her valuable insights in how to improve services to diverse communities whose needs were not being addressed by state or local governments. Mitchell has been cited for her outstanding leadership by more than 100 community and business groups, including the Courage Campaign, Sierra Club, United Cerebral Palsy Association, the Greater Los Angeles African American Chamber of Commerce and the Women's Foundation of California Board. Her advocacy on behalf of the expansion of mental health services earned her Legislator-of-the-Year Award from the National Alliance on Mental Illness California, as well as the 2017 California Champion of Mental Health from Mental Health California.
Councilmember Marqueece Harris-Dawson, Eighth District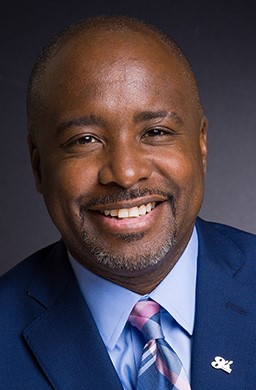 Councilmember Marqueece Harris-Dawson was sworn into office on July 1, 2015, to represent the Eighth District. Within his first 18 months as a Councilmember, he authored Proposition HHH, a $1.2 billion bond for permanent supportive housing, the largest investment towards ending homelessness in the nation. The Councilmember has authorized more affordable housing than anywhere in the city in his first two years in office. On the City Council, Harris-Dawson is a supporter of equity issues like homelessness, jobs, clean streets, and community policing. As a long-time community organizer in South LA, Harris-Dawson relies on his deep roots and relationships.
The Eighth District is home to over 248,000 people with the highest concentration of African Americans in the city located in the Crenshaw District, Hyde Park, and a section of Watts. The Eighth District also consists of Manchester Square, West Adams, Harvard Park, and Magnolia Square. District Eight is nearly 18 square miles, with a median household income of $32,000. Councilmember Marqueece Harris-Dawson knows that South Los Angeles' greatest resource is its people. The people of South Los Angeles deserve a leader, whose mission is to advocate on their behalf, put their concerns above his own, and instill leadership values in the community.
Councilmember Harris-Dawson grew up in South Los Angeles during the crack cocaine epidemic. As gang and police violence knocked on their front door, his parents moved him and his younger brother out of the neighborhood. Disappointed by being disconnected from "his village," the Councilmember made it his life's goal to ensure that no other family had to move out of South Los Angeles to keep their children safe.
Councilmember Harris-Dawson returned to South Los Angeles after graduating from Morehouse College to work for the family real estate business. In 1995, he joined the Community Coalition, one of the most progressive non-profits in the city. His first campaign publicized the horrendous conditions of inner-city high schools and the inequities in the distribution of public funding. It resulted in a groundbreaking $153 million for repair and modernization in South LA schools.
Starting in 2004, Councilmember Harris-Dawson served as President and CEO of Community Coalition, succeeding founder and current Congresswoman Karen Bass. His leadership led a capital campaign to acquire Community Coalition's headquarters on Vermont Avenue and grew the organization's influence, size, and financial standing.
Councilmember Harris-Dawson was honored with various community commendations, recognition, and awards such as the coveted Do Something "BRICK" Award, The Wellness Foundation Sabbatical Award, the NAACP Man of Valor Award, Durfee Foundation's Stanton Fellowship, and Liberty Hill Foundation's Upton Sinclair Award. He also served as a board member for the Liberty Hill Foundation. He holds a certificate in Nonprofit Management from Stanford's Graduate School of Business and is an Aspen Institute Pahara Fellow. Councilmember Harris-Dawson and his wife Karrie are natives of South Los Angeles. His love, compassion, and empathy for the city make him a great advocate of the future.
CEU Provider language:
The University of Southern California (USC) Suzanne Dworak-Peck School of Social Work, an accredited school of social work as defined in Business and Professions Code section 4991.2, meets the requirements set forth in section 4996.22(d)(1). The School is recognized by the California Board of Behavioral Sciences as a continuing education provider pursuant to Section 1887.4.3
CEU Learning Objectives
Identify examples of how social workers can apply their traditional social work experience and the transferable skills that will allow them to thrive in political settings.
Identify how social workers can be involved in the political process at the micro, mezzo and macro levels.
Learn why social workers should be embedded throughout all levels of government to impact social justice.
Learn about resources for social workers to engage in political action and lobbying to support legislation that is in the interest of social workers and their clients and to oppose proposed bills that are deemed potentially harmful.
Attendee List
Sort by:

Date

|

First Name

|

Surname
When & Where

USC Suzanne Dworak-Peck School of Social Work - Montgomery Ross Fisher (MRF) Building Room 340/Livestream Available
669 West 34th Street
Los Angeles, CA 90089


Sunday, March 24, 2019 from 12:30 PM to 3:00 PM (PDT)
Add to my calendar
Organiser
USC Suzanne Dworak-Peck School of Social Work Alumni Association
The Social Work Alumni Association serves as a partner to the USC Suzanne Dworak-Peck School of Social Work in creating meaningful networking, professional and volunteer opportunities that engage and reconnect alumni with each other, the school and the university while benefiting the mission and priorities of the school.
NASW is the largest professional social work membership association in the United States with over 130,000 members. With 11,000 members, NASW-CA is the largest chapter in the nation. NASW's mission is to promote, develop, and protect social workers and the profession while enhancing the well-being of individuals, families and communities. The NASW-USC Unit, a local unit of NASW-CA Region I, aims to bring together USC Suzanne Dworak-Peck School of Social Work students, alumni, staff/faculty and community partners, in line with the NASW mission, through activities focused on networking, professional development and policy advocacy. The NASW-USC Unit Leadership Team is comprised of USC Suzanne Dworak-Peck School of Social Work faculty, staff, alumni and Master of Social Work students.