Description
We are currently immersed in the digital era. What before was a competitive advantage now is the bread-and-butter of every company that wants to remain competitive in the market. This is bringing a re-definition of traditional ways for working and cultures at work. Furthermore, technology is changing the whole landscape at a speed that new jobs are created every day. Traditional functions such as finance, marketing, etc have all incorporated the adjective "digital" and C-suite level professionals are starting to foresee Artificial Intelligence entering the Board room. In this scenario, what are the real jobs of the future? What are the most valued skills and why we should prepare for the change of roles as we know them today? What is the real meaning of a change culture as opposite to the existing culture in companies?. These are some of the questions that we will consider during the master class.
SPEAKER: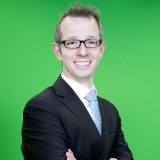 Borja Gonzalez del Regueral
Dr. Borja Gonzalez del Regueral, Vice Dean at IE´s School of Human Sciences & Technology, Professor of Business Analytics & Technology Within his almost 20 years of professional experience Dr. Gonzalez del Regueral combines both work at world's largest companies, his own business and a unique
research in energy sector. Working for British Petroleum (BP) he led global operations transformation projects, developed innovation and digital strategies in the areas of human capital and SaaS implementation. Prior to BP, he worked at Iberdrola in its international expansion, post-merger integrations, and in regulatory strategy for the electricity and natural gas markets. With his own consulting practice Borja brought to the market and led to international expansion high-end brands in fashion, apparel and sports industries. His professional mission is to help companies instill a culture of disruptive innovation and educate a next generation of young professionals able to draw on innovation methodologies to be leaders in their chosen areas of work. Dr. Gonzalez del Regueral holds a Ph.D. in Thermoeconomics from Polytechnic University of Madrid and was awarded the best PhD thesis by the Royal Academy of Doctors of Spain. He also holds Masters degrees in the Electric Power Industry (Comillas Pontifical University) and Mining Engineering (Polytechnic University of Madrid) and an Executive MBA (IE Business School). His academic work has led to a patented novel energy generation process, a book on Exergy & Thermoeconomics and publications in several scientific journals.
Kind Regards,
Isabelle Delacave Country Director for Australia and New Zealand