Master Beekeeper Program Training & Testing -Spring 2017
Description
The Spring 2017 training and testing day of the University of Florida Master Beekeeper Program will be held the day before our Bee College on March 9th, 2017.

The Master Beekeeper Program (MBP) is a five year beekeeper training and certification provided by the University of Florida (UF). The MBP trains and educates beekeepers on new techniques, equipment, potential problems, tips and tricks to improve their beekeeping skills. Perhaps most importantly, it keeps beekeepers around the state and country connected. MBP participants serve as bee ambassadors to beginning beekeepers, the public, and our community, by teaching and serving as an extension of UF Honey Bee Research and Extension Lab (HBREL).
Click here to read complete program details, including test structures and content (Appendix F).


New to the Master Beekeeper Program?:
If you wish to join the UF MBP, you must start out at the Apprentice level. To test for the Apprentice level on Thursday, March 9th, you must:
be a registered beekeeper by the test date (Florida apaiary registration information can be found here),

and have kept bees for at least one full year.
What to expect:
This training and examination day consists of two parts. In the morning (8:00 AM–12:00 PM) there are review lectures on important beekeeping topics. In the afternoon there are written and practical examinations (1:30 PM–5:30 PM). Please note, these training lectures are not comprehensive. Students are responsible for studying the materials listed on the reading lists for their level (reading lists can be found here).
See the complete schedule below: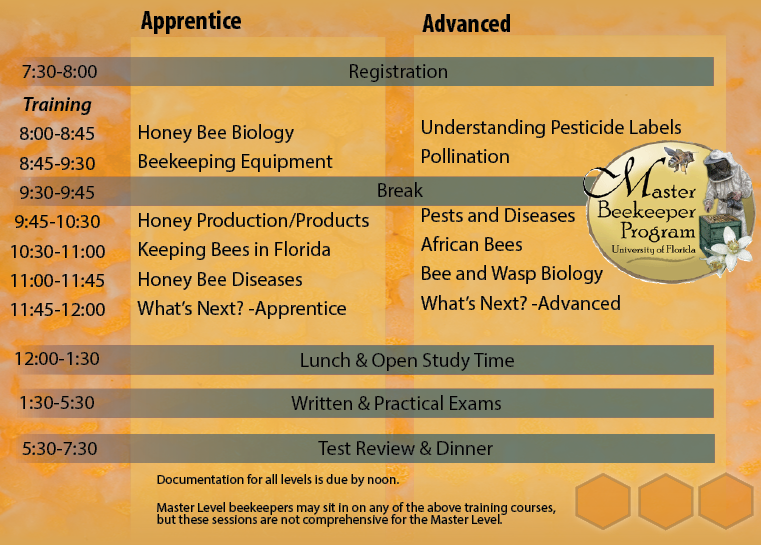 HBREL will provide suits, veils, and gloves for use during the practical exams, however, you are welcome to bring your own protective clothing if you prefer. All other necessary equipment will be provided for you.
Additional information:
If you would like to take part in the training sessions, but do not plan to test this spring, you may register for the morning training sessions only at a discounted rate.
Those planning to test for the Master Craftsman level, must contact the MBP Board in advance (honeybee@ifas.ufl.edu).
If you have a physical or learning disability and may need assistance taking the examination, please email honeybee@ifas.ufl.edu before the testing day so that we can accommodate your needs.
Walk-up registrations will incur an additional $10 fee.
Registrations may be cancelled without a charge through March 3rd, 2017. After that date, all cancellations will be charged a fee of $20.
Date and Time
Location
Whitney Marine Laboratory for Bioscience
9505 N Oceanshore Blvd
Marineland, FL 32080