About this Event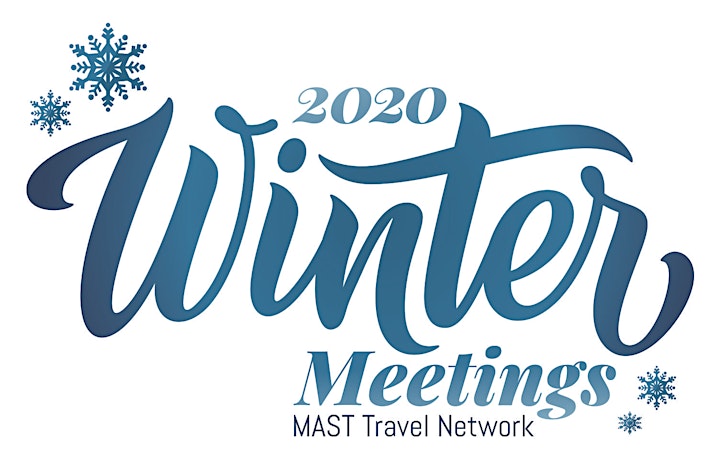 Sustaining Innovation
"Sustaining Innovation" is MAST's 2020 Educational Theme. In 2018 we focused on "Reinventing the Travel Experience" while in 2019 we built on that theme by adopting the new practices we learned and putting them into action.
Now that we have put these actions into place, it's time to sustain innovation by continuing to satisfy your client's current needs. Innovating your business model not only reforms the way our client's travel but also improves the global quality of life.
The 2020 MAST Winter Meetings will feature a lineup of suppliers who will discuss how their companies innovate agency resources and continue to adapt to your clients' needs, allowing you to revolutionize their travel experiences while collaborating with sustainable efforts.
The agenda for the evening as follows:
5:30 pm Social/Networking time, appetizers and wine tasting
6:00 pm Supplier Training
7:00 pm Social/Networking time, appetizers and wine tasting
7:30 pm Supplier Training
8:15 pm Social/Networking time, dessert
8:30 pm Evening Concludes
Current Participating Suppliers (Full Schedule TBD):
Apple Vacations, Auto Europe / Fly Intl / Excellent Hotels, Las Vegas Convention & Visitors Authority, Rocky Mountaineer, Royal Caribbean International and TourCrafters
MAST's Regional Winter Meetings are for everyone in your office – owners, managers, front-line advisors and independent contractors.
These small group sessions provide an intimate, community atmosphere that fosters learning and relationship building. Enjoy an evening out while networking with other members and suppliers that can offer solutions for your problems.
The Winter Meetings are a benefit of your MAST membership and are COMPLIMENTARY to members. Be sure to take advantage of this opportunity.
Please note there will be a $30.00 charge for no shows and cancellations on or after Tuesday, January 14 due to the guarantee we are obligated to give to the restaurant for having a private room for our meeting.