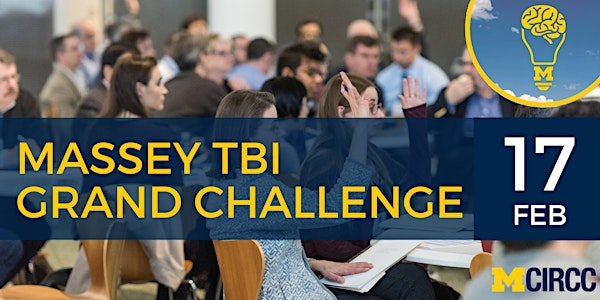 Massey TBI Grand Challenge
When and where
Location
North Campus Research Complex 2800 Plymouth Road Building 18, Dining Hall Ann Arbor, MI 48109
Description
About the Grand Challenge
The Grand Challenge supports high-impact proposals by funding milestone-driven research over a 12-month timeframe.
Up to $600,000 is available to fund the development of diagnostic, device, therapeutic, or health IT solutions that address the initial 'golden hours' of care after severe traumatic brain injury (generally the first 48 hours). Treatment administered during this critical timeframe can determine patient survival and have a significant effect on long-term function and disability.
The Grand Challenge is made possible thanks to a generous gift from the Joyce and Don Massey Family Foundation.
Note: To be considered for funding, you must attend the Grand Challenge event.
Click here to download the agenda.
Competition Information
Grand Challenge funding will be awarded to teams moving their projects along the research spectrum toward translational impact. The goal is to accelerate impact at the bedside; therefore basic discovery phase projects will not be funded.
Integrative collaboration across disciplines is encouraged; therefore proposals submitted by co-PIs from across disciplines will be given first consideration for funding.
All funded projects will be assigned project mentors to assist in executing their milestone-driven research plans. Projects involving potential product development will also receive specialized commercialization mentorship, utilizing the 'lean business model' tools and techniques.
Competition Timeline
The Grand Challenge follows a two-stage process.
Stage 1 (Feb 17 - March 10): Teams submit two-page proposals to be reviewed and scored by the Massey Review Committee (comprised of U-M clinicians and DOD Neurotrauma leadership).
Stage 2 (April 14 - June 15): Based on scores assigned during Stage 1, ten teams will be invited to submit a detailed, ten-page proposal. Teams will then pitch their idea ('Shark Tank' style) to an expert panel comprised on neurointensivists, DOD representatives, entrepreneurs, and U-M clinicians and Business Development.
Click here to see detailed timeline.
Collaborating with the DOD
Department of Defense (DOD) service members and families represent the largest U.S. population suffering from the impact of TBI. Working with MCIRCC, the DOD will bring expertise and resources to help accelerate the movement of translational research outputs into the field.
DOD Neurotrauma Leadership will assist in reviewing and selecting proposals for funding.
Funded projects that drive toward proof of concept and human testing have the potential to receive follow-on funding from the DOD for solutions, therapies and products that can be used by DOD medics in the field.