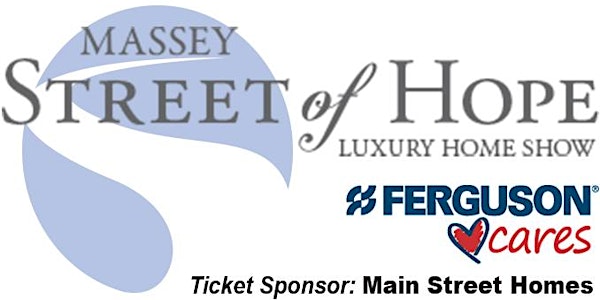 Massey Street of Hope
When and where
Location
Hallsley 16500 Shefford Drive Midlothian, VA
Description
The 2015 Massey Street of Hope is a 16-day event featuring designer furnished luxury homes. The homes will be open daily for tour from 11 am to 6 pm, with extended hours until 8 pm on Thursdays for Concerts for Hope. The show will feature eight new and exciting fully decorated homes featuring the latest in interior decorating ideas, trends, and innovations in new homes with an emphasis on "What Women Want."
TIckets to preview the eight showcase homes are available online for $10 and allow you to attend the event on any one day of the show. Main Street Homes is the ticket sponsor for this event.

In addition to the latest interior design trends in furniture, window treatments & painting, you will see hundreds of great new ideas for your home – from the newest countertop selections to the hottest designer flooring. This year's homes feature amazing room themes that capture the lifestyle needs of today's homeowner: pet spaces and shower – a catering kitchen – reclaimed wood accents – a spa bath – outdoor living rooms – custom pantries & closets – a Nana window and wall – barn doors – a water wall – hidden child's fantasy room – and a secret door, to name a few.

The Massey Street of Hope Preview Gala will kick off the Massey Street of Dream. The event will be held on Friday, September 11th with homes open to tour from 6 pm to 8 pm and heavy hors d'ouevres, open bar, and live music by the Atlanta Showstoppers from 6:00 pm to 10:30 pm. A live auction to benefit VCU Massey Cancer Center will be held from 8:30 pm to 9:15 pm. Auction items include a Tuscan Villa Getaway, a South African Safari, an exclusive Montana Ranch stay, and more.
TIckets to attend the Massey Street of Hope Gala & Auction available online for $100/person.
SPECIAL EVENTS DURING THE MASSEY STREET OF HOPE
What Women Want, September 12 & 13.
Enjoy live bands, shopping boutiques, and more on this women-centric weekend. Beer, wine, and food will be sold.
Concert of Hope, Thursday, September 17.
Steve Bassett and company will be playing from 6 pm to 8 pm. Beer, wine, and food will be sold.
Tunes, Brews & Tours, September 19 & 20.
A sampling of the most popular craft beers and your favorite local bands will headline this weekend. Beer, wine, and food will be sold.
Concert of Hope, Thursday, September 24.
Flat Elvis will be playing from 6 pm to 8 pm. Beer, wine, and food will be sold.
Massey Family Fall Festival, September 26 & 27.
Celebrate the Street of Hope with family fun – an appearance by the Diggity Dudes and Betsy Q, horse driven stagecoach rides courtesy of Wells Fargo, games, and more. Beer and wine will be sold.
Women's Council of Realtors Lunch and Fashion Show, September 23.
Brought to you by the Women's Council of Realtors, the Street of Hope will host a luncheon and fashion show on September 23. Ticket sales are limited to 200 participants and will cost $25. Included in this price is a ticket to tour the 8 showcase homes.
FAQs
How may I purchase my tickets to the events?
Tickets for the Massey Street of Hope may be purchased online or at the Massey Street of Hope in Hallsley for $10. Tickets purchased online will be able to proceed directly to the entrance of the events, skipping the ticket sales lines. Online tickets purchasers will receive a confirmation email that includes a voucher that must be presented at the entrance. Online ticket purchasers will also have the ability to present their voucher on a hand-held device. Ticket sales at the event will be open from 10:30 am to 5:00 pm, closing one hour before the end of the event.
Are there any age restrictions for the Massey Street of Hope?
All ages are welcome to attend, but each attendee over the age of 12 will need to purchase a ticket. We have scheduled a Family Fun weekend on September 26 and 27 with activities geared toward our youth.
What are my transport/parking options getting to the event?
Parking will be provided on site at Hallsley.
What can/can't I bring to the event?
As all of our showcase homes are available for sale, we ask that no high heels be worn to tour the homes.
What is the Massey Street of Hope's 'Home of Hope'?
Built by Perkinson Homes and sponsored by Ferguson, The Home of Hope will be a collaboration of a host of vendors donating their time and products to the cause. Perkinson Homes, Ferguson, and East West Communities' donations alone will amount to over $200,000 in proceeds for VCU Massey Cancer Center.
Will there be any entertainment, shopping, or food available during the Massey Street of Hope?
After touring the homes, be sure to check out the Massey Marketplace, a unique shopping experience presented by Gather. And, don't forget to enjoy local cuisine by Café Catura. In addition to the showcase homes, there is a full calendar of events to add to the fun, which includes a Thursday night concert series – "Concerts of Hope."
Can you tell me more about the Concerts of Hope?
Concerts of Hope will be held on Thursdays during the show (9/17 and 9/24) and will feature the band Steve Bassett Band on September 17 and Flat Elvis on September 24. Food, beer, and wine will be available to purchase, in addition to viewing the show homes.
Can you tell me more about the VCU Massey Cancer Center?
VCU Massey Cancer Center is among the top 4 percent of cancer centers in the country to be designated by the National Cancer Institute to lead and shape America's cancer research efforts. Working with all kinds of cancers, Massey conducts every form of cancer research, including basic science, translational, clinical and population sciences research; provides state-of-the-art cancer treatments and cutting-edge clinical trials; serves as a vital resource for oncology, education, teaching and training; and promotes cancer prevention. Since 1974, Massey has been an internationally recognized center of excellence. Massey provides award-winning cancer care at multiple sites throughout Virginia by leading cancer sub-specialists and offers one of the largest cancer clinical trial menus as well as a statewide network that brings trials to communities across the Commonwealth. Its 1,000-plus researchers, clinicians and staff members are dedicated to improving the quality of human life by discovering, developing, delivering and teaching effective means to prevent, detect, treat and ultimately cure cancer. Visit Massey online at www.massey.vcu.edu or call 877-4-MASSEY for more information.
Is my registration/ticket refundable or transferrable?
While tickets sales to any of the activities above are nonrefundable, you are welcoem to transfer you ticket to another individual if you are unable to attend. Please provide your replacement with your voucher which will need to be presented at the gate.
Are there any discounts for large groups?
For information on ticket purchases for groups of 15 or more, please contact Katy at 804-794-9119.
Where can I find out more information about the Hallsley community and the homes that are showcased at the Street of Hope? Are the Street of Hope homes available for sale?
Please visit our Hallsley Street of Hope website at http://www.hallsley.com/masseystreetofhope/ for more information on the homes, builders, and floorplans of the showcase homes. All Street of Hope homes are available for sale
Where can I contact the organizer with any questions?
Contact us at Info@MasseyStreetofHope.com