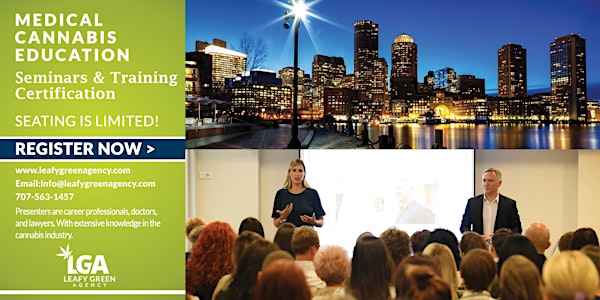 Massachusetts Responsible Vendor Dispensary Training (State Approved)
This class has been approved by the Massachusetts Cannabis Control Commission for the required Responsible Vendor Training
About this event
This class has been approved by the Massachusetts Cannabis Control Commission for the required Marijuana Establishment and Marijuana Establishment Agent Responsible Vendor Training.
The Massachusetts Responsible Vendor Training seminar from Leafy Green Agency is a state-approved 3.5-hour certification seminar that teaches you everything you need to know about operating as a responsible marijuana establishment and a responsible marijuana establishment agent as required by the Massachusetts Cannabis Control Commission. The seminar meets the state's Responsible Vendor Training requirements for new hires and annual recertification.
Here's What You'll Learn
• The effects of cannabis on the human body
• Laws, rules, and penalties associated with the sale of cannabis to minors
• Inventory procedures and compliance with the state's inventory traceability system
• Acceptable forms of identification
• Rules and laws for dispensing
• Law enforcement
• State laws and rules associated with waste handling, management, and disposal
• Health and safety standards
• Dispensary premises management
• Recordkeeping and privacy considerations
• Safe storage of cannabis
• Packaging and labeling requirements
• Certification test
Who Is This Course For?
This course is for all Massachusetts marijuana establishment owners, managers, and employees who are involved in handling and selling cannabis for adult use. Responsible Vendor Training from a state-approved training provider, like Leafy Green Agency, is required within 90 days of hire and annually thereafter.
In addition, anyone who wants to improve their chances of landing a job in the Massachusetts cannabis industry, getting a promotion at a cannabis business, or obtaining or renewing a Massachusetts marijuana establishment license should take this course.
Private Classes for Dispensaries, Teams, and Groups
Bring the Responsible Vendor Training to your dispensary or the location of your choice by emailing Leafy Green Agency at info@leafygreenagency.com, or call 707-563-1457 to book a private class now.
COVID-19 Attendee Guidelines for In-Person Seminars
Leafy Green Agency prioritizes the safety and wellbeing of our students and employees. In response to the COVID-19 pandemic, we've introduced several new health and safety measures for our in-person seminars, which follow guidelines provided by the CDC.
Please familiarize yourself with the guidelines below before registering for or attending any of our in-person seminars to ensure you can comply with these new health and safety measures.
Please maintain the government directed 6' social distancing from all other seminar attendees, instructors, venue employees, etc.
Please use hand sanitizer before entering the classroom.
Do not shake hands with other attendees or the instructor and avoid all unnecessary physical contact before and during the seminar.
A face mask covering your mouth and nose is encouraged.
Temperature checks will be conducted at the door and attendees whose temperature reads 100.4 degrees or higher will not be admitted. They will be given the option to reschedule their class for another time or receive a full refund.
FAQs
Do I get a certificate?
Yes, issued certification will designate you as having completed the required Responsible Vendor Training for Massachusetts marijuana establishments and marijuana establishment agents.
When will my certificate expire?
Your Responsible Vendor Training certification is good for 1 year and must be renewed annually. Responsible Vendor Training Certification from a state-approved training provider must be completed within 90 days of hire and every year thereafter. Training received outside of the 90-day window will not meet the State's training requirement.
How will the Massachusetts Cannabis Control Commission know that I completed and passed this course?
The names of the students who have passed the final exam given at the end of this course will be provided to the Massachusetts Cannabis Control Commission.
REFUND POLICY : Attendees can receive refunds up to 7 days before the event start date.