Description
M2 QB Academy is running the 1st Annual Mass QB Showdown Camp. Over the course of 2 days this competition camp will score Quarterbacks on skill execution, play outcome, leadership ability, QB IQ, and poise to crown the top attending QB.
Alongside of M2 QB Academy Owner, Mike McCarthy, current college Quarterbacks and coaches will be mentoring and coaching the attending athletes through innovative reactionary drills that translate directly to gameplay. Attendees will learn cutting edge fundamentals used by current NFL Quarterbacks. Drills will include next level movement strategies and solutions to help build the complete QB. In addition, each athlete's mechanics will be analyzed through video analysis to correct any biomechanical flaws.
Scroll down for more details.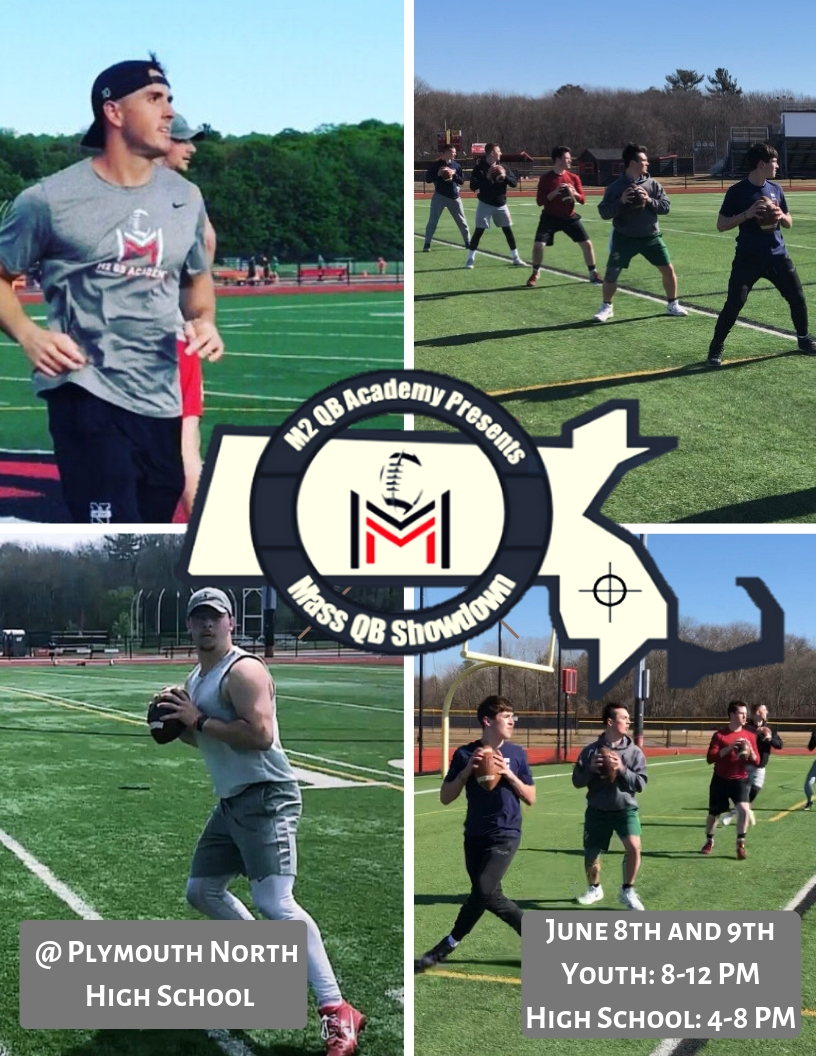 Camp Details: Our camp is open to Quarterbacks of all skill levels from any location or state. The camp will be divided into two age groups both taking place on June 8th & 9th. The Youth Camp is from 8 am to 12 pm and the High School Camp is from 4 pm to 8 pm. Registration is for both days (two 4-hour sessions). M2 QB Academy will host the camp on the Plymouth North High School game turf. Athletes will recieve a swag bag including a BATTLE Performance camp shirt & Mass QB Showdown gear.
Limited Spots Available: One of the things that makes our Showdown Camp unique is the individual instruction and amount of quality reps each QB will recieve. There is a maximium 5:1 QB to coach ratio to ensure each athlete gets the proper instruction and tools to take their game to the next level! Limited spots will be available so make sure to register early!
Video Analysis: Each Quarterback's technique will be filmed and broken down with voiceover and e-mailed to each camper within the following week of camp using our coaches eye app. This will include a technical breakdown of the throwing motion and fundamental strengths and areas of improvement.
Arm Strength & Accuracy: Coaches will teach Mike McCarthy's cutting edge mechanics and fundamentals that will help improve consistency and lead to an increase in velocity and accuracy. These same mechanics are taught by the top QB coaches in the nation and programs such as the Elite 11.
Watch Live: Mass QB Showdown will be streamed live on Instagram and drills will be filmed. College scouts will be in attendance and film can be sent to College coaches upon request. Athletes will be promoted on the M2 QB Academy Instagram page.
What to Bring: Each athlete must bring a football with the athlete's name clearly marked on it, cleats, water, and a competitive and receptive mindset!
Location: Plymouth North High School, 41 Obery St, Plymouth, MA 02360. The camp will take place on the Football Field turf. Parking is easily accessible nearby the field.
Stay Connected with Coach McCarthy and Camp Updates: For the latest on Camp updates and training tips, follow M2 QB Academy on Instagram and Twitter: @M2_QBacademy
Following registration you will be added to the E-mail list that will provide updates on newly added camp coaches and colleges attending the Showdown. For any questions regarding registration or camp details, please contact Mike McCarthy at 508-932-0632 or e-mail: M2QBacademy@gmail.com
---
MASS QB SHOWDOWN COACHES
Camp Executive Mike McCarthy, Former Professional Quarterback & College QB Coach, current owner of M2 QB Academy, Bridgewater State University 4 year starter and record holder, has mentored over 100 QB's since 2014, Check out the organizer description below for more information and Testimonials. Full bio on www.m2qbacademy.com
Cam Moitoza, Former Bridgewater State University Football Coach, 3 year Starter at Bridgewater State University & Current M2 QB Academy Coach, All MASCAC Selection as a Senior, Played professionally in the CAN-AM IFL, has worked with M2 since inception in 2018
Steve D'emilia, Current Bridgewater State University Starting Quarterback and M2 QB Academy Coach & QB , Bridgewater State University Record Holder, MASCAC #1 Ranked QB in efficiency last season (Bridgewater-Raynham)

Michael G. McCarthy, Former University of Connecticut Football Coach (Division I FBS), Former Starting DB University of Connecticut, over 20 years of Personal Quarterback coaching experience, mentored youth, high school, and college Quarterbacks, Offensive Coordinator for top 20 all-time scoring team in Massachusetts High School history (2008)

Eric McCarthy, Former College Football Coach at the University of Connecticut (Division I FBS), Pace University, Plymouth State University, and Current Head coach of Georgetown High School, Former Umass Dartmouth Quarterback, 10 years of Quarterback coaching experience
Chris Whidden, Current Head Football Coach at Plymouth North High School, Former Barnstable Head coach and Quarterbacks Coach, Former Springfield College Football Coach, Former Springfield College Football player, has coached Quarterbacks that went on to play at Penn State (Divison I FBS), Ualbany, and Princeton.
Cameron Furtado, Current Western New England Quarterback (Division III) & M2 QB Academy QB, Massachusetts Shriners All Star, Hockomock Honorable Mention MVP (Attleboro, MA)
Jack Masterson, Current Merrimack College Quarterback (Division I FCS) & M2 QB Academy QB, HS State Champion, Boston Globe All Scholastic, ESPN Massachusetts Player of the Year (Marshfield, MA)
Mike Fallon, Current UMass Amherst Quarterback (Division I FBS), Former Sacred Heart QB (Divison I FCS), HS All State 1st Team Selection, Boston Globe All Scholastic (Milton, MA)
Jake Kelleher, Current Salve Regina University Quarterback (Division III) & M2 QB Academy QB, Started 6 Games as a Sophomore, CCC Player of the week
Brendan Smith, Current Western New England Quarterback (Division III) & M2 QB Academy QB, 83 % Completion percentage through 9 games last season.
Curtis Cann, Current Mass Maritime Starting QB (Division III) & M2 QB Academy QB
Tyler McGovern, Current Salve Regina QB (Division III) & M2 QB Academy QB , Started 5 Games as a Sophomore, CCC Player of the week