MASS Student Success Conference
Description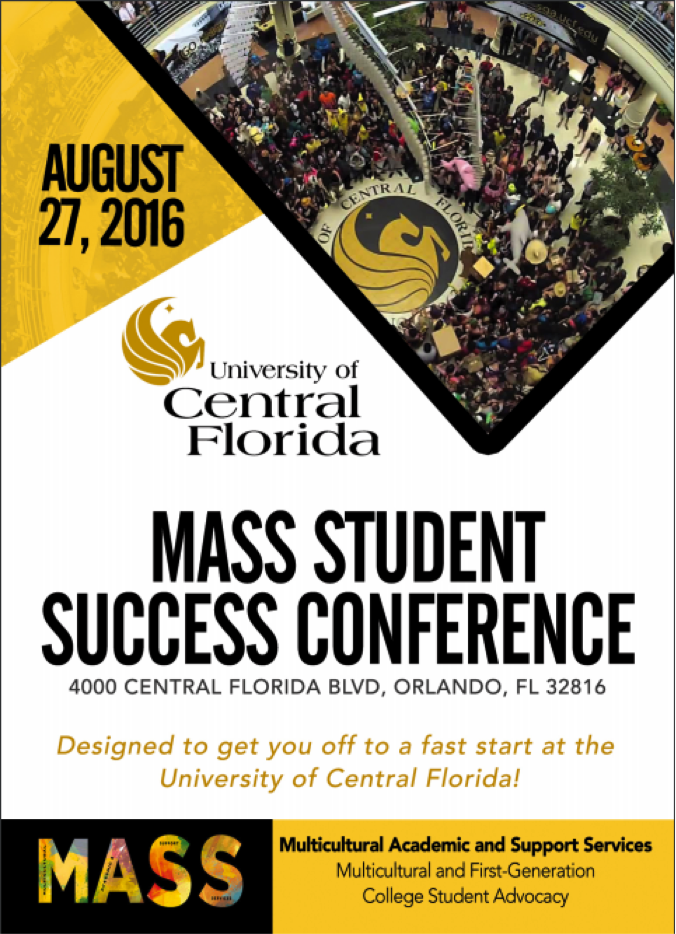 August 27 2016
Dear Attendee,
The MASS Student Success Conference is intentionally designed for UCF First Generation, FTIC, transfer and multicultural students. The purpose of the conference is to prepare students for success in the 21st Century and beyond. The conference will serve to create a college-going culture, college-staying and college graduating culture. The theme this year is Creating 21st Century Pathways to Success.
Students attending the conference will learn strategies to address the academic and non-academic concerns surrounding college achievement and graduation. The conference is designed to:
Motivate and inspire first generation, FTIC and multicultural students towards educational achievement;

Identify pathways to academic success for students;

Connect students with impactful co-curricular resources and support which enhance the student experience;

Prepare students for graduate or professional school; and

Provide networking opportunities with UCF alumni who have been successful.
By attending this conference, you will join hundreds of UCF alumni who have achieved academic and professional success. We have planned a detailed schedule of events. Thank you for being a part of the conference. We look forward to seeing you at the conference.
For additional information, please contact the MASS Office at 407-823-2716.
Sincerely,

Wayne Jackson
Director,
Multicultural Academic & Support Services


PAYMENT OPTIONS:
Click on the green "Get Tickets" button in the upper right corner of the screen to pay by card.
-or-
Stop by the MASS office located in the Student Union for cash payments.