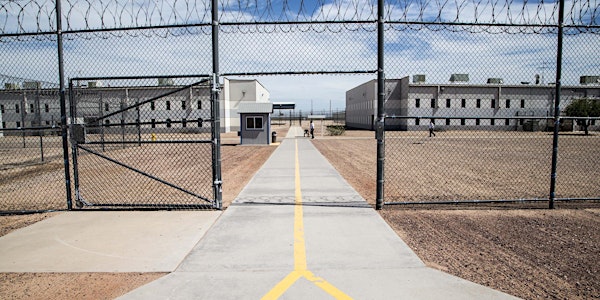 MASS STORY LAB STORIES OF STRENGTH (CUENTOS DE FORTALEZA)
Event Information
Location
Burton Barr Central Library
1221 North Central Avenue
Phoenix, AZ 85004
Description
English:
Arizona's Eloy Detention Center is the third largest immigrant detention facility in the nation. Join us on September 22nd for this special storytelling event to amplify the voices of activists, youth and LGTBQ+ people impacted by immigrant detention in Arizona and beyond.
"Hear from these speakers and more:
Gretta Soto Moreno, an asylum-seeking transgender woman who advocates for all immigrants and was incarcerated by ICE for three years
Celeste Andrade, a nineteen year old woman who will speak about the experience of having a parent detained
Denisse Pesquiera, who will share how she remained strong, rehabbed from drugs, battled severance of parental rights, and successfully fought her immigration case while incarcerated by ICE
Guideon Cota, a kindergarten teacher who was held in immigrant detention after crossing the border with other Dreamers in 2014 and endured abuse due to his sexual orientation after speaking up for the rights of fellow immigrant detainees"
Mass Story Lab is a community storytelling project making stories an instrument of justice. In a Mass Story Lab event, the stories of people directly impacted by incarceration become the lens through which communities imagine a world beyond prisons. To learn more visit: MassStoryLab.com
---
Español:
El Centro de Detención Eloy de Arizona es el tercer centro de detención de inmigrantes más grande de la nación. Únase a nosotros el 22 de septiembre para este evento especial de narración de cuentos para amplificar las voces de activistas, jóvenes y personas LGTBQ + afectadas por la detención de inmigrantes en Arizona y más allá.
"Escucha de estos altavoces y más:

Gretta Soto Moreno, una mujer transgénero solicitante de asilo que aboga por todos los inmigrantes y . fue encarcelada por ICE durante tres años

Celeste Andrade, una mujer de diecinueve años que hablará sobre la experiencia de tener un padre detenido

Denisse Pesquette, quien compartirá cómo se mantuvo fuerte, rehabilitada de las drogas, luchó contra la cesación de los derechos de padres y luchó con éxito su caso de inmigración mientras estaba encarcelada por ICE

Guideon, una maestro de kinder que estuvo en detención de inmigrantes después de cruzar la frontera con otros Dreamers en 2014 y sufrió abusos debido a su orientación sexual después de defender los derechos de otros detenidos inmigrantes"
Mass Story Lab es un proyecto de narración comunitaria que convierte las historias en un instrumento de justicia. En un evento Mass Story Lab, las historias de personas directamente impactadas por el encarcelamiento se convierten en el lente a través del cual las comunidades imaginan un mundo más allá de las cárceles. Para obtener más información, visite: MassStoryLab.com
Date and time
Location
Burton Barr Central Library
1221 North Central Avenue
Phoenix, AZ 85004