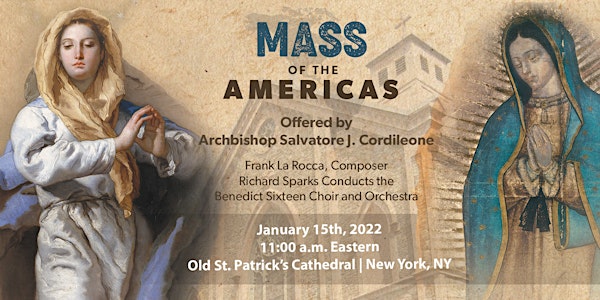 Mass of the Americas Pontifical High Mass at Old St. Patrick's Cathedral
Archbishop Cordileone celebrates The Mass of the Americas as a Solemn Pontifical High Mass in NYC with the Benedict Sixteen Choir
About this event
**WATCH LIVE HERE: https://www.ewtn.com/tv/watch-live
REGISTRATION IS NOW CLOSED. Please arrive 30 minutes early to guarantee seating.
Reminder: There is a NYC mask mandate in place.
For the first time since COVID, this is your chance to experience "The Mass of the Americas," as a Solemn Pontifical High Mass (in Latin in the ordinary form).
This twinned tribute to Our Lady of the Immaculate Conception (patroness of the United States) and Our Lady of Guadalupe (patroness of Mexico and all the Americas) comes to the city built by immigrants, inspired by the Statue of Liberty.
Archbishop Salvatore J. Cordileone will celebrate. Richard Sparks conducts the Benedict Sixteen Choir and Orchestra. Music composed by Benedict XVI Institute's composer-in-residence Frank La Rocca.
What? "The most significant Catholic composition of our lifetime." Michael Olbash, Pope St. John XXIII National Seminary
Where? Old St. Patrick's Cathedral 263 Mulberry St, New York, NY 10012
When? January 15, 2022. 11 a.m. EASTERN
Hear Frank La Rocca's Ave Maria in Nahuatl, the language Our Lady spoke to San Juan Diego (see below). Experience the intriguing weaving of traditional high sacred music with the melody of La Guadalupana in the Alma Redemptoris Mater.
This is a Mass, so of course there is no charge. We will worship God together. This is also a world-class level of musical beauty. Your donations of $100 are requested if you can reasonably afford it. But register and come, regardless.
Thank you for registering, which helps us plan. This is a Mass, not a concert. There is no assigned or reserved seating so please come early to guarantee you can find a seat.
For more information contact Maggie Gallagher, Maggie1960Gallagher@gmail.com.
Organizer of Mass of the Americas Pontifical High Mass at Old St. Patrick's Cathedral