Mass of the Americas-POSTPONED UNTIL 2021
About this event
Due to Covid-19, the Dallas Mass of the Americas has been POSTPONED until 2021.
Bishop Burns and Archbishop Cordileone remain committed to bringing this intense spiritual experience to Dallas as soon as large events are again permitted.
More Information:
The Mass of the Americas, a twinned tribute to Our Lady of Guadalupe and Our Lady of the Immaculate Conception, is coming to Cathedral Guadalupe this August 15!
Gather on the Feast of the Assumption to participate in this extraordinary spiritual and cultural experience. The new Mass seeting by award-winning composer Frank La Rocca has been hailed as "Perhaps the most significant Catholic composition of our lifetime." Michael Olbash, Music Director, Pope St. John XXIII National Seminary
Conducted by the great Dr. Alfred Calabrese, this magnificent professional choir, along with organ, string quartet, guitar, bells and marimba, will elevate hearts and souls to God, evangelizing in the Dallas arts district through beauty.
The Mass will be preceded by a new Frank La Rocca composition, expressly requested by Bishop Burn for the Cathedral's new Carillon, wafting sacred beauty over the streets of the Dallas arts district.
The Mass is in Spanish, Latin, English and Nahuatl (the Aztec language Our Lady spoke to San Juan Diego). It will bring all Dallas together to experience the healing and unifying power of sacred beauty.
The Benedict XVI Institute for Sacred Music and Divine Worship is committed to advancing sacred music in the forms for which it was written: as prayer and not just performance.
The Mass is free for all to attend, rich and poor, as the Church has always offered sacred beauty. But we can only do this because discerning patrons of the arts like you help support this effort. No diocesan funds are used.
Please come. Please register as it helps us to plan. Bring your children as you could not to a concert hall, to hear great beauty and experience God together.
If you have the means, please consider donating. Become a patron of the arts in Dallas!
For more information and to listen to excerpts visit MassOfTheAmericas.com.
Yours in Christ,
Maggie
Maggie Gallagher, Executive Director
BenedictInstitute.org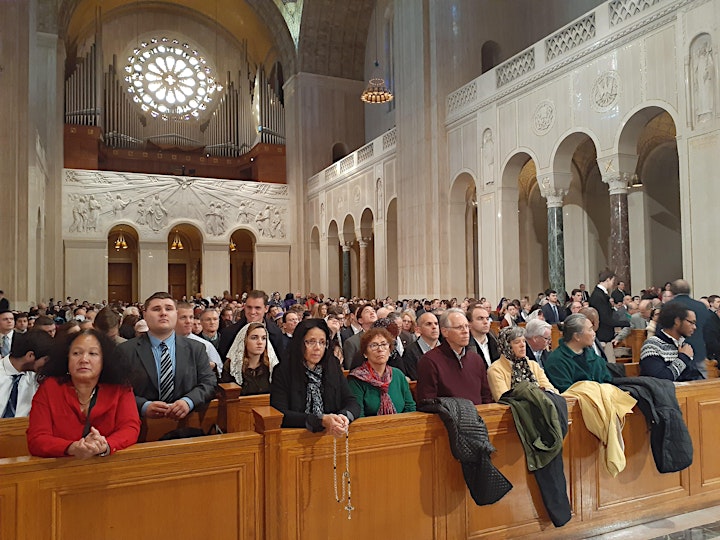 More than 3000 people flooding the Basilica of the National Shrine of Our Lady of the Immaculate Conception in Washington D.C. to celebrate The Mass of the Americas