Description
Tickets WILL be available at the door.
$20 before midnight.
$25 after midnight.
21+ Strictly Enforced (Bring Picture ID)
Masks and costumes encouraged but not required.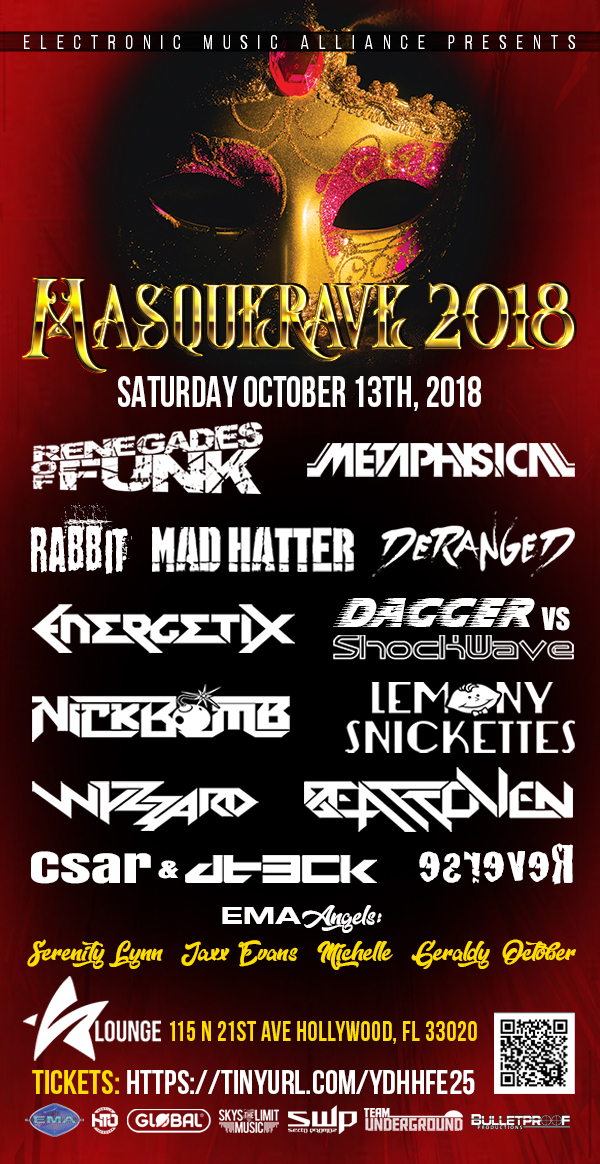 It's time for a reunion.
PEACOCK ROOM:
09-10 esreveR
10-11 Dagger vs. Shockwave
11-12 Energetix
12-01 Deranged
01-02 Nick Bomb
02-03 Wyzzard
03-04 Beattoven
MAIN STAGE:
09-10 Lemony Snickettes B2B Linus
10-11 Rabbit
11-12 Metaphysical
12-01 Renegades of Funk
01-02 Mad Hatter
02-2:30 Rabbit vs. Mad Hatter
02:30-close Csar & Dt3ck
History // In 2006 the Electronic Music Alliance hosted an event called Masquerave at Club X-it in Hollywood, FL. Party-goers were encouraged to participate in the theme by wearing masks and costumes. The night was a success and became a wildly popular yearly event.
In 2010 Masquerave 4 saw 1600 people trying to pack into X-it. It was just an explosion of ravers and a sight to see. Due to an 'anonymous tip', the police showed up and tried to end the night. It turned out they couldn't empty the club as fast as the shady club owner could fill it back up by re-charging for entry. It was a buzzkill for many but the party would not be stopped. Masquerave 4 was alive and raged even harder because of it. That was 8 years ago. It's time to dust off your masks, your fluffies, and your candy. It's time to see everyone we love and those we have missed over the years.
Now in 2018, Electronic Music Alliance brings to you the long-awaited reunion of the vibe, the the music, and the feeling of days gone by. It's taken us some time to find a venue we thought was intimate enough yet large enough to create an atmosphere that would be in line with the parties we used to bring to the table. All the DJs on this lineup had a big hand in making those parties what they were, so without further ado --
Electronic Music Alliance
In conjunction with :: Hostile TakeOver // Skys The Limit Music // Global Events // Team Underground // Secto Promoz // Bulletproof Productions
Masquerave 2018, The Reunion
Saturday, October 13, 2018
Right of Admission Reserved
Pre-Sales Available on EventBrite
https://masquerave2018.eventbrite.com
-------------------------------------------------------------------------
Renegades of Funk
-- facebook.com/r3negadesoffunk/
(O'Ryan Coslett & Joshua Funk)
O'Ryan and Joshua Funk's mixing is an elaborate blend of energy,technical ability, and straight up "let's rage!" attitude which balances itself out perfectly, making every set heavy, melodic, and a crowd pleaser. Most importantly, the love for their fans is undying. Spreading across every medium they possibly can to deliver their sounds to the people, from Dirty Thursdays U-Stream broadcast to playing on Radio X 88.5 fm, Radio4by4, they have fought their way to make it to the top ten artists in Miami list, as voted by the people. RoF's dedication to their scene is incomparable to other DJs and their love immeasurable, and their undying appreciation and connection with their fans allows them to bring the crowd to its knees and earns them the respect they work so hard for. Be sure to catch their set, for you are witnessing the birth of DJ's on their way to becoming House legends.
Metaphysical
--
Metaphysical
(Skys the Limit Music, Ultra Music Festival, Hustler, NYC)
Founder & CEO of Skys the Limit Music, Vincent was at one point most known for his coordinated events, promo team & head of promotions position at Ultra Music Festival. As Metaphysical, he has been tearing up dance floors in just about every major city in the US, parts of Canada, South America, Ibiza, Switzerland, Belgium, London, Puerto Rico & more for nearly 20 years.
Metaphysical has completed 4 successful European tours, holds a standing residency at Ultra Music Festival in Miami for the past decade & multiple summer residencies in Ibiza as well.
Well known for his mixed genre EDM sets, turntable manipulations, high energy performances & highly recognized for all of his on stage antics, Metaphysical is considered by many as a true performance artist. He definitely knows how to keep the attention of the crowd.
Dj Rabbit
-- facebook.com/newdjrabbit/
(Electronic Music Alliance)
At the age of 22 Rabbit found himself living in South Florida where he met DJ Christopher Allen. DJ Christopher Allen taught Rabbit the basics of beat matching and allowed him to practice on his turntables to discover who he was as a DJ. This was the start of it all. Not long after, Rabbit met DJ Mad Hatter, and together they formed their battle team Rabbit vs Mad Hatter. The first time at club X-It in Hollywood Florida, Rabbit and Mad Hatter made a massive impact on the rave scene.
Since then he has had the pleasure of spinning with some of the best names in electronic dance music and at some of the best parties and festivals. Rabbit has been seen at Ultra Music Festival in Miami, Earthdance in Phoenix AZ, and Many incredible events in Los Angeles, CA alongside international headliners. After a few years of experiencing life in a way most people only dream of, Rabbit slowed down and started looking for a calmer, more relaxed life outside of the spotlight. Rabbit and Mad Hatter on good terms went separate ways, but would reunite again.
DJ Mad Hatter
(aka
Jason Daniel
) -- facebook.com/themadhatterdj/
(Electronic Music Alliance, Ultra Music Festival, Mad World Entertainment)
Mad Hatter is a one of a kind DJ in South Florida throwing down the best in dirty electro house, progressive house, underground electronic hardstyle, hard trance, and hands up Euro style.
Mad Hatter has been a leading member of the Ultra Music Festival promotions team and has performed there since 2005. He has played around the United States in such places such as California, New York, Utah, Arizona, and Alaska.
Mad Hatter has played along side with major artists such as Deadmau5,Steve Aoki, Darude, Crystal Method, Infected Mushroom, Paul Oakenfold, Armin Van Buuren, Rabbit in the Moon, Headhunterz, DJ Isaac, Showtek, Dougal & Gammer, Basshunter, and Superstar DJ Keoki.
Deranged -- facebook.com/djDeranged
(Electronic Music Alliance, Hostile TakeOver, Full Range Audio, Euphoria Project)
Deranged began his career in 2001 by spinning on a weekly online radio show. In 2003 he was discovered by Mitch Waas of the Euphoria Project and was offered gigs at various EP events at venues like Lumonics and Club X-it. It was here he met Rabbit & Mad Hatter and became the lighting operator for their wildly popular dj battle sets. The three started the Electronic Music Alliance and began throwing parties of their own. Since those early days Deranged has performed 4 times at Ultra Music Festival, 6 times at Candyland, and 7 times at Earthdance Florida. He has held long time residencies with several popular online music sites. Deranged is best known for his mix cds and diversity in music genres. If his set is coming through the speakers just turn it up and see where it goes!
Energetix
-- djenergetix.com
(Electronic Music Alliance, Hostile TakeOver, American Grime, Euphoria Project)
In 2004, Energetix attended his first Ultra Music Festival held in Miami, FL. It was at this point that his love of electronic music changed from a casual interest to a passion with no likelihood of burning out. After buying a pair of Technics SL-1200 turntables he began training himself how to beatmatch and perform deep mixes between records. Hard Trance, Tech Trance, Techno, Breakbeats, and all things acid were among the genres he started out with, but the scope of his productions and mixes quickly grew to include many varying styles.
Energetix quickly got involved in the underground scene in South Florida as a peak-time and after hours DJ. After linking up with a number of local crews, including Euphoria Project, Hostile TakeOver, Kaotiq Psyence, and Electronic Music Alliance, playing often at venues such as Club X-IT in Hollywood, Klub Kutters in Ft. Lauderdale, White Room in Downtown Miami, among others. In 2009, he was invited to DJ at Ultra Music Festival on the VIP stage. An honor, considering it was UMF that gave him the drive to start DJing in the first place. In the same year, he played his first Earthdance Florida, a yearly festival that he would return to for many years to come, both as a performer and as a stage coordinator as part of Full Range Audio.
In the time since, Energetix has started focusing solely on his productions, using an ever-growing arsenal of outboard gear mixed with choice software synths. When he does play gigs these days, you'll often hear Energetix playing to the tune of Progressive Psytrance, Techno and Tech Trance, always with some old school flavor.
Known best for their relentless mixing techniques and scratching prowess of breaks, funk, and electro, Dagger & Shockwave have been a staple of South Florida's underground scene for longer than most. Hailing from the days when Technics were king and the parties never ended, these heroes of the 808 have a long-standing reputation of dropping bass with finesse and a technical mastery that ascends far past the average.
A native of Buffalo, NY, Nick Bomb got his first taste of electronic music in New York and the surrounding states growing up. He was quickly inundated with the sounds of Drum & Bass, specifically Jump-Up, which he took to without second thought. Upon arriving in South Florida, he quickly gained momentum after teaming up with Hostile TakeOver, playing almost every week at Electronic Mash-Up along with various other shows in the tri-county area for numerous production companies. As his tastes have refined, he's become a fanatical purveyor of Techno, with an ear for the hottest music from coast to coast and beyond. One can never be sure what Nick Bomb will drop at a moment's notice, but whatever it is, you can bet that it's gonna be explosive.
Lemony Snickettes
(a.k.a. Trill Bill) B2B
DJ Linus
facebook.com/DJLemonySnickettes/
https://www.facebook.com/LiveLinus/
Starting his career in 2010, Lemony Snickettes has become an instant staple of the scene. From having hosted his own festivals to working directly with Ultra, he has definitely progressed his sound with all the motivation around him. With collaborations with the likes of Happy Colors, Felmax, Bonnie x Clyde, and many more, his sets are sure to keep the dancefloor rockin'!
Linus began spinning in 2009 after spending much time drawn into the electronic music and it's lifestyle. Loving the vibes and energy he played at club X-it over the years playing genre's ranging from Hard Electro, Dubstep and DnB. After playing his first ever Ultra Music Festival in 2017, the passion grew once more and Linus wanted to bring good music and vibes back to the dancefloor.
Make sure to catch their B2B set at Masqeruave 2018.
Wyzzard
-- facebook.com/DJWyzzard
(Hostile TakeOver, Ultra Music Festival)
Wyzzard Needs No Introduction.
Beattoven
-- facebook.com/BtvnMusic/
(Moro Entertainment Group)
(Ultra Music Festival, Euphoria Project)
Photography by
SKYP3R Photography
We hope to see all of our friends there.