Description
Featuring

Open Bar - Dance Space - Lounge - Cuddle Den - Avocado Toast
2 floors + sweeping balconies in black-gold-red deco.
Gorgeous costumes, art, intense solo + pair dancing, chill space.


Come dressed in costume or in formal wear, of any era... fictional or otherwise. Masks encouraged.

There is no dress code. You may arrive dressed as you please; we encourage you to be creative and to be yourself. The venue and activities are designed to make it easy to meet new people, make friends, and renew old friendships.
What is this event about:
An inclusive social event that celebrates creativity, interaction, and participation.
This event is about making new friendships and renewing old ones, and building a community around art in a way that appeals to introverted and extroverted people alike.
Across the two floors of the venue, the event setting will range from dancing to bar to lavish private lounge. You'll find plenty of quiet space for chatting, interacting with and enjoying cocktails peacefully, balconies and perches to watch the action from a distance. You'll be served delicious snacks and hors d'oeuvres.
There'll be a massive cuddle pen filled with pillows, fans and air-conditioned spots to relax in, art displays and photo space, and interactive art and entertainment.
NOTE: There will be no tickets at the door. Contact the organizers if you cannot use eventbrite. We sold out last year, we'll probably sell out this year too.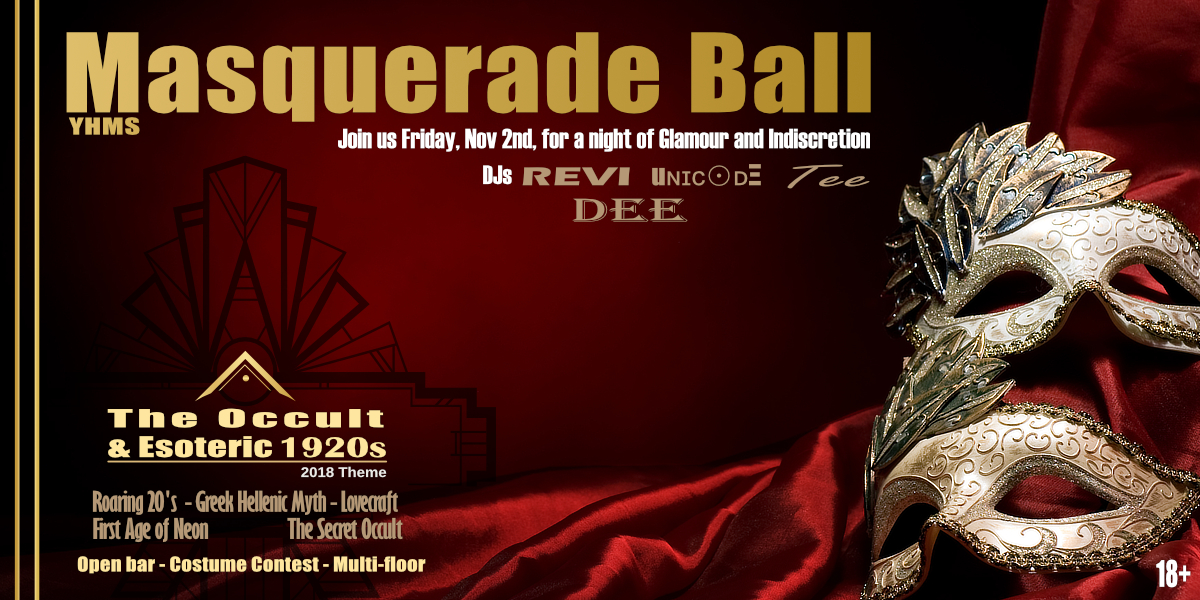 About our theme
In 2018, our theme is The Esoteric and Occult 1920's.
Described as the "Occult Explosion," secret societies, occult groups,and Hellenic (Greek myth) revival cults become the talk of town. Lovecraft and others spin tales of cosmic horror.
This is the First Age of Neon; the birth of Jazz & dawn of the atom. Prohibition ushers art and self-expression into a new underground.
DJs & Music
Pre 10:30: electroswing and pop
After 10:30:
https://soundcloud.com/unicode
https://soundcloud.com/djswagtop
https://soundcloud.com/revi_dj

Not-For-Profit & Non-commercial: Yellow House Masquerade Society

The masquerade ball is our signature, annual event, and serves as a fundraiser for Yellow House Masquerade Society and its members, you. As an incorporated Not-For-Profit art society, YHMS exists to host participation-driven community art events, and all revenue from the membership sales goes toward hosting the event and making art.

Make the event better by being involved by getting involved with a considerate, passionate crew. We can always use help decorating, planning, making food, or even just being present and engaging with people at the event.


Some Rules

Be respectful, be gracious, be kind. Everyone is here to have fun.

Respect the venue.

Do what you can to make others feel welcome, included, and free to express themselves. Consent is important, even for hugs. Take responsibility for your self-care, express and respect your boundaries and the bounadies of others, and help others who need it.

Leave the place cleaner than you found it.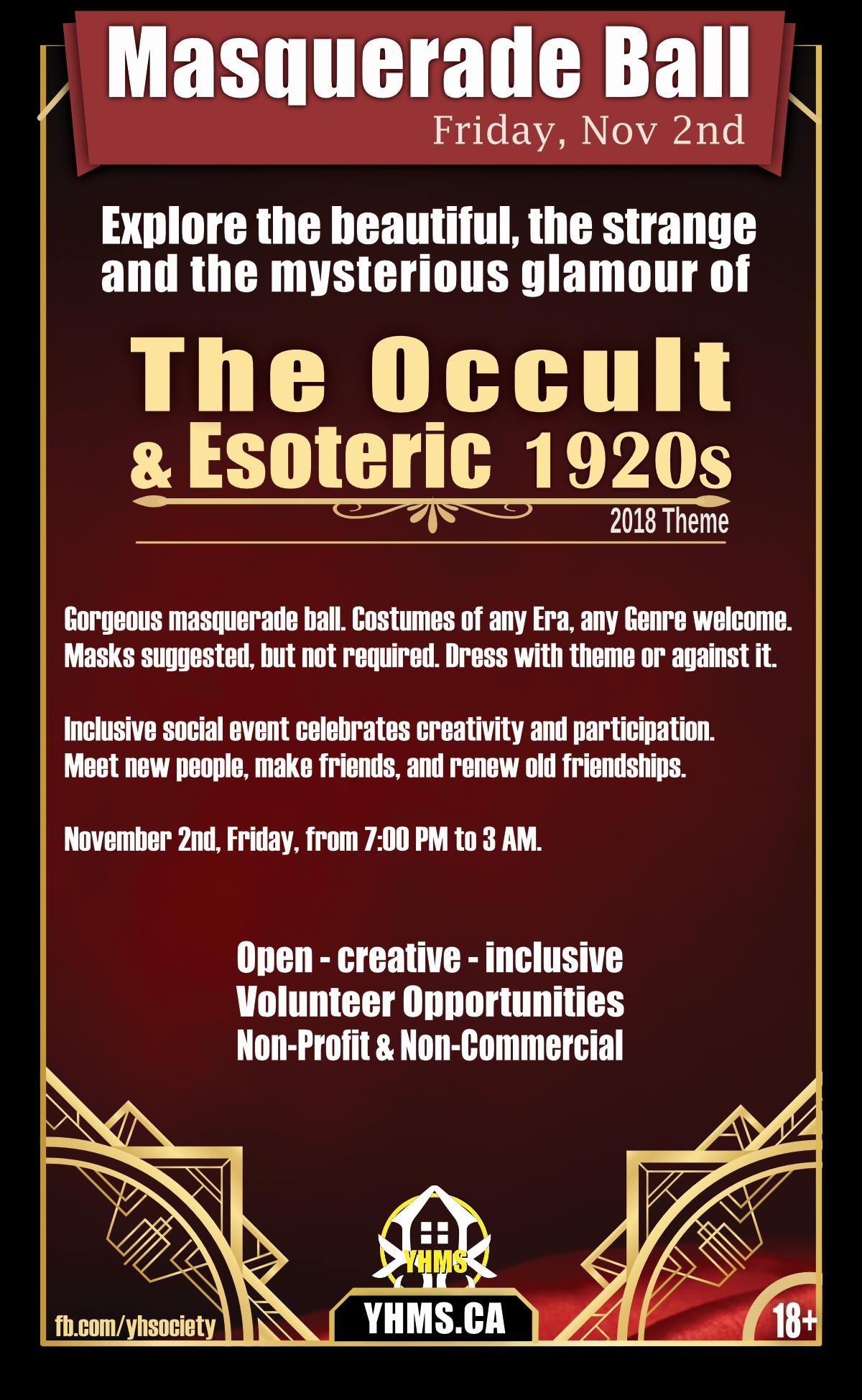 FAQs
I want to help out, where do I sign up?
Doing a small amount of volunteer work is a great way to meet new people and experience the event. There'll be multiple crafting sessions, get-togethers and other events to be involved in leading up to the event. There's also a large number of volunteer shifts in 30-60 minute increments where you can help.

Join the Facebook Group: https://www.facebook.com/groups/821825814658825 and contact the organizers for details. We do all of our planning there. It's a big crew and there's a lot to do.


Can I bring gear, flow toys, face paint or other art?

Sure. There will probably some impromptu jamming and the theater stage will also be open. There will be a coat check to stow your stuff when you don't need it anymore.

How can I contact the organizers?

Use the facebook group page or the eventbrite email form.

Facebook Group: https://www.facebook.com/groups/821825814658825
Are there ID or minimum age requirements to enter the event?
Yes. Enter with ID; due to liquor licence and open bar, the event is 19+.

Is the event accessible?
The Metro is a heritage building with stairs and no 'ramp' entrance.

What are my transportation/parking options for getting to and from the event?
We're 2 minutes (like, 50 metres?) from the New West Skytrain station and there is a massive ride & park facility close by if you are coming by car.

Who are the organizer memberships for? Should I get one?

They're for anyone helping out with the event either in planning or volunteering on-site. All of the organizers are paying for their own tickets in order to make this event possible.

If you're not a member or volunteer yet, you probably would like to grab just the regular membership instead.
I bought a membership but can't come anymore. Can I transfer it?
This event will sell out. Not only can you transfer, we encourage you to do so that more of the people who missed out on memberships can come.
Is it ok if the name on my membership doesn't match the person who attends?
Contact the organizers if you have any questions. Available through eventbrite contact form or through the facebook group:
https://www.facebook.com/groups/821825814658825

Do you have low income tickets available for groups in need?
Yes, we've reserved a limited number of low-income spots based on our budgeting. Contact the organizers directly.

I won't be drinking at the event, how does this impact the open bar?

We will have a lot of non-alcoholic beverages, juices and mocktails available. Many of the organizers don't drink or won't be drinking at this event, so we get it and hope you'll be pleased with the selection we have. We can also handle memberships for designated drivers, just get in touch with the organizers to ask directly.

What kind of dietary restrictions will you support for food?
We'll have gluten free and dairy free options available from a separate serving stand on a different floor that was prepared in a separate kitchen. Vegan and vegetarian friendly options will be available. We can't guarantee no cross-contamination, but as some of the organizers also have the above dietary needs, we'll be doing our best.

Sponsors List
The Metro Hall
- Proudly sponsored by The Metro. Book your next event today at http://www.themetrohall.com