Event Information
Location
New York – New York Hotel & Casino
3790 Las Vegas Blvd S
Las Vegas, NV 89109
Description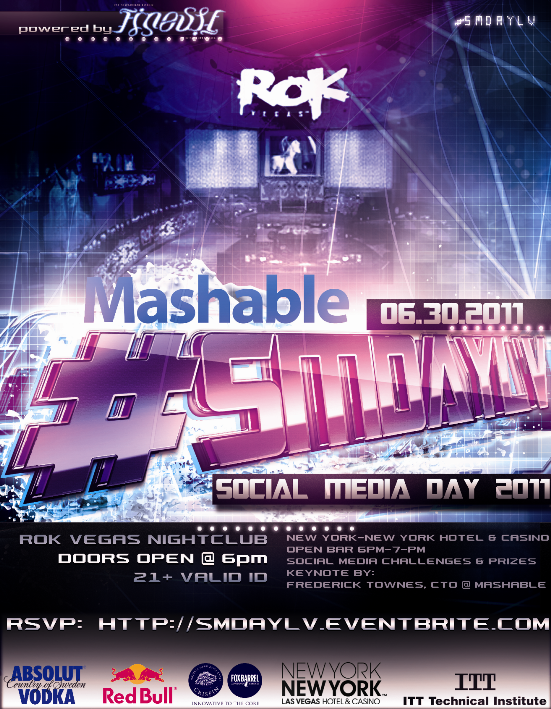 Las Vegas Social Media Community…
Join us for an epic celebration in Las Vegas' social media history! Finesse and Mashable commemorate Social Media Day 2011 for the Las Vegas market. 1200+ cities are participating in this global event. Event is international in nature and growing by hundreds of participating cities each year. Vancouver and Victoria, B.C. declared Social Media Day an official holiday. The best and brightest in social media will share their enthusiasm for bringing engaging and trendsetting content to life on the social platform.
WHEN: June 30, 2011 - 6pm-9pm
WHERE: ROK Vegas NightClub @ New York – New York Hotel & Casino
THEME: To celebrate the technological advancements that enable everyone to connect with real-time information and the revolution of media becoming social, to communicate from miles apart, and have their voices heard. We are targeting upwardly mobile young and established professionals, as well as innovators and influencers from the Las Vegas social media scene, who want to socialize with their online community offline.
EVENT SPECIFICS:
6:00pm - 7:00pm: Registration // Networking // Open Bar
7:00pm - 7:20pm: Keynote by Frederick Townes (CTO @ Mashable)
7:20pm - 7:30pm: A word from our sponsors (Appreciation Financial & 60 Seconds To Yes)
7:30pm - 8:30pm: The games begin (Social Media Challenges)
8:30pm - 9:00pm: Prize winners announced
Over 500+ projected in attendance
1 hour open bar (Red Bull & Absolut Vodka)
Foursquare Swarm special (Crispin Cider/Fox Barrel giveaway to first 240 people)
Social media challenge prizes
Ustream.tv event
Keynote speaker - Frederick Townes, CTO @ Mashable (@w3edge)
360° screen & LED display logo branding
Twitter feed with official hashtag #smdayLV
Top bloggers/vloggers in attendance
Music
Much more to come!!!
Applications for challenges (click logos):
Find out more here:
http://mashable.com/2011/05/03/mashable-social-media-day-2011/
https://www.facebook.com/event.php?eid=162058977189902
http://events.linkedin.com/Mashable-Social-Media-Day-2011-Las-Vegas/pub/669812
Date and Time
Location
New York – New York Hotel & Casino
3790 Las Vegas Blvd S
Las Vegas, NV 89109