Event Information
Location
Buffalo Billiards
201 6th Street
Austin, TX 78701
Description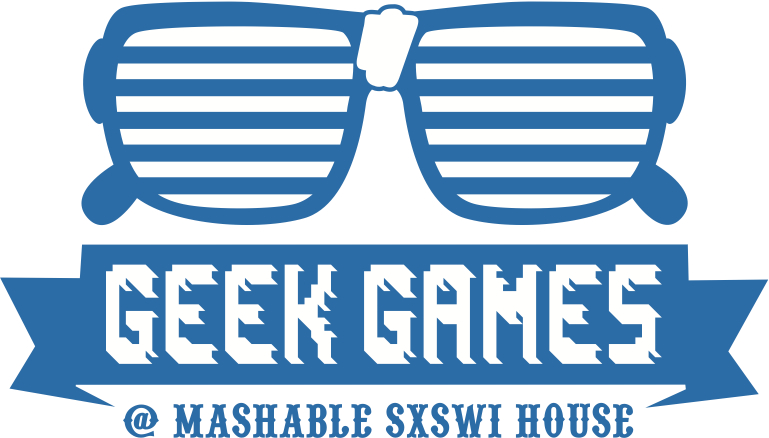 We know geeks have skills, like nunchuku skills, bow hunting skills and computer hacking skills, but what about bowling, Twister, shuffleboard and trivia skills? Think you have what it takes to compete in the Mashable House Geek Games?
Participants are competing for all the geek glory and a sweet prize package that includes:
A Sony Internet TV Sony PS3 with Buzz TV trivia and SingStar® Dance games
HTC Desire HD Media Link DLNA Adapters courtesy of our sponsor Skifta
Special prize package courtesy of our sponsors Pepsi MAX and .TV Geeky T-shirts and wrist bands
Here's the gist:
Sixty-four teams will compete in a single elimination style tournament to compete for bragging rights as well as a sweet prize package from our sponsors.
Signups are limited so make sure you're ready to commit to bringing your A-game.
Each team will consist of 2 to 5 players, allowing for alternates to your team.
Each round will need 1 to 2 participants to compete.
A fee is being collected to make sure all teams are committed to the event. All money collected will be donated to a local charity.
Each round will have a different sport and will be set-up for speed play. All rules will be announced on site.
Comedian, Chris Hardwick of Nerdist.com and WebSoup, will be at the Geek Games interviewing participants and teams throughout the tournament for .TV.
Don't forget to signup for the Mashable House on Sunday and Monday night too!
Schedule (subject to change)
Sunday, March 13, 2011
2:45 – 3:45 PM Geek Games check-in 3:45 – 4:00 PM Welcome & Rules 4:00 – 5:20 PM Round 1 Shuffleboard 4:20 – 5:00 PM Round 2 Skifta Twister 4:40 – 5:30 PM Round 3 Pepsi MAX Pong
Monday, March 14, 2011
2:45 – 3:45 PM Geek Games check-in 3:45 – 4:00 PM Welcome & Rules 4:00 – 4:30 PM Round 4 Pepsi MAX Bowling 4:20 – 5:00 PM Round 5 Geek Trivia on Sony PS3 4:50 – 5:30 PM FINALS SingStar Dance on Sony PS3
THANKS TO OUR SPONSORS
Come check out the Pepsi MAX Lot at 3rd St. and San Jacinto Blvd! Follow @PepsiMAX on Twitter for the daily schedule including locations for huge concerts, happy hours, BBQs, games, and giveaways! And, well, lots of free soda.
Skifta, is an app-based media shifting service that turns your Android phone into a global remote control. Easily access your digital media from virtually any source and stream to connected electronics in the home. With the DLNA Certified® Skifta app on your phone, you can easily access music, photos and videos from your phone, the cloud, or remotely from your home and stream that media to connected DLNA and UPnP consumer electronics including TVs, IP-stereos like Sonos systems, PlayStation® 3 consoles, Windows 7 PCs, and thousands more. No wires, downloading or side loading. Check it out at www.skifta.com.
Sony Electronics is a leading provider of audio/video electronics and information technology products for the consumer and professional markets. Sony is noted for a wide range of consumer audio-visual products, such as the BRAVIA® LCD and 3D high-definition televisions, Cyber-shot® and α (alpha) digital cameras, Handycam® camcorder and Walkman® personal stereo. Sony is also an innovator in the IT arena with its VAIO® personal computers; and in high-definition professional broadcast and production equipment, highlighted by the XDCAM® HD and CineAlta™ lines of cameras and camcorders, and the SXRD™ 4K digital projector. Join the Sony Conversation at Sony.com/Blog.
If your website has a play button, it belongs on .TV. Stand out from the crowd with a .TV domain name; tell people you create and share great video content on your site even before they visit. Come visit us in the Mashable House at Buffalo Billiards on March 13 -14 for a chance to register a FREE .TV domain name. And, mark your calendars: the .TV AUCTION starts March 9th. Bid on desirable, sought-after domain names including air.tv, stocks.tv, who.tv, and more at moniker.com/tv or register the .TV of your choice for while you're there.
Date and Time
Location
Buffalo Billiards
201 6th Street
Austin, TX 78701