Event Information
Refund Policy
Refunds up to 1 day before event
Are you ready to discover your mission and live it fully? Are you ready to penetrate the world (and your woman) with your deepest gifts?
About this Event
**A FREE Q&A for men and this course happens Feb 27th, get tickets here
What can you offer the women in your life?
What can you offer the world?
Being a man today is tougher than ever.
Gone are the days of stereotypical gender roles: man as breadwinner and woman as homemaker. They were never ideal, but at least they were clear cut.
Today, life is more fast paced.
Women are more demanding.
They want a strong man who also has access to his heart. They want the kind of sex they get from the 'bad boy' with the stability and respect of the gentleman.
They want it all.
And we want to give it to them.
This course is for you if you answer YES to any of these:
You want to feel a solid sense of masculinity and know what it means to be a man in this world.
You want to be more connected to your life's purpose, and live it each day like it's your mission.
Single or Coupled, you want your dating life (or relationship) to be filled with more spontaneity, excitement and passion.
You want to figure out women: what do they really want and how to give it to them.
You want to master the polarity of masculine and feminine.
You've just come out of a relationship and are ready to explore who you are again.
You want to be a sexually relevant man who is alive with purpose.
*If you require economic consideration, contact me. I want you in the course if you feel the call!
The 8 Week Journey includes:
Eight 2-hour weekly video calls with lecture, practice, discussion and Q&A.*
Weekly homework and practice assignments.
Facebook Group for brotherhood - sharing breakthroughs and challenges, homework and questions.
Prompts, exercises, and resources posted in the group on a regular basis.
Plus, New Bonus Content:
Bonus Class - Live Demonstration of Extended Tantric Orgasm (w/ Guy & Lauren)
Bonus Class - Mission Coaching Workshop
Bonus Class - Ask a Woman
Bonus Class - Principles of D/s
Bonus Class - Guy's 3-Date Dating System
Bonus Class - Graduation Celebration combined with the women graduating from our women's program. (A great place to practice what you learn)
*TBD on session dates
*Recordings of each class will be made available.
Course Outline:
**A FREE PREVIEW of this course will be on:
FREE Preview Session (Register Free)
Introduction to core masculine skills such as grounding and creating a container. These are skills every feminine woman expects from you (even if she is unable to articulate them.) You will immediately re-evaluate all your past relationships once you learn this.
Session 1: What is a Man?
Introduction to masculine & feminine polarity, and how we define what it means to be a man today.
Session 2: Mission & Purpose
Discovering your Purpose and how to forge a mission statement that propels you forward.
Session 3: Women
Who are these magical beings and why do we love them so? Learn the ultimate skeleton key to figure out what women want.
Session 4: Ejaculation Control and Energy Retention
Ejaculation and Orgasm are separate events. Practices to retain your energy and be more vital.
Session 5: Flirting, Dating, and Romance
What women truly want and how to give it to them. How to turn on their animal body and invite their sexual response. Dealing with rejection and "nice guy syndrome" so you can be a sexually relevant man. We'll also go over sample responses via text and websites.
Session 6: Rites of Passage - How a Boy Becomes a Man
Ritual rites of passage are so often missing in modern times. Learn how this course is a rite of passage and create a Hero Statement for your life.
Session 7: Masculine Shadow
How to ally with your darkness to harness your light.
Session 8: Integration: Father & The King
Your relationship to your first male role model and how that shapes your concept of masculinity. What is the King archtype and how to cultivate that for the benefit of you and your community or family.
*We've also added these Additional Bonus Sessions:
Bonus Session: Live Demonstration of Extended Tantric Orgasm
A live, explicit demonstration of how to stimulate a woman. Includes an up-close anatomy lesson of the female sex organ, stroking techniques, grounding techniques, and Q&A. Learn how to hold space for a woman's fullest expression of pleasure to emerge.
Bonus Session: Graduation Celebration with the Women's Program
A graduation celebration with the women from our women's course, Erotic Sovereignty - 8 Week Embodiment Journey for Women, which runs in parallel to the men's course. *We offer a discount for couples who sign up for both courses. Inquire via email to help@tantrany.com
Bonus Session: Ask a Woman
Bring your questions about women and have a sexy tantrika answer them all.
Bonus Session: Mission Statements Coaching Workshop
Together, we'll work on each man's mission statement to test it and strengthen it.
**Recordings of each class will be made available in case you miss any sessions.
We are a tribe of men.
The world has shifted.
It's not about the lone wolf anymore. It's about brotherhood and community.
And it's not about competing to identify the alpha. It's about bringing out the alpha in each of us.
~
Are you ready to discover your mission and live it fully?
Are you ready to penetrate the world (and your woman) with your deepest gifts?
If you are, then this is the place for you. And we want you to join us.
Here is what other men have said about Guy's men's work:
"I got more than I expected out of this class. There were powerful observations on how men and women relate that really stuck with me, and seemed to explain so much of how my past relationships worked. The perspective on mission and purpose, and how it relates to women, brought clarity to an area where I felt a lot of confusion. One of the best benefits was the community: I found an amazingly wonderful, open, and supportive community, full of people who care deeply about becoming the best versions of themselves." -Bryce (NYC)
"A great opportunity to be amongst a group of men speaking candidly about love, sex, women, and our challenges. We received excellent insights on dating, manhood, sex, and communication from Guy! Thank you!" -Ari
"With the challenges in my life so strong, searching for my masculinity is even more important. This group has come around right when I needed it." -Joseph O.
"This is a place for men to voice private concerns without judgement and also feel supported with compassionate and sometimes lighthearted advice from Guy, who keeps the circle grounded with honor and sensitivity for the struggles of men." -Hans M.
"Instant connections! A refreshing perspective on the 'Man Code'" -Harold L.
"A healthy forum to address what we as men struggle with on a daily basis. I recommend it highly." -Daniel C.
More Resources with Guy:
Your Facilitator: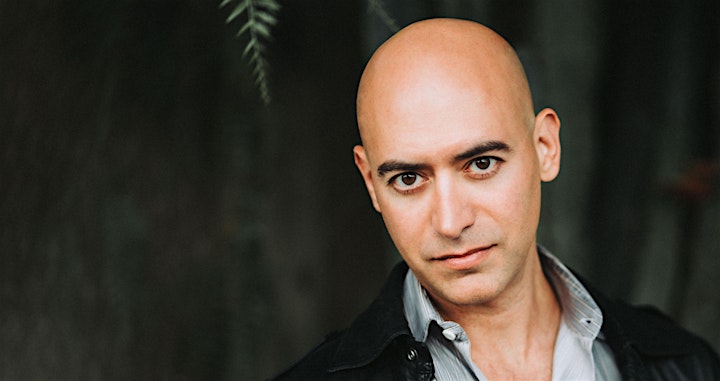 Date and Time
Location
Refund Policy
Refunds up to 1 day before event