Description

In preparation for our parish's Hope of the Poor Mission Trip to Mexico City on September 5-10, 2019, we are offering a wonderful opportunity for spiritual growth to all our parish family members, your loved ones, friends and neighbors, whether or not you plan to go on the mission trip. We encourage you to join us as we begin Mary's Mantle Consecration, a 46-day self-guided spiritual retreat, starting on July 25 and ending on September 8 (the birth of our Blessed Virgin Mary), consisting of the following:
A daily 2-minute reading of a meditation, virtue or gift of the Holy Spirit (people's favorite part)

A daily rosary

A day of fasting

Praying for each other and for our Parish's communal prayer intentions

A final Act of Total Consecration to the Blessed Mother
While this is a self-guided daily retreat, we will have an optional weekly video and faith sharing meeting, starting on Thursday, July 25, 2019, in Parish Center C from 7:00 PM to 8:00 PM, facilitated by Deacon Ken Broz. If you cannot attend the weekly meeting, you can still participate in the retreat, watch the videos for free on YouTube, and make your Act of Total Consecration to Mary on September 8.
The 46-Day Path to Total Consecration to Our Blessed Mother Mary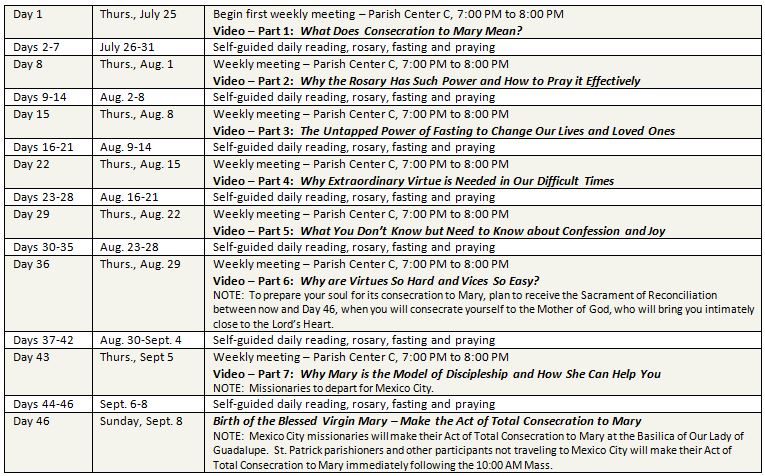 Cost and Resources Needed for the Retreat
The books entitled, Mary's Mantle Consecration: A Spiritual Retreat for Heaven's Help and the Mary's Mantle Consecration Prayer Journal will both be used for this spiritual retreat. Stop by the Parish Office or email Jolene Jefferies at jmjefferies@gmail.com to sign up, provide your email address, and pick up your books. Both books together will cost you a total of $15.00. Cash or checks made payable to St. Patrick Church of Gretna will be accepted. For questions, call the Parish Office at 402-332-4444. Learn more about Mary's Mantle Consecration at https://queenofpeacemedia.com/marys-mantle/. We hope you can join us!