Description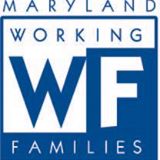 Maryland Working Families invites you to join a discussion with local leaders, experts, child care advocates and impacted workers about creating economic security for our families. We need your help to send a strong message to our elected officials that they must make our economy more equitable for women and workers.
Our families' economic security is being undermined, and Maryland can do better!
We're fighting for policies that will help create an economy that works for women and supports our families. We need the support of people like you to turn our state in the right direction.Please stand with us as we demand justice for the women, workers, and families across our state!
------------------------
What is WESA?
Currently, workers across Maryland face challenges that impact the stability, health, and prosperity of our families. Stagnated wages, erratic work schedules, losing income due to a sick child -- these are issues that disproportionately impact low-income families, ethnic minorities, and women.
The women's economic security agenda is a suite of state-wide bills that promote financial stability for Maryland's working families. The 2017 Legislative Agenda includes:
Earned Sick Days

Fight for $15

Fair Workweek Initiative

Affordable Child Care