Meet and network with some of the most innovative overseas cyber companies at our Maryland-RSA Pitch Competition!
About this Event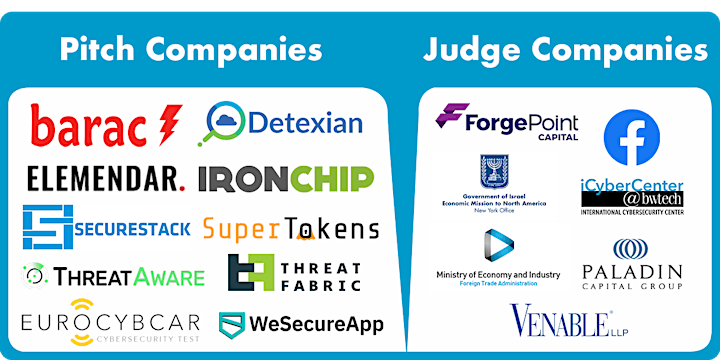 For the third year in a row, Maryland will play host to innovative security companies from around the globe during the RSA conference.Hear from government, industry, investors and technologists showcasing the strength of the region and its ability to assist international companies as they grow and thrive in the US.Apply to pitch in front of a panel of investors and senior cyber executives for an exclusive place at the iCyberCenter at bwtech@UMBC.All international startups with less than $10M in funding are eligible to apply.
Competition Guidelines
All Guests Must Pre-Register and Bring an ID for Building Entry
Doors open at 7:30 a.m. | Program Begins at 8:00 a.m.
The iCyberCenter's International Pitch at RSA is a fast-paced and exciting competition where participants pitch their product over 3 minutes to a panel of judges and receive 2 minutes of Q&A. In the span of 90 minutes attendees hear from 10 startups, leaders in Maryland's cyber community, and see one company awarded 1st place.
Judges include representatives from Facebook, ForgePoint Capital, Israeli Government, Paladin Capital Group, Venable, and bwtech.
Reach out to Nick Zajciw, Sr. Manager, Cyber Initiatives, for any questions concerning pitching at the event. – nickzajciw@umbc.edu –
About the iCyberCenter@bwtechThe iCyberCenter@bwtech launched in 2017 with a vision to assist international companies in their US market entry. The iCyberCenter has assisted 20+ companies across its Executive Education programs held in Baltimore, while building a track record aiding companies in targeted soft-landing programs. iCyberCenter program participants are introduced to investors, advisors, and customers, and are provided a strategic location from which to grow their US cyber presence. The iCyberCenter receives support from the University of Maryland Baltimore County and Maryland's Department of Commerce.
THANKS TO OUR PARTNERS FOR ALL OF YOUR CONTINUED SUPPORT!