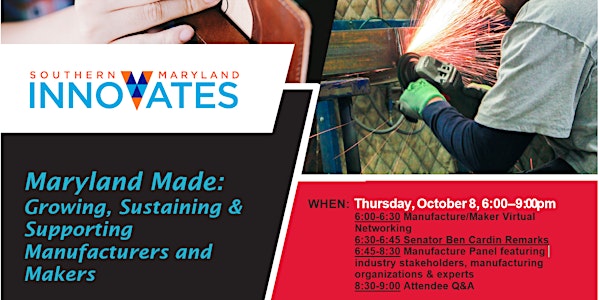 Maryland Made: Growing, Sustaining & Supporting Manufacturers and Makers
With COVID impacting our supply chain, it's more important support our Maryland Manufacturing. Join Us!
About this event
Does your company MANUFACTURE, ASSEMBLE, FABRICATE, PROTOTYPE, PROCESS, PRODUCE, or MAKE products by hand or by machine in a commercial or home-based setting?
Do you have an idea or concept and want to manufacture it in Maryland?
CONNECT, NETWORK and LEARN about growing manufacturing businesses in Maryland.
This Southern Maryland Innovates event features manufacturing industry experts from throughout the state offering assistance, information and resources to entrepreneurs in Maryland.
Maryland Manufacturing Stakeholder Presentations:
Senator Ben Cardin
Maryland Delegate Brian Crosby
Maryland Department of Commerce, Todd N. Sabin, Manufacturing Program Manager
Maryland Manufacturing Extension Partnership (MD MEP), Michael Kelleher, Executive Director
RMI, Mike Galiazzo, President
Manufacturing Presentations:
Harbor Designs & Manufacturing, LLC, Marjie Cota, VP Strategic Partnerships& Market Development
Coherent Technical Services, Inc. (CTSi), Tom Sanders,
And various other Maryland manufacturers.