Live, outdoor, high-quality, unscripted theater in the heart of Baltimore. It's an afternoon of hilarious storytelling & fun comedy.
About this event
Join us OUTDOORS on the patio underneath the big tent for a late afternoon of improv for everybody.
R.House and Maryland Improv Collective present The Welcome Back Show!
MIC is back for their first IN PERSON, LIVE SHOW since COVID came calling. As if that wasn't enough, R.House is celebrating their Fall Reopening Weekend! Join a team of MIC players as they bring hilarious, never seen before, and never to be seen again comedy to the R House stage. For the Welcome Back show, MIC is going old school with short-form games (ala Who's Line is it Anyway?). So, grab a seat, grab a beer, and let MIC take care of the rest.
IMPROVISERS:
Clare Lochary
Mike Harris
Roy Taff
Tashika Campbell
Misty Letts
*Lineup is subject to change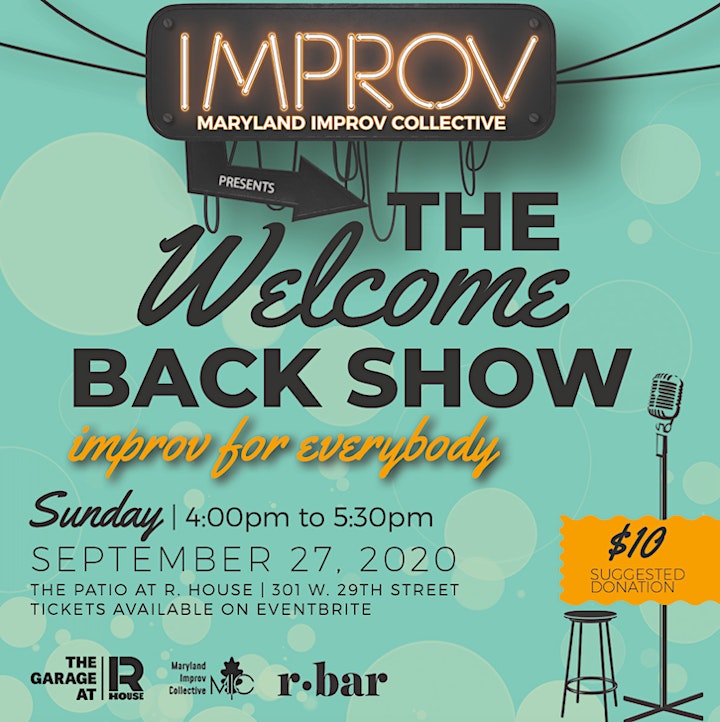 This show is sponsored by r.bar and the Garage at R.House.
TICKET TYPES
$50 Reserved Table Seating For Up To 5 People
"The Welcome Back Show" takes place outdoors on our patio. We are offering reserved table seating for up to 5 people in a group.
$10 Suggested Donation - Standing / Maybe Seated
Please note making a donation does not guarantee seats on the patio. Arrive early and grab a meal or drinks. You will find several seats available. They are first come/ first to sit. Of course, we welcome larger donations as well! In compliance with Baltimore, Maryland, and the CDC, our patio seating takes into account a safe socially distanced experience.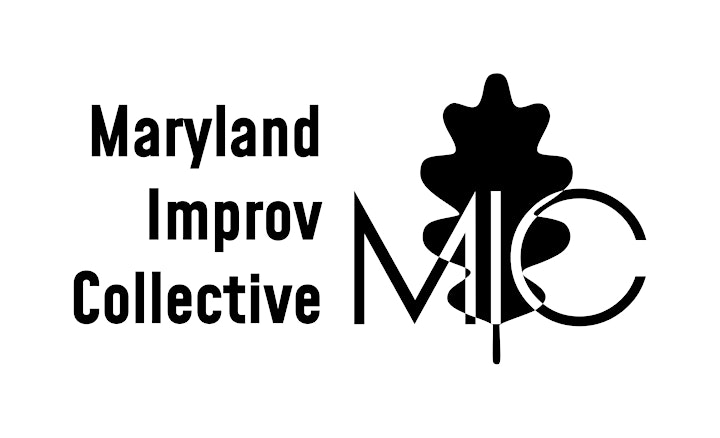 Subscribe to our email list for first access to events & tickets: http://bit.ly/RHouseEmails
ABOUT MARYLAND IMPROV COLLECTIVE: MIC is improv comedy with a foundation of fun, scrappiness, support, professionalism, creativity, and community. We emphasize projects that allow performers of diverse backgrounds to shine while increasing the presence of high-quality unscripted theater of all forms.
ABOUT R. BAR: To take a seat at r.bar is to take a chance on a new spirit, to take a chance on meeting a new friend, and to take the chance you won't leave 'til last call. r. bar features stellar cocktails, craft beers from Baltimore and beyond, and wines to pair with each stall. Pick your potion, and we'll serve it up — or on the rocks. Welcome to your bar, my bar, r. bar.
ABOUT THE GARAGE @ R. HOUSE: "The Place to Come Together in the Heart of Baltimore." The Garage at R. House is a 6,500-square-foot industrial-chic style space perfect for private and public events of up to 350 people (pre-COVID). With exclusive r. bar beverage service and endless production possibilities, The Garage promises a memorable event setting.
Flyer Design by Studio Creative Group
Organizer of Maryland Improv Collective presents The Welcome Back Show
Welcome to R. House, Baltimore's launchpad for outstanding food and creating community. R. House is the place to come together. It's a food hall and event space, but more than that, it's a community. We believe in being neighbors, not guests; we see possibilities, not limitations. This is your gathering place, your kitchen table, your office, and your front stoop. This is your house, our house, R. House.

Our new style of food hall was built within a 50,000-square-foot historic warehouse in the middle of Remington. Imagine 15-foot tall windows with roll-up garage doors and 12,000 square feet of wide open seating.