Join the Maryland Heritage Areas Coalition in Annapolis for a reflection on the value of heritage programming & historic sites during COVID
About this event
Join the Maryland Heritage Areas Coalition in Annapolis for a reflection on the value of heritage programming & historic sites during COVID - and learn how legislators can support this program well into the future.
Friends of the Maryland Heritage Area Program and Heritage Area board members are welcome. Light refreshments including local spirits and brews will be served pending all state and local health and safety guidelines.
YOUR HOSTS
Hosted by the Maryland Heritage Areas Coalition: Anacostia Trails Heritage Area (Maryland Milestones), Baltimore State and National Heritage Area, Four Rivers Heritage Area (Annapolis, London Town and South County), Heart of the Chesapeake Country Heritage Area, Heart of the Civil War Heritage Area, Lower Susquehanna Heritage Area, Montgomery County Heritage Area, Mountain Maryland Gateway to the West Heritage Area, Passages of the Western Potomac Heritage Area (Canal Place), Patapsco Valley Heritage Area, Southern Maryland Heritage Area, Stories of the Chesapeake Heritage Area.
THE HERITAGE AREA PROGRAM
Maryland's Heritage Areas are locally designated and State certified regions where public and private partners make commitments to preserving historical, cultural and natural resources for sustainable economic development through heritage tourism. At the local level, Heritage Areas focus community attention on often under-appreciated aspects of history, living culture, and distinctive natural areas, thus fostering a stronger sense of pride in the places where Marylanders live and work. The thirteen certified heritage area are led by independent organizations that are joint partners in the Maryland Heritage Areas Coalition.
Heritage tourism is the best of both worlds for Maryland; it is a business which cherishes the very things that make our state a great place to live and work, while bringing into the state the dollars of people who come from elsewhere to share those experiences. The jobs created in heritage tourism can never be outsourced to any other region; they are a return on investment that will always be uniquely local and our own. Heritage area benefits allow our nonprofits and local jurisdictions to enhance and preserve the heritage product, giving travelers reasons to extend their stays, return often and recommend the Maryland Heritage Areas to friends.
Each of Maryland's thirteen Certified Heritage Areas are defined by a distinct focus or theme that makes that place or region different from other areas in the state. These distinctive places exhibit tangible evidence of the area's heritage in historic buildings and districts, distinctive cultural traditions, singular natural landscapes, as well as other resources such as museums, parks, and traditional ways of life as revealed in food, music, and art. Check our our websites for more information to help you plan your next visit!
The program recognizes that a successful Heritage Area needs to have a viable economy which recognizes the value of the area's unique heritage resources, and through State, government, and private sector partnerships strive to preserve and enhance the resources that make the area attractive to visitors. By investing public dollars to create tourism-related products, spark matching private investment, and motivate local leadership, MHAA seeks to promote a balanced, sustainable level of heritage tourism that strengthens communities and improves the state's quality of life.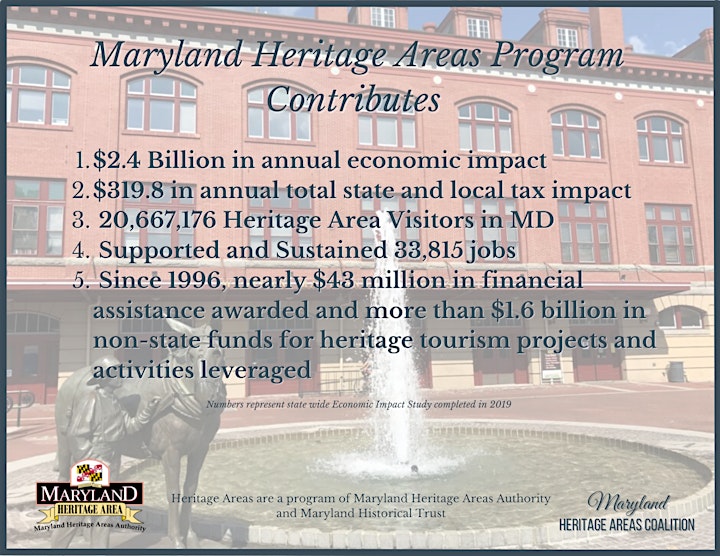 Organizer of Maryland Heritage Areas Coalition Legislative Reception
The Maryland Heritage Areas Coalition is an alliance of the thirteen heritage areas authorized under the Maryland Heritage Areas Authority. These heritage areas, which span the entire length of Maryland, seek to preserve and promote the history, culture, and natural resources of Maryland through a variety of grants, partnerships, and technical assistance.