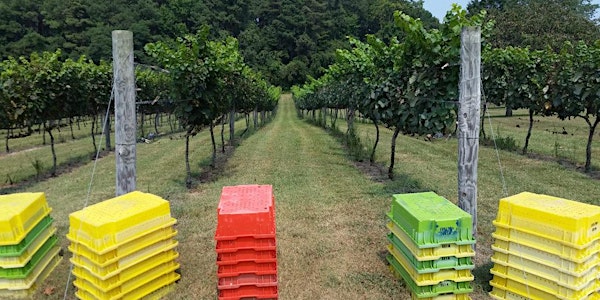 Maryland Grape Growers Annual Conference 2022 - ONLINE
Maryland Grape Growers / University of MD Extension Wednesday, January 19, 2022 - 8:45 AM - 4 PM Thursday, January 20, 2022 - 9 AM - 4 PM
When and where
Location
ZOOM VIrtual Meeting Baltimore Avenue College Park, MD 20740
About this event
Maryland Grape and Wine Industry 2022 Annual Conference
Wednesday January 19th. 2022
- 8:45 AM - WELCOME
- 9 AM - New Growers Workshop
- Vineyard Site Selection
- Economic and Management Considerations
- Cultivars and Establishment Considerations
- 12:45 AM - MGGA Business Meeting / ELECTIONS
- 1:30 PM - New and Established Growers Sessions
Thursday January 20th, 2022
- 9 AM - Talks with Nutrient Mgmt. and Pesticide Appl. CEUs
- 12:30 PM - Labor issues (Hiring, H2A, etc.)
- 2:45 PM - GROWER PANEL - Integrating vineyard practices and harvest decisions with winemaking practices
Day One includes The New Growers Workshop (Dr. Joe Fiola, UME & Joyce Rigby, Rigby Viticulture - a combination of live and video sessions), The MGGA Business meeting and ELECTIONS, then presentations including research on vineyard soils by Jaclyn Fiola, New Technology and Mechanization (Terry Bates, Cornell) and Current Technology/Equipment (Paul Licata, BDi).
Day Two includes sessions offering CEUs for nutrient management and pesticide applicators, updates on UME research concerning ripe rots and grape diseases (Dr. Mengjun Hu & Dr. Scott Cosseboom, UME), Labor and H2A concerns (Norton Pereira, MD Labor & Ron Wates, Boordy Vineyards), Spotted Lantern Fly, then an expert grower panel (Daniel Larason, Vineyard Manager & Jesse Powers, Winemaker Catoctin Breeze Vineyard and Winery; Brandon Hoy, Vineyard Manager & Michael Zollo, Winemaker, Crow Vineyards and Winery).
A draft agenda is available to download: https://drive.google.com/drive/folders/1rmstf5P74CsR4_NfloXAJmPoS8AfKT-D?usp=sharing
Meeting materials and a ZOOM link will be shared with ticket holders shortly before we begin.
Plans for 2022 Summer Field Day events and the 2023 annual meeting are forthcoming.