Maryland Black Caucus Foundation 2017 Annual Legislative Weekend
Description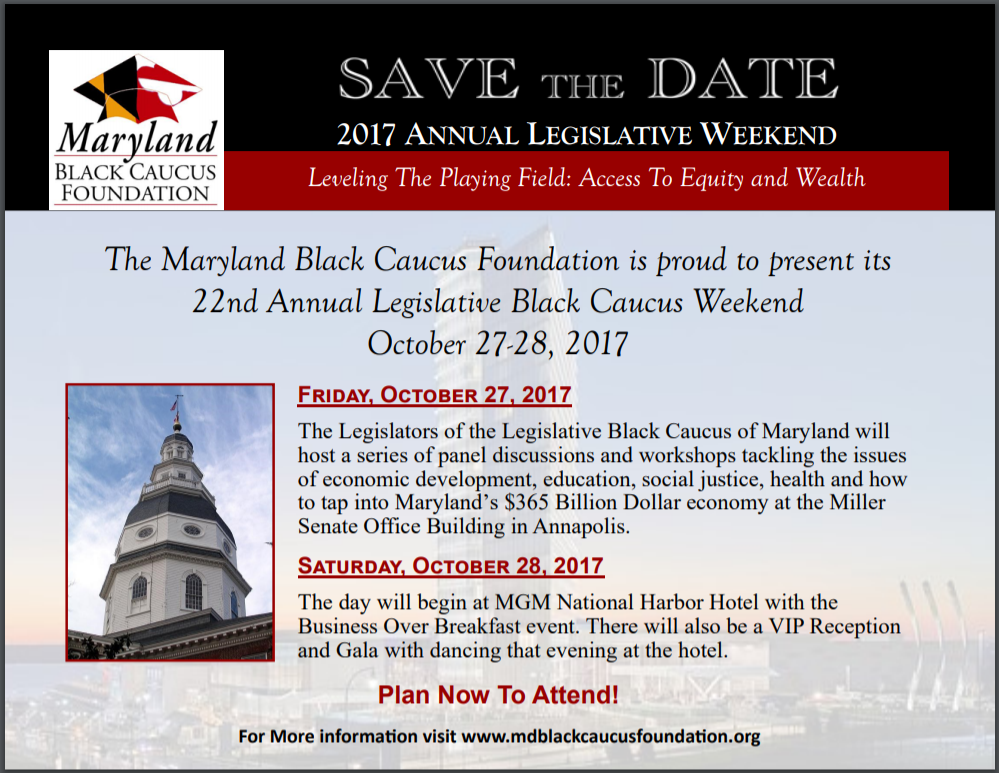 Dear Supporter:
The Maryland Black Caucus Foundation is proud to present its 22nd Annual Legislative Black Caucus Weekend, October 27-28, 2017 in Annapolis, Maryland and at the MGM National Harbor Hotel in Oxon Hill, Maryland. The theme for this year is: "Leveling The Playing Field: Access To Equity And Wealth." We have planned a very exciting weekend designed to engage citizens, elected officials, subject matter experts and industry leaders as we explore policy and discuss legislation that impacts African Americans and other minorities in Maryland.
The weekend will begin Friday, October 27, 2017 with all day workshops in the Miller Senate Office Building in Annapolis where over 500+ will be in attendance. The Legislators of the Legislative Black Caucus of Maryland will host a series of panel discussions and workshops tackling the issues of economic development, education, social justice, health and how to tap into Maryland's $365 Billion Dollar economy. We have invited business leaders and subject matter experts from around the state and the country for these informative sessions. On Saturday, October 28th , the day will begin at MGM National Harbor Hotel with the Business Over Breakfast event.There will also be a VIP Reception and Gala with dancing that evening at the hotel. Gala honorees will be Honorable Catherine E. Pugh, Mayor, Baltimore City; Dr. Marie Washington, President, East Baltimore Community Corporation; and retiring Senator Ulysses Currie.
We would like to invite you to be a sponsor and to join us for an exciting weekend. Our sponsorship levels range from $3,500 to $75,000. The 2017 Sponsorship Package is enclosed. Gala tickets will be available online via our website www.mdblackcaucusfoundation.org. In the meantime, please feel free to contact our fundraising consultant, Denise DeLeaver at 410-466- 4557, if you have any questions or would like to confirm your financial contributions.
We truly look forward to your participation and thank you for your continuous support of the Maryland Black Caucus Foundation and the Legislative Black Caucus of Maryland.