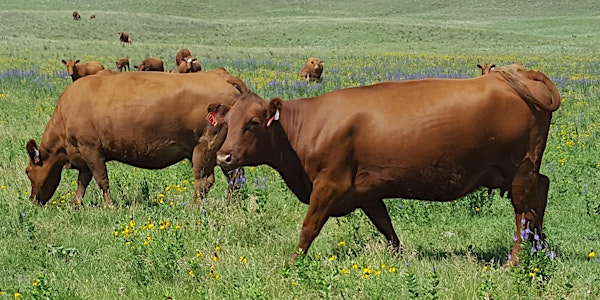 Maryland Beef Producers Shortcourse Series I - Fundamentals of Beef
This two-day introductory workshop covers many areas of the beef cattle industry in both a classroom and hands-on environment.
Refund Policy
Contact the organizer to request a refund.
Eventbrite's fee is nonrefundable.
About this event

The Maryland Beef Producers Short-course Series I: The Fundamentals of Beef Cattle Production is designed as a 2-day introductory workshop for beginners, as well as a refresher for more experienced cattle producers.
Topic areas that will be covered include: Determining Daily Operating Costs and Budgets, Understanding EPD's, Animal Health and the Veterinary Feed Directive, Body Condition Scoring, Nutrition, Forage Sampling and Storage, Pasture Management and Paddock Development.
Registration is $75 per participant and includes all refreshments, lunches and educational materials.
For more information about the event, please visit our website: https://ansc.umd.edu/extension/beef-extension/educational-courses#series-i
Agenda:
Day 1 – Classroom Based
Location: Will depend the date of the workshop
• 10:00am - Welcome - Introductions
• 10:15am - Economics
• 10:55am - Break
• 11:00am – Body Condition Scoring
• 11:20am – Cattle Health
• 12:00pm - Lunch
• 12:30pm – Reproduction
• 1:15pm – Genetics and EPD's
• 2:00pm - Minute Break
• 2:10pm - Pasture Management
• 3:00pm – Nutrition
• 3:45pm – Day 1 Wrap Up, Reminders for Day 2
Day 2 – Farm Based
Location: Will depend on the date of the workshop
• 9:00 - 9:15am - Welcome
• 9:15 - 9:45am – Animal Health – Chute Side
• 9:45 - 10:50am – Body Condition Scoring - Chute Side
• 10 Minute Break
• 11:00 - 12:00pm – Facilities Development/Management - Farm Tour
• 12:00 - 12:30pm - Lunch
• 12:30 - 1:15pm – Hay and Pasture Management – Field Tours
• 1:15 - 1:30pm - Shortcourse Wrap-Up, Questions
For more information about this program or if you have any questions or concerns, please contact Racheal Slattery either via email (rslatt@umd.edu) or phone (301-450-1392)