Multiple Dates
Maryland Beef Producers Pasture Walk and Tick Education Series
Description
The University of Maryland Department of Animal and Avian Sciences, Department of Entomology and University of Maryland Extension are hosting a FREE Pasture Walk Series that will be held throughout the state (May-June). The focus of the series will be two-fold: proper pasture management, as well as education concerning the Asian Longhorned Tick and if potential effects on the Maryland Livestock Industry.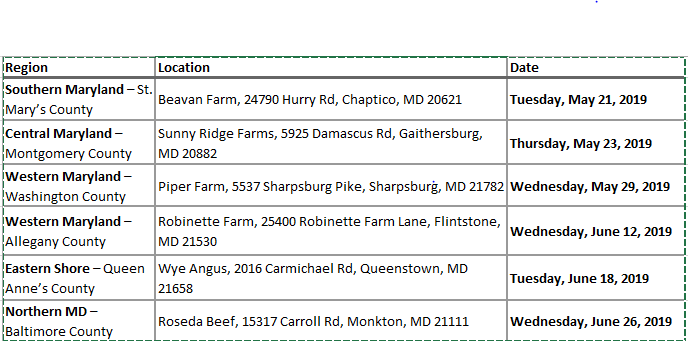 Agenda
6:00 - 6:15pm Welcome and Introductions
6:15 - 7:00pm The Asian Longhorned Tick - What is it, What to look for and What to do when you find it.

7:00 - 8:30pm Pasture Walk - Pasture Management Techniques and Potential Tick Infestation Prevention Methods
Longhorned ticks can be found throughout the spring and summer months, and thrive in tall grasses under wet, humid conditions, meaning conditions are ripe for potential infestations.
Adult longhorned ticks are 0.1 inches long and dark brown in color. They commonly attach themselves to the faces, ears, brisket, and groin of cattle, sheep, and goats. Cattle production losses associated with high tick burdens include milk yield losses of up to 25%, 30% reduction in conception rates in breeding cattle, and reduced weight gain in calves. Other economically important risks for cattle production associated with the longhorned tick include hide damage, disease transmission, and death in cases of severe infestation. Theileriosis, babesiosis, erlichiosis, and anaplasmosis are all diseases of cattle that can be transmitted by the longhorned tick.

The best way to protect your cattle from ticks and tick-borne disease is to use an integrative approach to management. Like many other tick species, the longhorned tick spends most of its life off of a host animal on the ground, and it is susceptible to dry conditions. Following proper pasture management reduces suitable habitat for ticks and risk of infestation. This includes clipping pastures and fence lines, and controlling broadleaf weeds.
For more information about this event or our Pasture Walk Series, please contact Racheal Slattery, Department of Animal and Avian Sciences at rslatt@umd.edu or via phone 301-405-1392
This Series is Supported by the Department of Animal and Avian Sciences, University of Maryland, through an endowment from the Jorgensen Family Foundation.