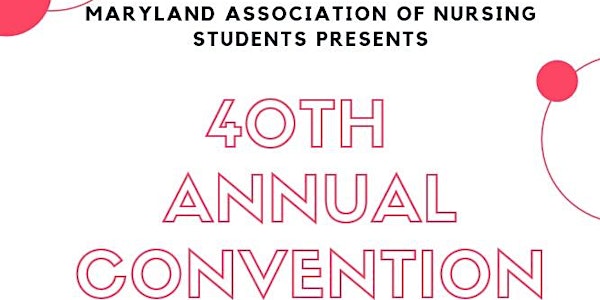 Maryland Association of Nursing Students Annual Convention
Location
Howard Community College
10901 Little Patuxent Parkway
Columbia, MD 21044
About this event
A great opportunity to learn, be inspired, and network.
Registration: will begin at 8am in the Health Science Lobby. Don't be late! A light breakfast spread will be available and the Opening Ceremony will begin at 9am at the Smith Theatre. A full schedule will be available on the website prior to the event and in your convention registration packet day of.
Raffles: All door prizes and scholarship raffles will be held until the end of the day. FIVE chances to win a $500 scholarship, a Littmann Stethoscope, and many other exciting prizes will be up for grabs! *Every student ticket holder at the event will receive one entry into the scholarship raffle. No additional entries may be purchased. Student must be present to win. Student must be able to prove current attendance in Maryland based nursing or pre-nursing program by logging into their school account. Keep reading for information on how to earn additional door prize entries!
Vendors: Many vendors will be available throughout the day in the Health Science lobby after the Opening Ceremony has ended. Come talk to representatives about opportunities for you to advance your education, kick off your career, or study for the NCLEX. Already an RN, pursuing another degree - make sure you find the ConnectRN booth and talk to them!
Break-Out Sessions: Throughout the day during scheduled sessions you will have the opportunity to select break-out sessions to attend on specific topics. We're finalizing the schedule, but we do want you to know that Narcan training will be coming back this year! In addition, Hurst will be hosting multiple sessions and we have a panel of recent entry to practice nurses to answer questions you might have.
FUNdraisers: We've organized two fun ways to contribute to charity as we all gather for this event.
Bring an acceptable donation item (see list below) to be donated to Paul's Place for an extra door prize raffle ticket!
◾New Men, Women, and Children Socks (All Sizes)
◾New Men, Women, and Children Underwear (All Sizes)
◾Reading Glasses
◾Hotel Size Toiletries (deodorant, toothpaste, shampoo, etc.)
◾Diapers (Sizes 1-6)
◾Laundry Detergent
◾Gently used pants of any size (clean & in good condition)
◾Gently used professional clothing of any size (clean & in good condition)
◾Gently used duffle bags or back packs (clean & in good condition)
Bring your change and other bills to participate in our Penny Wars to compete against other schools to raise funds! Proceeds will benefit Hearts & Ears. MANS will match up to $200 of the funds donated at convention and present Hearts & Ears with the donation on behalf of all of our attendees! Show your school pride and come ready to compete!
Questions? Find us on Instagram and connect with us. Follow us @md_nursing_students. Look for questions and tips in our story, highlights, and feed. If it's not covered comment or message us with your questions!