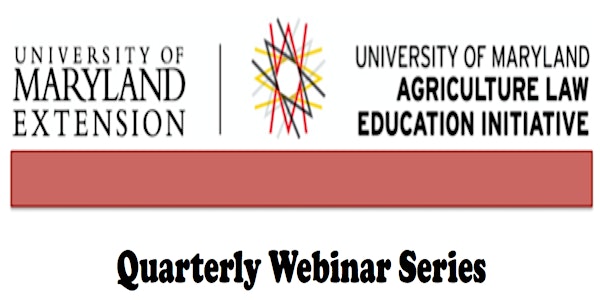 Maryland Ag Law Webinar Series
Description
To better assist Mid-Atlantic service providers to prepare for developments in agricultural law, the Agriculture Law Education Initiative will host a quarterly series of webinars beginning in June focused on developing legal issues in agriculture and food law.
"These webinars will focus on important issues impacting many Mid-Atlantic agricultural producers," said Paul Goeringer, Extension Legal Specialist with the University of Maryland. "We will focus on the legal environment around new dicamba products and the impact the recent Syngenta settlement will have on biotechnologies being introduced to the market." Additional topics will include a 2018 ag and food law review.
The following webinars are scheduled (all times Eastern Standard Time):
June 19 at 12pm: Current Legal Issues Associated with Dicamba Drift. Presenters: Tiffany Lashmet (Texas Agrilife Extension), Kelly Nuckolls Winslow (ALEI), and Matt Morris (UME). Mid-Atlantic soybean growers are looking to increase their acreage of dicamba-resistant soybeans in 2018 from 2017. As acreage increases, it is important to keep in mind that other regions have seen lawsuits filed over increased drift damage often blamed on this new technology. This webinar will focus on a review of the new technology and how it is different than earlier dicamba herbicides. The webinar will also cover the lawsuits and other developing legal issues associated with dicamba drift.

August 23 at 12pm: Agricultural Biotechnology and Implications of the Syngenta Settlement. Presenter: Drew Kershen (OU School of Law). In March 2018, the terms of a $1.51 billion settlement with Syngenta and U.S. corn growers, grain handlers, and ethanol plants was formally announced. This class action settlement involves claims that Syngenta was negligent in failing to gain approval in China before releasing the Viptera and Agrisure corn varieties. When these corn varieties were detected in shipments to China, the shipments were rejected, with a subsequent a drop in the price of corn in 2013. This settlement could have future implications on how new biotechnologies are released on the market. Join Professor Kershen as he highlights how future biotechnologies could be impacted by this settlement.

November 13 at 12pm: Top Agricultural and Food Law Developments in 2018. Presenter: Paul Goeringer (ALEI). Each year sees new developments in agricultural and food law. This year is no different. So far 2018 has seen Congress changing an environmental reporting requirement for agriculture which had been imposed by a court ruling and the announcement of the terms of the $1.51 billion settlement with Syngenta. What else will occur in 2018? Tune in to hear Paul Goeringer discuss these developments.
UPDATED: Registration for final two webinars is $10 each or all two for $20. If you register and are unable to attend, webinars will be recorded and a link to the recording provided. Refunds may be requested by emailing umaglaw@umd.edu.
The information presented in the webinars is for educational purposes and should not be considered legal advice.
The University of Maryland Extension programs are open to all and will not discriminate against anyone because of race, age, sex, color, sexual orientation, physical or mental disability, religion, ancestry, or natural origin, marital status, genetic information, political affiliation, or gender identity and expression.