Description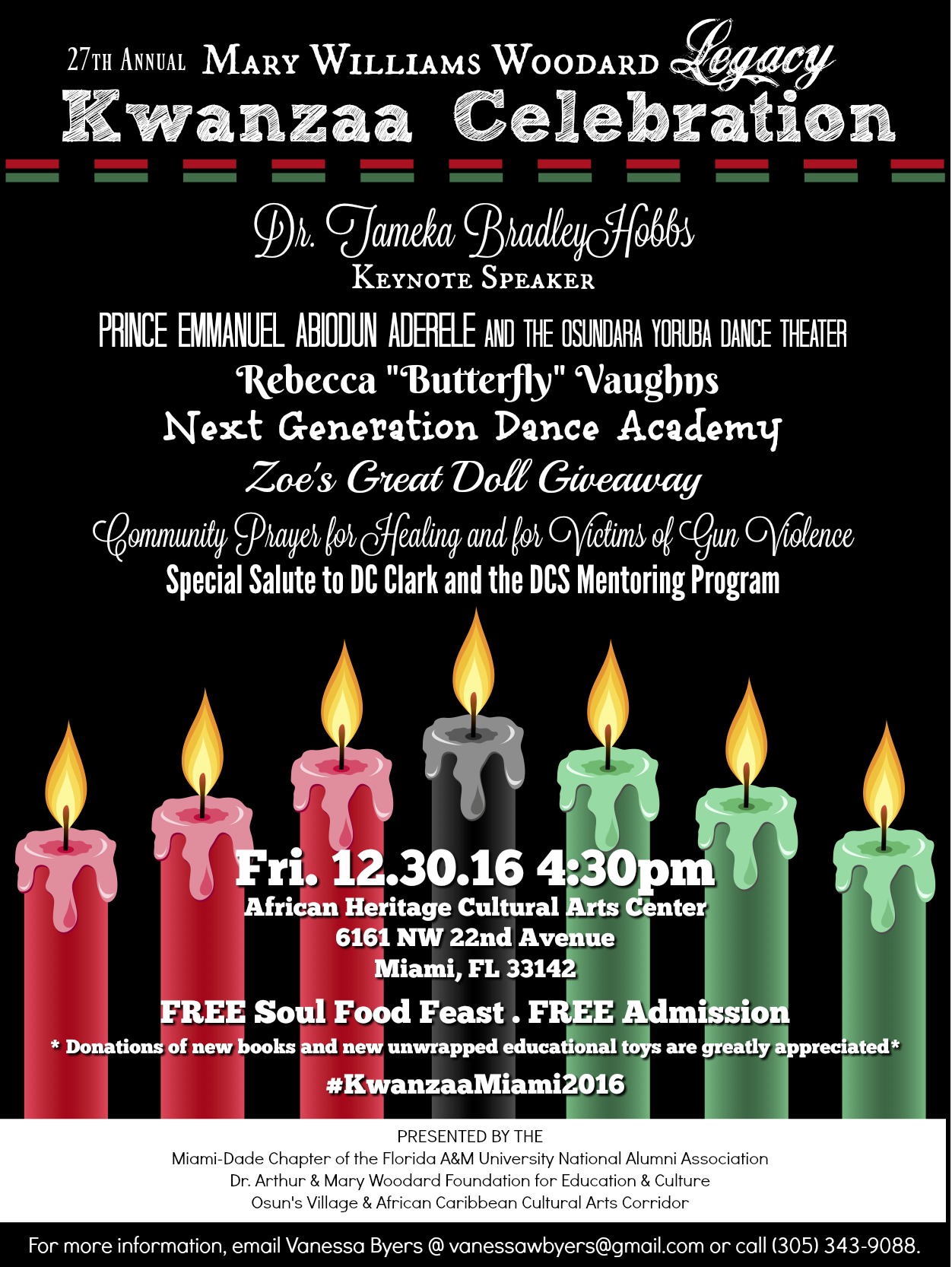 Miami, FL: Three local nonprofit organizations are continuing their collaboration to educate the community on the seven-day holiday known as Kwanzaa. Started in 1966 by Maulana Ron Karenga, Kwanzaa is based on seven principles and various symbols that are used to uplift the black community and strengthen family bonds.
On Friday, December 30, at 4:30 pm, the Mary Williams Woodard Legacy Kwanzaa Celebration will take place at the African Heritage Cultural Arts Center. This is the twenty-seventh consecutive year this activity has been presented through the generosity of the members of the Miami-Dade Chapter of the Florida A&M University. Woodard, from, whom the event was named, was the chairperson and lifeblood of the event until her demise in 2010. Since that time her daughter, Vanessa Woodard Byers, has assumed leadership in coordinating the event and established a foundation in her parents' name to support this event and other cultural activities. "Celebrating Kwanzaa this year is extra special," said Byers, "while this is the twenty-seventh year that our group has celebrated Kwanzaa, this is the fiftieth year that Kwanzaa has been observed in the United States and other nations in the Western African Diaspora in the Americas."
This year, Dr. Tameka Bradley Hobbs will deliver the Kwanzaa message. Hobbs is uniquely qualified to assume such an important role as she is a historian, professor, author, and social commentator. Through the long-standing partnership with Osun's Village African Caribbean Cultural Arts Corridor, attendees will be treated to the talents of musician, dancer and artist, Prince Emmanuel Abiodun Aderele and the OsunDara Dance Theater. Local poet laureate and Grammy-nominated spoken word artist Rebecca "Butterfly" Vaughns will perform as well as the award-winning Next Generation Dance Academy.
One of the highlights of the event is the distribution of dolls by young philanthropist, speaker, and business executive, Zoe Terry. Through her company, Zoe's Dolls, little brown dolls are given to little brown girls as a vehicle for building self-esteem and pride in their self-image.
In addition to the Kwanzaa Celebration traditions of uplift and unity, there will be a special community prayer for healing in our prayer and for the victims of senseless gun violence that have taken so many lives.
The unsung hero community salute will be given to William "DC" Clark and his recently activated DCS Mentoring Program for young males. Clark, along with other like-minded, committed men, and a few women, teaches young men self-respect, discipline, responsibility, etiquette and other valuable life skills.
The event is free but register online at KwanzaaMiami.eventbrite.com. Donations of books and new, unwrapped educational toys, for children in the local community, are greatly appreciated.
For more information, email Vanessa Woodard Byers at vanessawbyers@gmail.com or call (305) 343- 9088.